Loggers turn the game around after the break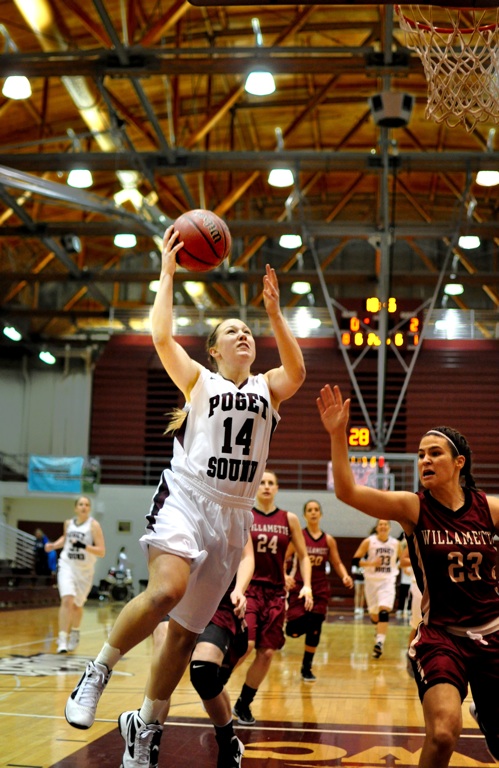 As most of the Puget Sound community was on their way home for break, the women's basketball team was hard at work in California taking on Chapman, Cal. Lutheran, and Occidental. These games ended in heartbreak as the Loggers lost all three games, two of which within 3 points. The Loggers dropped another game to Whitman upon their return in January.
"I think initially we were having a tough time getting 100% effort from all 5 people on the floor at the same time," junior Kelsey McKinnis (Ashland, Ore.), co-captain of the team, said. "We would go through lapses on the court and those lapses got us into a hole every single game. That's why our games were so close, we were able to turn it back around but digging ourselves out of the hole is what got us in trouble."
Several Loggers have been hit with injuries this year, preventing them from playing in games or forcing them to push through injury.
"Every season a team has to deal with injuries and this year is no exception," senior and co-captain Jocelyn Riordan (Lake Forest Park, Wash.) said. "I have been playing with a broken bone in my left hand, which, although it is frustrating, has not prevented me from playing. I just have to wear a protect splint and wrap."
Riordan says injured thumbs, knees and ankles, as well as concussion suffered by Sarah Stewart, was a hit for the team, but that they have "done a good job of pushing through the injuries and staying together."
Over the course of the next three weekends, the Loggers have turned their game around and are on the upswing. McKinnis has a scoring percentage of 15.1 points per game and fellow captain Riordan is averaging 10.2 points per game. On the defensive side, senior Sarah Stewart (Burlington, Wash.) and junior Lindsay Layland (Homer, Alaska) are both well over 100 rebounds on the season.
This past weekend the Loggers had their first sweep since early December. In a 70-51 win over Willamette and an equally dominating win against Pacific (67-47), the women are making the end of the season count.
With huge fan support, Loggers game out strong against the Bearcats last Friday. McKinnis led the team with 18 points and Riordan clinched a double-double with 13 points and 10 rebounds. The Loggers have been using their younger talent this year; freshman Amanda Forshay (Moraga, Calif.) is just one of the women who had an impressive showing against the Bearcats.
The following evening against Pacific, McKinnis once again lead the team in scoring with 12 points with Forshay close behind at 11. Layland brought in 16 rebounds and combined with efforts by McKinnis and Forshay, the Loggers landed their first sweep of the New Year.
Despite injuries, losses and other setbacks, the loggers have an optimistic view of where the season is going. With six games left, they have the chance to end their season on a high note and give their seniors a season to remember.
"The next six games are crucial for our team to reach the NWC tournament. It will be tough having to travel to Whitman and Whitworth who are always tough at home and having to play the No. 3 and No. 8 teams in the nation in George Fox and Lewis and Clark, respectively," said Riordan. "However, we know we have the ability to beat those teams and we really feel like we are coming together at just the right time."
Next weekend, the Loggers head east of the mountains to play Whitman and Whitworth.
PHOTO COURTESY/DAVID PENDLETON
Tags :
pugetsound
womens basketball