Activism Summit promotes collectivity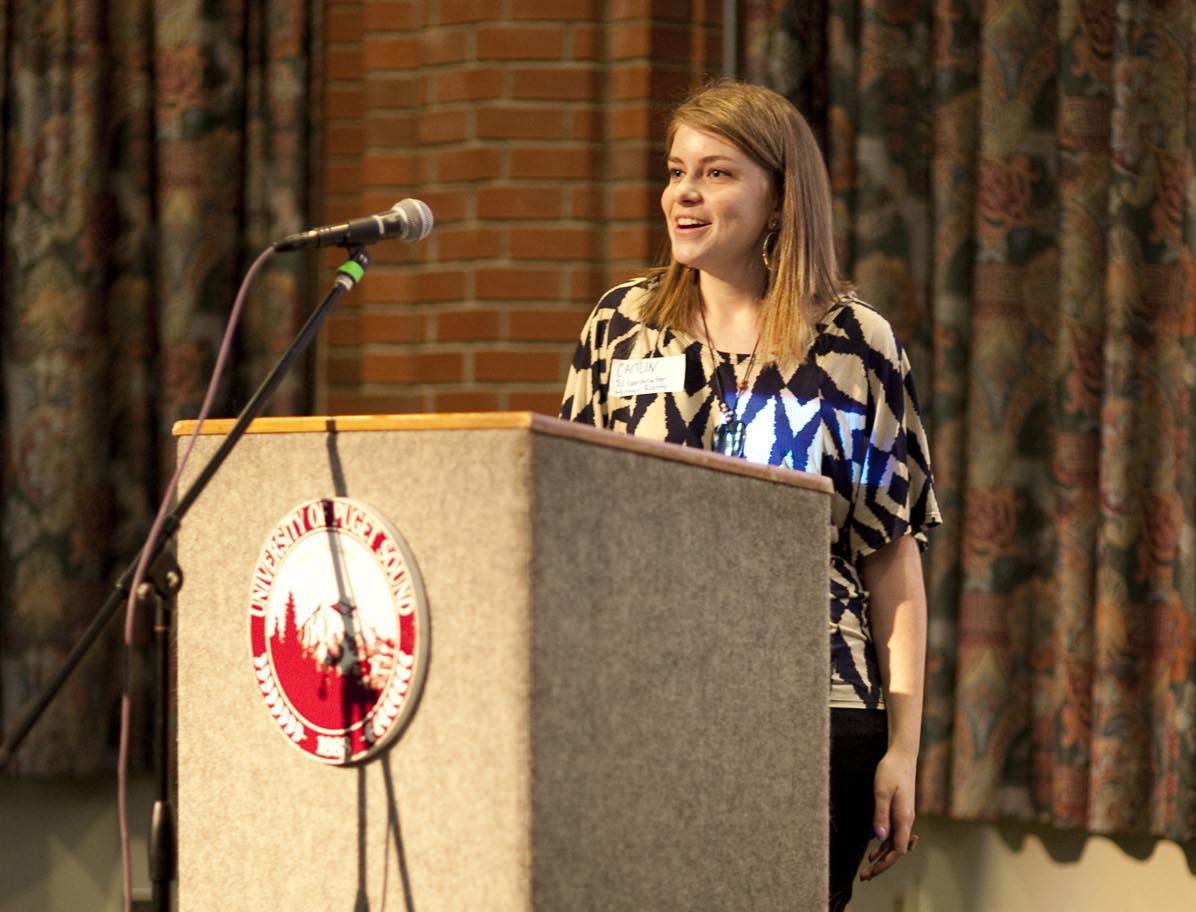 In an effort to unite the causes and intentions of each of Puget Sound's student activism groups, the Campus Activism Summit, held on March 1, outlined a plan to establish a broader network of communication and coordination amongst the many existing causes for campus, community and societal betterment.
A bit of technical difficulty at the start of the event gave attendees from myriad campus organizations—including VAVA, B-GLAD, Students for a Sustainable Campus and Interfaith groups—the chance to interact before the evening got underway. The presence of free food and nametags upon which guests were invited to list their name and social service passion set the stage for the discussion of the importance of a collective community that would follow.
Caitlin Van Patten, the Student Social Justice Coordinator for the department of Spirituality, Service and Social Justice (SSSJ), was the primary organizer of the summit. The first portion of the event consisted of a talk given by Van Patten that outlined her goals for what she hopes will become an effective, campus-wide system of interaction between social service groups.
"It's the pilot program of something bigger I'd like to start on campus," Van Patten said. "I'd like to create more collaborative, cohesive campus communication."
For SSSJ, the intention behind establishing a "campus activism network" is to make more effective the activist work already being conducted by student groups.
Van Patten relayed a story about working on a cause for the duration of her freshman year, to find out toward the end of the year that the Vagina Anti-Violence Alliance (VAVA) also spent the entire year working on the same cause. It was this lack of communication between causes that made it clear to Van Patten that a more effective means of inter-school support could be developed.
"What I see impeding the work we are able to do has been a lack of communication, a lack of ability to get everyone to know what's going, on" Van Patten said.
She went on, "So often many of us are working for the same issues. When we work together, we can learn to combat the these problems."
According to Patten, a regular meeting of activist groups is important to form a community of people that will make causes on campus stronger and more widely known. Van Patten's hope is that at least twice per semester groups will convene to discuss their events and work on the most effective way to get word out to the campus community.
Dave Wright, University Chaplain and Director of Spirituality and Justice for SSSJ, related that a version of this year's Campus Activism Summit was attempted about four years ago, in March of 2007. However, it was at the same time that the Port of Tacoma protests broke out over the shipment of military vehicles through Tacoma to Iraq, a high-profile event that "completely changed the focus of campus social work," according to Wright.
With a new focus established this year, though, Van Patten and Wright both have optimism for the outlook of the effects of the Summit.
"It was a good idea three or four years ago, and this time it's better," Wright said.
A major step toward communicating activist events to the campus is currently being put forth by the Puget Sound's Club That Goes to Other Clubs (CGOC). A representative from the club announced that an all-inclusive calendar is being assembled and encouraged all groups to email their events to be included.
Like the summit itself, a collective listing like this gives a number of different types of groups the opportunity to be in conversation with each other.
"It's such a good way to get a lot of people together from different clubs," B-GLAD member and summit attendee Lana McMullen said. "It's good to open up space to discourse that you wouldn't get in other ways."
For a listing of events included on CGOC's calendar so far, visit sites.google.com/site/loggerscgoc/. Also search SSSJ on Puget Sound's website for a detailed collection of events and programs.
[Editor's note: There was an unfortunate error made during the production process of our print edition of The Trail, in which  the original draft was printed instead of the edited draft. We apologize for this error to the author Kimberlee Frederick, and to our readers. Thank you for your continued support of The Trail as a student-run newspaper endeavor.]
Tags :
social justice