Marky Mark and Ramaswamy Go Bar for Bar Over Instagram Live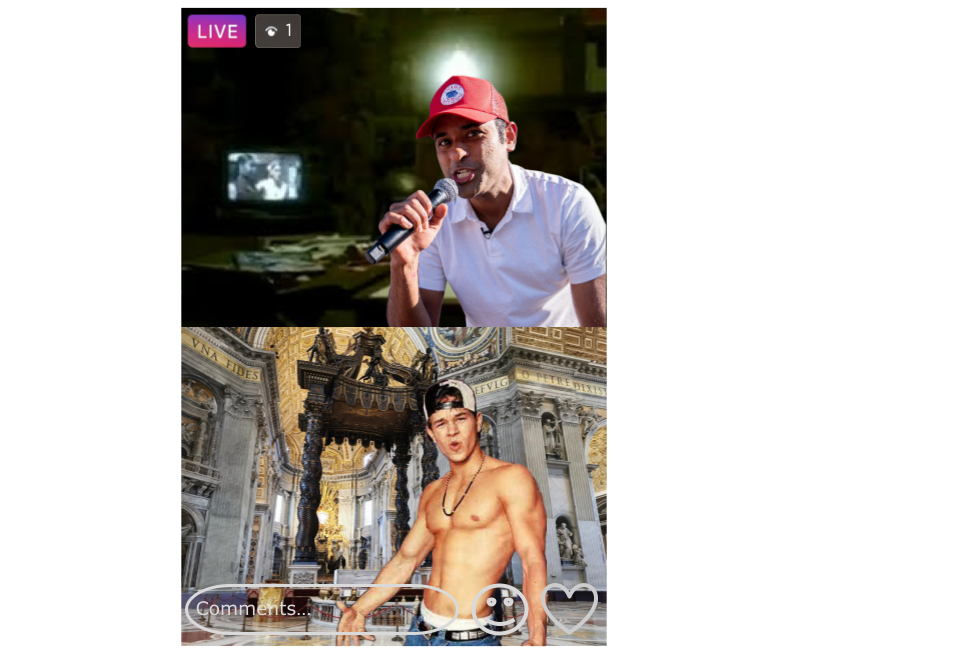 Marky Mark and Ramaswamy's Instagram Live rap battle. Photo Credit: Emmet O'Connor
By Emmet O'Connor
Mark Wahlberg, notable actor, rapper, and Catholic has announced over Instagram Reels that he too will be joining the Republican Presidential Primary race. Within seconds of Wahlberg posting the Reel, Republican candidate, former rapper under the name "Da Vek", and entrepreneur Vivek Ramaswamy, commented "Nahhhhh bro want the heat," followed by ten laughing crying emojis, three red one hundred emojis, and two fire emojis. Wahlberg responded one hour later stating that Ramaswamy "would not last one second in a Cypher," and the date was made. On the eighth of October at 10:00 AM, Vivek Ramaswamy and Mark Wahlberg would have a rap battle over Instagram Live
The rap battle started early; Wahlberg was hosting and Ramaswamy joined in as soon as the clock hit 10:00 AM. Neither of the Republican presidential candidates had the chance to contact a music producer to create a beat for the rap battle, so Ramaswamy pulled up a "Drake Type Beat" on YouTube and the cypher commenced.
Wahlberg started off the rap battle, opening with the line "I'm from Southie, he's from Harvard he's got nothing on the Wahlbergs." This line makes little sense yet it was spoken with the same bravado that Wahlberg normally delivers his lines of dialogue with, so the Live audience reacted positively. He also used the plural "Wahlbergs" perhaps referencing his brothers Paul and Donnie Wahlberg, with whom he owns the national burger chain Wahlburgers. He later stated, "God is in my corner, so this election's in the box. I was in Transformers, leave you rolled out like auto bots."
long verse, it was now time for Ramaswamy to respond. Ramaswamy began by taking a dig at Wahlberg's acting ability: "You act like you're still tryna make it out of Boston, after Departed we all knew you lost it." Following this line Ramaswamy continued digging into Wahlberg's acting career, however, he did acknowledge that they were both men of faith, however, Ramaswamy does not clarify that he is a believer in the hindu faith and not christianity: "We're both pro-god so we got that in common, but I took one look at your career and it's clearly bombing."s. While Ramaswamy was rapping, Wahlberg began to work on his upper body as part of his rigorous workout regimen. He maintained intense contact with Ramaswamy while working out. He may have been trying to intimidate Ramaswamy.
Wahlberg had the second to last verse which he started off hot with the line, "I was rocking with the Rock in Pain & Gain, this'll be short like you and your 2024 campaign." This line is both a flex of Mark Wahlberg's frequent co-star Dwayne "the Rock" Johnson and a dig at Ramaswamy for a lack of support in the upcoming election when compared to other candidates. The theme of flexing your relationships with other, more famous celebrities continued in Ramaswamy's response to Wahlberg in which he stated, "I TikToked with Jake Paul, two boys from Ohio, I'm giving him a call, need a Disney channel flow." Vivek Ramaswamy appeared in a recent TikTok made by popular musician, Disney channel star, YouTuber, and boxer Jake Paul in which Paul endorsed Vivek Ramaswamy on the basis of his efforts to reach out to the youth of America through social media. Ramaswamy did call Jake Paul on the Instagram Live, but the YouTuber did not pick up the call and it went straight to voicemail. This blunder settled it and Mark Wahlberg was victorious.
The day after the livestream, former president Donald Trump reached out to Mark Wahlberg for a cosign. In a Truth Social post the same day, Trump announced that he would be managing an upcoming Republican rap supergroup under the name of Marky Mark and the Funkier Bunch. The group consists of rappers who have endorsed Donald Trump as president, namely Kanye West, Lil Wayne, Ice Cube, and now after he proved himself in the Cypher against Vivek Ramaswamy, Mark Wahlberg. The group will begin a nationwide tour in October of 2024, but they are not playing any shows in states that Trump didn't win in the 2020 election.