An Exciting New Bee-ginning: Beekeeping Club Attracts Passionate new Members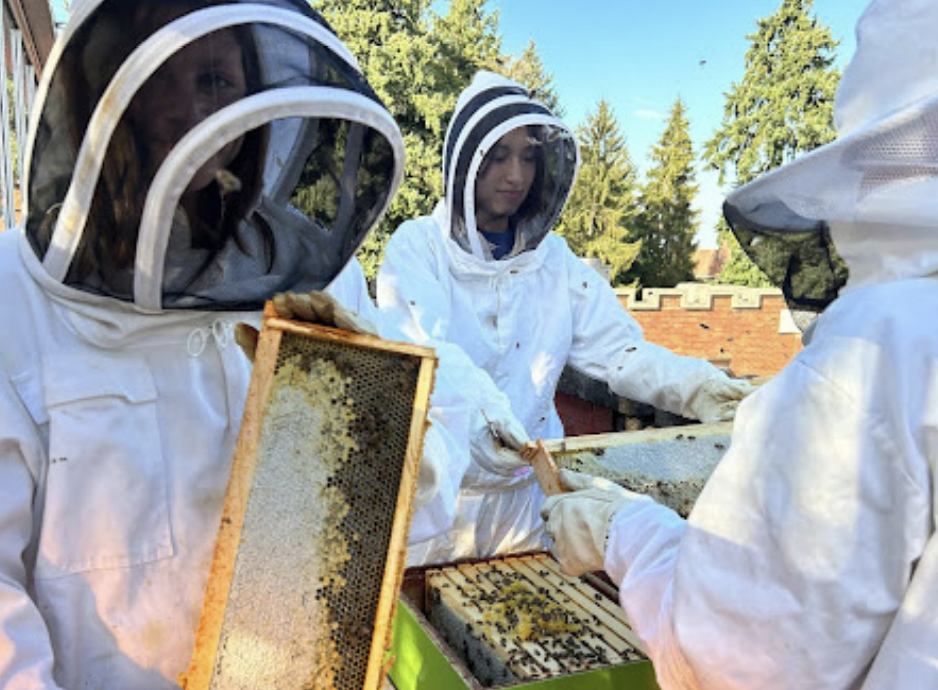 Frannie Edwards-Hughes ('27), Capriana Jiang ('23), and Ryan Hernandez ('27) (left to right) handle honey-filled frames. Photo Credit: Erin Hurley / The Trail
By Erin Hurley and Frannie Edwards-Hughes
  Standing in front of a chalkboard filled with drawings of flowers and honey, excited sophomore Ben Keri quiets down the room, preparing to start. He never would have expected 60 people to attend his first meeting, let alone without food or merchandise to entice them. But there they were, excited to hear Keri explain the goals, plans, and roles of Beekeeping Club. In the overfilled Thompson classroom that night, he highlights various activities the club would perform: honey harvesting, beeswax craft night, t-shirt designing, and more. Keri hopes to foster a passionate community, where all levels of beekeepers are welcome. One can be excited about bees, scared of them, or even allergic to them, but they can still be a vibrant member of the community on campus; everyone is welcome, and welcome to join at any point in the school year.
  Out on the roof of Thompson, multiple bee hives buzz with energy. Each week, Beekeeping Club President Ben Keri and recent graduate Capriana Jiang show new members the inner workings of the hives. Everybody dons white coveralls, gloves, a net mask, and closed-toed shoes, prepared to venture out to the hives. Members must be sure to stand on the side of the boxes, as standing in front may disrupt the bees' flight path and aggravate them. As Keri and Jiang take the various layers of the boxes off, they hand tools and equipment to their eager onlookers. They explain each relevant term: from 'queen excluder,' 'propolis,' and 'drones,' to 'hive tools,' 'smokers,' and 'frames,' the bee-keeping vocabulary is extensive.
Before coming to campus, Keri, a sophomore, had no prior experience with beekeeping. In fact, he generally shied away from bees as a kid after repeatedly hearing the false expression, "Bees can sense your fear." Since his exposure to beekeeping just last year, though, he's developed a deep passion for it, even participating in a beekeeping internship over the summer. His excitement is contagious, and he grins when explaining his grand plans for the club. Keri plans to split the club into various subgroups, including Pollinator Supporters, who will distribute wildflower seed packets to the community, Honey Harvesters, who will assist during harvest time, and Artists, who will design the club merchandise.
Keri credits the club's surprising success to its novelty and honesty. "I just had a good plan of what I wanted to talk about," he says. "Beyond that, though, I really told people to come three or four times before the first meeting. I sent two emails out. I put three Instagram stories up. If I saw people around, I'd be like 'Go to the first meeting!'" Keri believes that "energy builds energy," and he is eager to find people who foster a deep commitment and passion for beekeeping to help him lead the club in the upcoming years.
Simone Nicolodemos, a first-year, was over the moon to learn about Beekeeping Club at Log Jam. She had no prior experience with beekeeping, but it had always fascinated her. Nicolodemos jumped in headfirst, and since attending meetings and being one of the first groups to see the hives up close, her enthusiasm has only grown. "I love bees! And I love bugs!" she exclaims, grinning throughout the interview. She's already proudly displayed a Beekeeping Club sticker on her water bottle, a true sign of commitment. A honeybee hive can have anywhere from 20,000 to 80,000 bees, and seeing them up close is an experience like no other. "I usually let bees crawl all over me," Nicolodemos says. "So I thought it would be cool to just learn how to actually beekeep and get honey."
This is not Beekeeping Club's first rodeo. The club has had a waxing and waning history for multiple years. Though not nearly the size of the current club, last year's group achieved great things. They successfully encouraged the banning of a pesticide harmful to pollinators that was in use by university groundskeeping, as covered by The Trail. Keri anticipates that with greater involvement this year, the club can be just as successful.
While Beekeeping Club will have many opportunities for fun community-building activities (Watching the Bee Movie and eating honey-drizzled popcorn), the bees are also paramount in the pollination of plants on and off of campus, as they have roughly a five-mile range from the hive. The FDA reports that one-third of the food consumed by Americans comes from crops pollinated by honeybees. Honeybees are essential to our survival, yet human activity is deeply hindering theirs. Harmful pesticides, climate change, and habitat loss have contributed to an uptick in Colony Collapse Disorder (CCD), a phenomenon that is estimated to have killed 42% of honeybee colonies in the United States from April 2014-15. Though bee populations are stabilizing, they are nowhere near their pre-decline numbers. Varroa mites, small red bugs that cling onto bees, decimate hives and are often responsible for CCD. Afflicted bees can be treated, though it is not always successful. Beekeeping Club performs treatments each year attempting to ward off the Varroa mites.
Keri is hoping to expand the club's reach even further. In addition to all of the new members, he is asking for small donations to buy new hives in the Spring and to fund community-building activities. He's also focusing on training more people to give hive tours and embody the club's spirit. "I'm expecting if it goes well," he says, "this will be one of the things on all the tour guide talking points when they go to Thompson, like 'Come to our school. Learn beekeeping!' Everybody should be able to learn if we have them there."