Finding campus through our archived history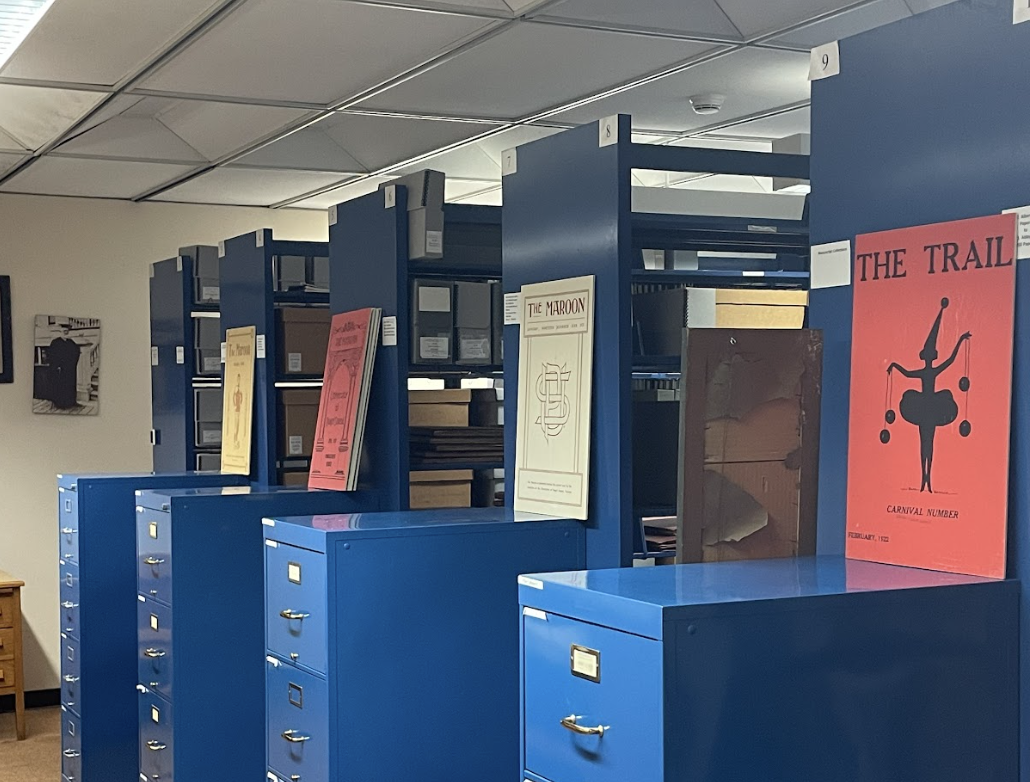 By Julian Finholm 
History is important to remember. And that is precisely the job of the University of Puget Sound's Archives: remembering and maintaining campus history. From yearbooks to back issues of The Trail, the archives serve as the campus' memory of times past. But that's not all that's in the archives. This library level is a special space filled with passionate people dedicated to upholding the place of history. It's also an environment that is clean and complete with many items stored in the archives. These historical artifacts are used for school purposes, but there's more to that when it comes to interacting with the artifacts themselves. 
Maintaining the archives isn't a simple job, and includes more than one might think. Some of the many jobs done at the archives include: "preparing the materials, storing them and creating records like catalog records for them, to make them accessible to other people," said Assistant Archivist Olivia Inglin. Jane Connelly, department head of archives and special collections, is the other half of her and Inglin's dynamic duo.
 The archives' record room is absolutely wonderful. It's loaded with many valuable documents and items, including the recent edition of the Abby Hill collection. If a student ever needs primary source material on Puget Sound history, there's no better place than the archives to look. Yet not every item is able to stay at the archives due to some having little value to the campus. Less important items are simply disposed of. But getting rid of more valuable materials is a different story. "We would reach out to other archival institutions and see if they had any interest in materials. This will happen on occasion if someone wants to donate something," Inglin said.
Other documents require more permanent solutions. "If it is a record that has any type of sensitive information, then that's a different disposal process that would include like shredding, and like full destruction," Inglin said. The archives management is a team effort, and these two are dedicated to preserving historical items in a safe and collectively beneficial manner.
The importance of history can really be felt in the archive's collection of yearbooks. The physical copies of these books make history feel so alive. In these chronicles, there are hundreds of events that have occurred in the University community and around the world. From protests to parties celebrating expression, the archives contain a snapshot of all of campus life. The documentation of these moments are increasingly relevant on a campus that is constantly redefining itself in relation to the past. With the knowledge of these past events, students can not only be informed what happened back then, but also have some idea of how to respond to certain issues today. 
  The archives are used more than one might think. "We have student researchers come, I'd say weekly, anytime, pretty much nine to five," Inglin said. Students use the materials for research projects, papers and other school assignments. It's quite helpful when a student wants to be informed of what they're studying about or handle primary sources.
 However, students aren't the only ones contributing to the archives. In fact, the school takes donations from any place, anywhere. "In regards to how people can provide records to the University, they can contact us directly, and we have a donation process. Our mandate largely is, again, to support the teaching and learning at the University," Inglin said. So long as they have value in an educational sense for the archives and the University of Puget Sound as a whole, donations are welcomed into the growing collection. These donations aren't just local either. They come from all over the world which correlates with the University of Puget Sound having various donors helping to make the school what it is today. One group that comes to mind is the people who helped bring the iconic bells to campus. The campus has quite a history of wondrous proportions. It can fill any Logger with a sense of pride knowing they come to this rich and knowledge-driven school that's always changing. The research done by students about these events can also keep them informed of how far the school has come and how far it still has to go.
The archives are filled with many items that are important to campus history and its future. Mainly, it has much to do with the history of the teaching process in both on-campus and off-campus contexts. To know the archives is to know the campus. Inglin knows how important it is to document life on campus from all perspectives. "So it's because we have the history of the University, right? So we have the records. So we try and capture the history, from faculty, from staff and from students," she said. This crucial history comes from all who walk these halls and outside school grounds. The more we know of the University of Puget Sound's history, the more we know of the places our campus can and will go next.