ALMA Tacoma's Closure Leaves Void in Music Scene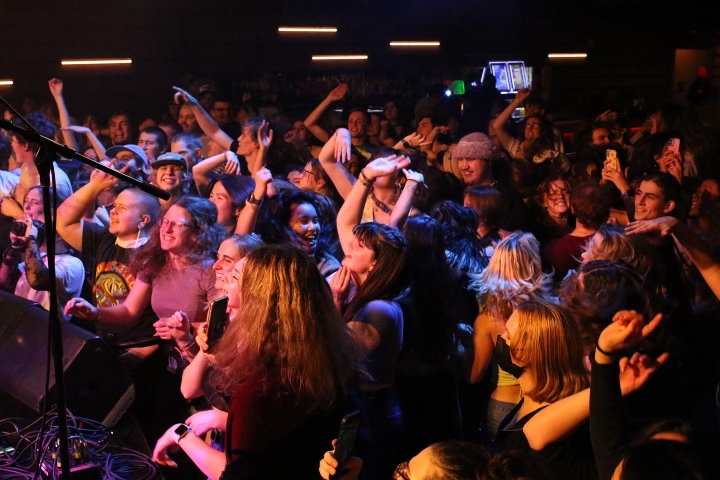 University of Puget Sound students dance at last year's KUPSFest, held at ALMA Tacoma. Photo Credit: Rhae Schulz-O'Neil / KUPS
By Tate DeCarlo
On September 18, ALMA Tacoma, a beloved downtown music venue, restaurant, recording studio, and event space, issued an official announcement that they will be permanently closing their doors on October 28.
Located on Fawcett Ave in the heart of downtown Tacoma, ALMA has been a cornerstone of the city's music scene for over five years. ALMA has not issued any information regarding the reason for their closure other than an initial statement with its announcement, and staff have given no further comment. The initial statement also expressed their gratitude for the Tacoma community, shared their updated event calendar, and wished "that the spirit of diversity, community, resilience, and ingenuity fostered at ALMA continues to permeate the neighborhood and beyond."
Lucy Gruidl ('24), the Special Projects Coordinator at Spaceworks Tacoma – a program of the TacomaPierce County Chamber that works with small businesses to place them in brick and mortar locations – emphasized ALMA's value. "I think ALMA was an integral part of the creative economy in downtown Tacoma," she said.
Gruidl pointed out that the timing of this closure makes it even more disappointing, as it is happening during one of downtown Tacoma's biggest booms. "There's a lot of development happening in downtown Tacoma, and more people are moving in and more retail is coming. And so it is a shame to see that it is closing at this transition time," she elaborated.
The venue's proximity to the University of Puget Sound campus made it a favorite destination for students interested in live music. Aside from showcasing bands and artists alluring to the student body, ALMA also partnered with KUPS, the University's radio station, to host on KUPSFest, the end of the semester concert highlighting student musicians
With the capacity to hold an audience of up to 300 people, ALMA offered a medium sized venue perfect for burgeoning musicians and was an organization eager to enable the local music scene. The guidance of ALMA staff was deeply appreciated by student performers. Delaney Maudlin ('26), who performed at KUPSFest with their younger brother in the spring of last year, explained that the support and diligence of the ALMA sound team helped make one of their first performances feel comfortable. "The staff there was really helpful and everything went really smoothly. There were no hiccups, nothing that was unfixable, and they were very professional," they said.
Maudlin's sentiments are echoed by former KUPS staff member Tio Lloyd ('23), who worked closely alongside ALMA employees to plan and set up for KUPSFest. "Staff were really excited to hear what ideas we had for the specific events but also kind of encouraging us to think outside the box and come to them with suggestions," they explained. "I remember a specific meeting with two staff members at ALMA and they were like, 'whatever you can think of, we can try to make it happen.'"
ALMA's work with University of Puget Sound students was not limited to KUPSFest. After graduating last year, Lloyd helped to work ALMA's box office and did low level work with their sound team. ALMA's willingness to employ Puget Sound students and graduates further highlights the support that the organization offered to the community. Though their time as an ALMA employee was short, Lloyd looks back on the experience with fondness. "It really felt like a space of encouraging people to learn," they said. 
Between its proximity to campus, enticing events, and welcoming atmosphere, ALMA's closure will certainly be a loss for students. Gruidl expressed gratitude for ALMA as an organization that motivated students to explore the city. "It really got UPS students off of campus, and they got to see a little bit of downtown Tacoma. I think that's really good. We're usually stuck in a small bubble in the North End of Tacoma and Tacoma is like way, way more than just North End," she said.
ALMA closing now prompts questions about potential effects on the local music scene, not just for University of Puget Sound students, but for the broader community as well. "I'm really curious to see how people are going to try to fill that space because I definitely think that there's going to be a noticeable gap in the Tacoma entertainment industry," Lloyd mused.
It seems that students at least are optimistic about the community's resilience and are confident that, despite losing ALMA, the show will go on. Lloyd and Lasky, both involved in the Tacoma D.I.Y. and house show scene, hope that independent venues will pick up the slack. While Lasky concedes that ALMA may have offered a space more inviting for casual music enjoyers than a D.I.Y venue, he remained adamant that ALMA closing would not significantly hamper music production and performance in Tacoma. "It definitely hurts because there are plenty of people that I know that wouldn't show up to a house show, but would show up to, like, a big show, but it's not the end of the world. There's other venues," he said.
Gruidl assured that ALMA's closure, though surprising, is already sparking conversations amongst Tacoma business owners about the future of both the space itself as well as opportunities for other venues in the city. "We're resilient. It's not, not being talked about. There's conversations and I believe that Tacoma will fill the gap in some sort of way," she said.
University of Puget Sound students also see this closure as an opportunity to increase live music on campus. "Music isn't going to stop being a part of Tacoma nor is it going to stop being a part of campus. It might just have to become a little bit more independently organized," Maudlin said
Lasky is especially adamant in his call for an increase in musicians hosted by the University. "My hope and goal is to see more live music on campus, whether that's sponsored through KUPS or not," he said.
Regardless of the direction of both campus and local music's development, ALMA closing will certainly be felt by students passionate about music. ALMA was a massive hub for the Tacoma music community, and a gathering place that granted people of all backgrounds the chance to forge connections and share their art.
Lloyd emphasizes that ALMA will always hold a special place in their heart. "I only got into music, playing music and really having it be as big of a part of my life as it is, in Tacoma. And I think that part of that might be related to the openness that ALMA had, that might have rippled into the other communities of music that I was in," they said. "It felt like I had a spot in Tacoma music, and that surprises me still."