Last issue for trailblazer and Editor-in-Chief extraordinaire, Audrey Davis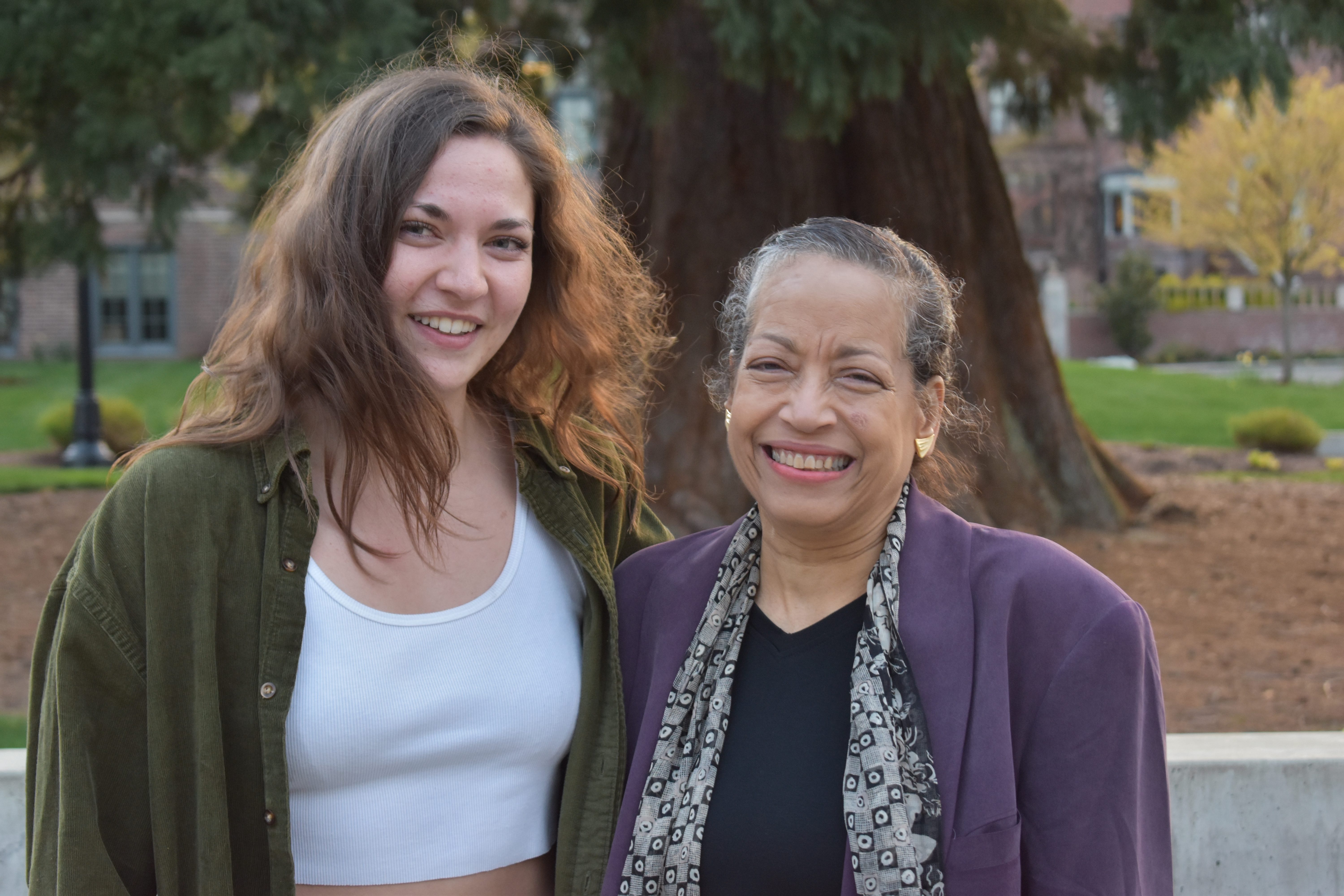 Editor in Chief Extraordinaire, Audrey Davis (left), and right hand woman, advisor Robin Breedlove (right) Photo credit: Emma Loenicker
By Andrew Benoit
Two years ago, the University of Puget Sound did not have a student newspaper. The Trail, a newspaper that had served the university in various forms since 1895, had fallen silent. Not only were there no writers for the paper; there were no editors, either. No one who had previously worked for The Trail was sticking around.
Into this newspaper-shaped void stepped the irreplaceable and unstoppable Audrey Davis. In under two years, Audrey did more than just restart The Trail. As Editor-in-Chief, she turned a defunct publication with a problematic history and reputation for a toxic work environment into a thriving and essential voice on campus. Today, The Trail is more than just a newspaper. It is a team of some of the most wonderful people on campus, each wholly dedicated to their craft. There is no one more responsible for this success than Audrey, who should live on in the archives as the pioneer — nay, the savior — of student media on this campus after the height of the COVID-19 pandemic.
This issue marks Audrey's 20th and final paper as the Editor-in-Chief of The Trail. Her achievements, although largely unsung, will have a reverberating impact on both campus media and campus culture in general.
This isn't to say that the Trail's reversal of fortune was easy. In fall of 2021, The Trail consisted of three writers and two editors. Audrey inherited an empty media office filled with old newspapers and a progress report that told her next to nothing about newspaper operations. On top of that, she was encouraged to pump out a newspaper a week, which seemed a tall task, considering we didn't have enough writers to constitute a long line at the Chef's Table. Vegas wasn't offering good odds on our success.
The pressure was enormous. Audrey will tell you herself: For the first year, The Trail operated in survival mode. Audrey put more work into the publication than I knew was possible. She worked tooth and nail, and God knows when she got a chance to sleep. But her dedication and hard work paid off. When The Trail came back after summer break, it hit the ground running as a fully fledged publication providing essential information to campus.
Audrey really earned her stripes as she navigated the troubled waters of accurately and successfully covering the financial trouble the University is facing. Under her leadership, The Trail did more than simply report what people already knew. Audrey found new angles and new stories within the overarching narrative. She didn't just react to the narrative, she was instrumental in helping construct it. Beyond that, she helped advocate for transparency and respect at a time when both were at an all-time low on campus.
Of course, The Trail isn't perfect. Those who've had their name misspelled or noticed that the crossword answers don't always fit in the boxes know this fact firsthand. We've had our fair share of bungles, and are always on the lookout for learning opportunities. But that's what we are: students. Student journalists whose training was largely conducted by the seats of their pants, or slideshows made by other student journalists with a year's worth of prior experience at most. Audrey took this to heart. To her, every setback was an opportunity to learn and change. Every mistake was turned into a future success. Well, most of them were.
I have had the honor of working with Audrey throughout every step of this remarkable journey. I remember the first time I talked to her, during a Zoom interview for an editorial position. Aside from feeling a little intimidated, I couldn't help but feel inspired by the person who was so obviously the right choice to lead the nascent paper. It has been my supreme pleasure to work with her ever since. I am constantly impressed by Audrey's forethought, insight, leadership skills and quick wit that makes editors' meetings feel more like a party than work. Her kindness and understanding made The Trail a place people wanted to be. It certainly gave me a home on campus. As The Trail says goodbye to one of the best people I have ever had the opportunity to work with, I know that whatever Audrey does next, she will continue to succeed. Nothing can stop the woman who defied the odds and breathed life back into student media at the University of Puget Sound.