Honoring People and Salmon at Kittredge Gallery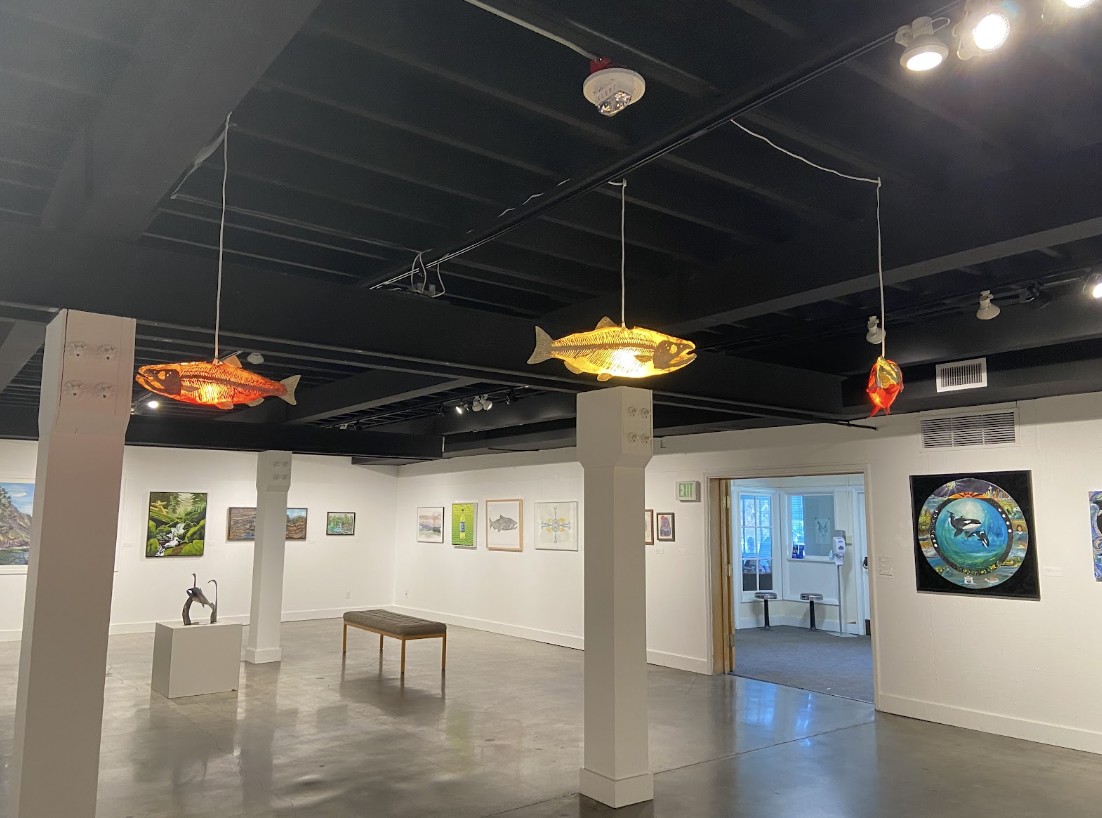 Salmon sculptures hang in Kittredge. Photo credit: Ainsley Feeney
By Ainsley Feeney
Something fishy is happening at Kittredge Gallery — in the best way possible. Through April 16, the University's resident art gallery is presenting "Honor: People and Salmon," a multi-medium art display featuring the Pacific Northwest's most famous fish. This exhibit is presented by Northwest Artists Against Extinction (NWAAE) and Save Our Wild Salmon Coalition in an effort to combine art, advocacy and ecology.
When I walked into Kittredge after class one day, I wasn't sure what to expect. I didn't know much about salmon, and I certainly didn't know the cultural importance they held in this part of the country. I was greeted with salmon in all different forms: paintings, drawings, sculptures and even photos. The centerpiece featured four paintings by Eileen Klatt, all illustrating extinct salmon species. Their beauty, combined with the heartbreaking context of extinction, summed up the theme of the "Honor: People and Salmon" exhibit.
On the wall to the left, there are several pictures of Indigenous people who are deeply rooted in Northwest salmon culture. Lit-up salmon sculptures hang from the ceiling. A salmon suspends from the wall featuring water pipes going through it, with the poignant message, "Damn me dam me no more." One wall features depictions of orcas as well, such as in Sue Coccia's "Granny Orca Spirit." If a person like me, with little to no knowledge about the Pacific Northwest's relationship with aquatic wildlife, walked into this exhibit, they would quickly feel the reverence towards these animals as well as the danger that they face.
A placard on the wall with a message from Britt Freda, the artist and curator of "Honor: People and Salmon" and the NWAAE Creative Director, helped contextualize the exhibit. Part of it states, "I believe these advocate artists — who seek to evoke support for restoring salmon and orcas and the many communities that honor and cherish these emblematic species — believe that their art has the power to seep into the hearts of those who interact with their works." Freda's words rang true for me as I exited the gallery that day. Art's ability to change hearts and minds is, in many ways, incomparable. To hear about the "Women with nets" or the "Extinct Walla Walla River Chum Salmon" is one thing; to see them is quite another. After attending the interdisciplinary panel held in Kittredge later that week, I was able to hear from the artists, activists and ecologists who made this exhibit possible. I heard Puyallup people speak about salmon in their native Twulshootseed language and learned about the importance of salmon and orcas to the Puyallup people. I heard about the connection between science and activism. And most importantly, I learned how to better honor salmon and the people who honor them.