KUPS student art market and Womens' League Flea Market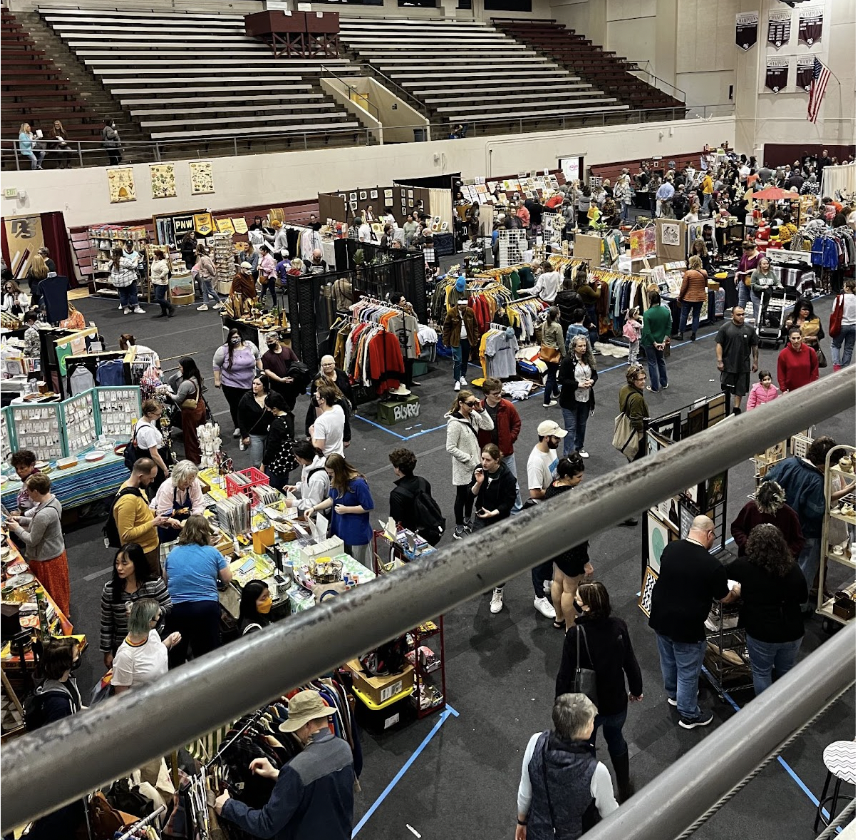 March 18th Flea Market in the Memorial Fieldhouse. Photo Credit: Sara Orozco
By Sara Orozco, KUPS Correspondent
Before spring break, KUPS sponsored a student art market in the Rotunda that had us blooming into spring with fantastic art and textiles along with an inclusive and thrifty clothes swap. For this, we have Libby Regan to thank. Regan has been working on this project for quite some time, making sure accessibility was an important issue on the booking spreadsheet. In an interview with Regan, I got some insight into what an event like this takes to make happen. Regan had a myriad of jobs from getting artists on campus involved, spreading the word about the market, and ensuring that all artists would have the appropriate space they needed to showcase their work. But to Regan, it's all worth it.
If you've ever been to an art market on campus, you'll remember the busy atmosphere and beautiful work that comes out of our student body. As an art student, Regan knows just how much talent we've got here at Puget Sound. "Giving visibility and a chance to spread art on a platform that isn't online was meaningful to me," Regan explained, "I'm interested in having more art events that involve KUPS since so many people in the KUPS community make great art."
Making art as accessible as possible was also an important interest to them. Getting enrolled in a studio art class on campus when you're not a major or minor can be March 18th Flea Market in the Memorial Fieldhouse. Photo Credit: Sara Orozco challenging. Luckily, we have some spaces on campus where everyone has access to some of the tools they might need to do their artsy thing. The Makerspace is one of these places and has a ton of great stuff, including a sewing machine.
omes with its perks. When you get a chance to get involved with an art market like this one, there's usually a great little payday involved. Getting people to buy your art is always a wonderful feeling, but the money can not only go towards making more art but can really turn into a side hustle if you dig the process enough to put some real time into it. Another great part about art markets hosted on campus is the great variety in size and scale. On March 18, the Women's League hosted an enormous flea market taking up both floors of the Memorial Fieldhouse. Unfortunately, many students didn't get the opportunity to attend as it was during our spring break. However, loads of community members got involved and showed up to sell a variety of things, from candles, jewelry, and vintage denim, to tasty snacks — there was so much to see and buy. With food vendors outside from local restaurants and pop-ups, paired with such incredible different booths inside, there was something for everyone to enjoy. This event has been on a hiatus since the beginning of the COVID pandemic, and it was great to have it back on campus for 2023!
Keep an eye out for the next annual Women's League Flea Market, because it really is something worth seeing! The vintage stalls gave the market a quality flea-market vibe that made shopping feel more like treasure hunting. Most stalls were represented by bigger businesses all across Tacoma, as it was an excellent opportunity for vendors to show off their goods and get the word out about their own businesses.
So, next time you hear about an art market, remember to jot it down in your calendar and consider putting some of your own stuff up for sale.