Tacoma's Grand Cinema brings conversation, culture and cinema with The Silver Screen Society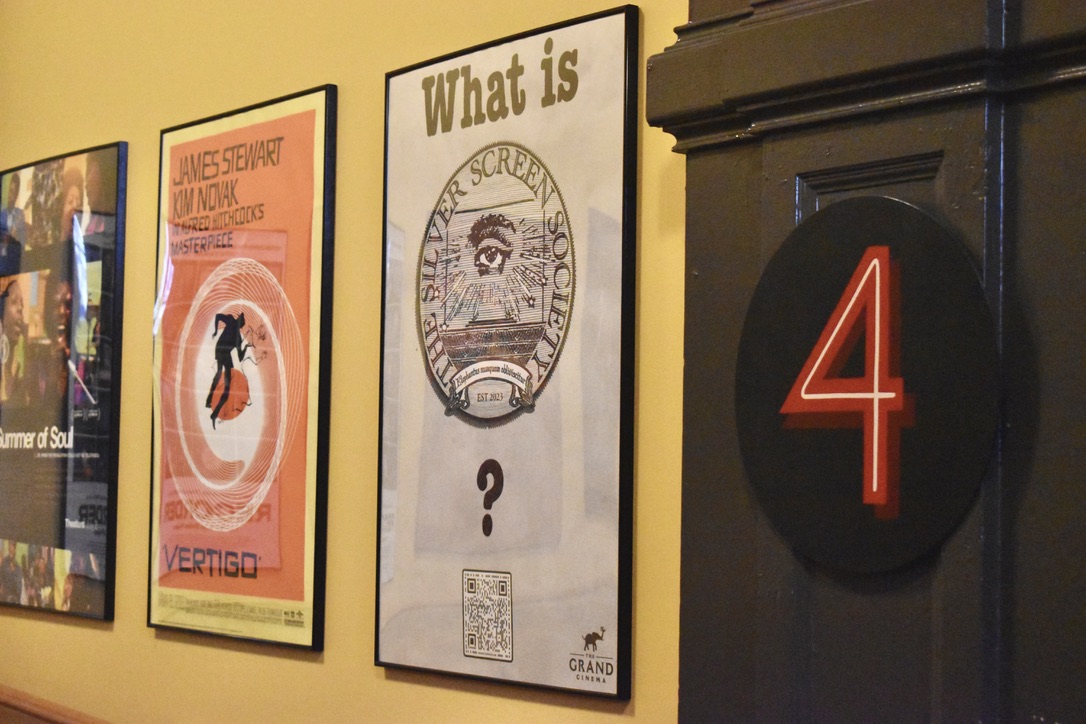 A poster for the Silver Screen Society next to the sign for the Grand Cinema's legendary Theater Four. Photo Credit: Andrew Benoit
By Andrew Benoit
The Grand Cinema, Tacoma's largest arthouse cinema, has four theaters inside its deceptively large building. Three of them are right at the front and are where the majority of the screenings take place. The fourth one is used so infrequently that you'd be forgiven for not knowing about it, or the beautiful Grand Lounge that accompanies it. However, Theater Four, which the Grand's Assistant Executive Director Wade Neal calls "The Legendary Theater Four," has recently been given a very special assignment: hosting all screenings of The Grand's new film series, "The Silver Screen Society." In Neal's eyes, the society fills an important role. "I feel like there's a real need to see things that are unusual. See things that are of high value artistically and see them together and talk about them and celebrate," he said.
The Silver Screen Society started as a way to unlock Theater Four with a weekly theme, with hopefully endless possibilities. "Basically, like it's a film festival all year long. It's a mini festival every week in this one part of our theater," Neal said. But it's much more than that, as one might guess by the society's masonic-esque logo, which was inspired by the building's past life as an Odd Fellows Hall. The Silver Screen Society is part of The Grand's overall mission to promote cinema as high art. "We really think of it as something that is a high form of art, and that's one of the biggest parts of our mission is to promote that in the community and allow people to celebrate it," Neal said. In this vein, The Silver Screen Society is a place for people who worship film. "It's about having reverence for the history of film," said Neal.
This isn't to say that The Silver Screen Society is elitist or requires one to be a diehard film fan to enjoy its selection. The love of film that is behind the society is meant to be inviting. "It's not really meant to be a challenge or anything. It's just meant to be, 'hey, you're invited if you want to try something different and work on your intake of a longer film or anything like that'," Neal said.
Theater Four is the perfect place to grow a love of film. With only 76 seats and a wonderful surround sound system, there are few places more perfectly suited for watching movies. "It almost feels like this jewel box theater from another time," Neal said.
The ability to see some of the greatest movies in the world in theaters is at the core of The Silver Screen Society. "We are really passionate believers of seeing a movie in its proper place, which is a cinema, where your eyes can explore the screen, the sound is good quality, and it's presented in proper color tones and all those kinds of things so that you can explore the art in the proper place," Neal said. Neal is passionate about the benefits of seeing movies in the theater, rather than at home. Part of the reason for this is the transformative effect of seeing a film on the big screen in a dark room surrounded by other people, and the connections the experience brings. "People's lives can be changed just by seeing a film together. You see it at home, you might say that was a great film, but if you see it together, you created something," he said.
The Silver Screen Society offers participants more than just screenings. Some of the showings are forwarded or followed by a talk given by a local professor, what Neal calls a "pre-movie prayer." Professor Renee Simms of the University of Puget Sound gave an incredibly well-received talk prior to a screening of "Get Out" where she drew parallels between "Candyman" and "Get Out" and how they illustrate the Black experience.
These talks are incredibly valuable in Neal's eyes, and not just because the presenters have wonderful insights on complex topics. Some of the movies The Grand is showing through The Silver Screen Society are notoriously difficult films to make sense of. "Even having that 'pre-movie prayer' or whatever helps you when there's a challenging piece of art, because sometimes there's a slow piece or something like that, that might be a little bit more challenging than others," Neal mentioned.
The Silver Screen Society is also a conscious effort by The Grand to combat some of the negative trends that have afflicted cinemas everywhere, trends that have been caused or exacerbated by COVID-19, ubiquitous streaming services, and rising inflation. For a cinema like The Grand, one of the biggest issues it faces is just how limited its theater space is. In order to get the rights to show a film, theaters often agree to dedicate all showings of a particular screen to that movie and that movie alone, locking it up for several weeks. According to Neal, with only three or four movies playing at a time for a span of several weeks, customers quickly watch all the movies that The Grand is showing. So, The Silver Screen Society gets around this by presenting several different movies a week allowing moviegoers to always have some of the world's best cinema on the big screen. Neal compared it to a nightclub, where a different musical act plays every night. "The Silver Screen is designed to have something always available. It's designed to be: 'what's happening at The Grand today? Oh, man. 'Fargo's' playing!'" Neal said.
With the Silver Screen Society entering into its second week, Neal has been proud of its reception so far. He is particularly fond of the screenings for Hitchcock's "Vertigo." "People from all walks of life came to 'Vertigo' to see what is it all about or remember what it is like to see it on the big screen. And there was so much excitement about it," he said.
It's easy for students to engage with the wonderful opportunities that the Silver Screen Society offers. Most showings at The Grand are totally free for students or EBT card holders, as part of a program through TacomaCreates. While Neal jokes that he hopes people will buy popcorn (Neal is particularly proud of The Grand's popcorn, claiming it to be a step above) when they see a movie for free, he is genuinely very passionate about the accessibility of The Grand for students. He urges students to take advantage of this opportunity and see some of the world's best cinema, totally free. "I'd like nothing more than for students to come and see some of the greatest movies of all time, and some of the silliest movies of all time and some of the weirdest movies and then talk about them," he said.