Millions displaced and thousands dead in aftermath of earthquakes on the Turkey-Syria border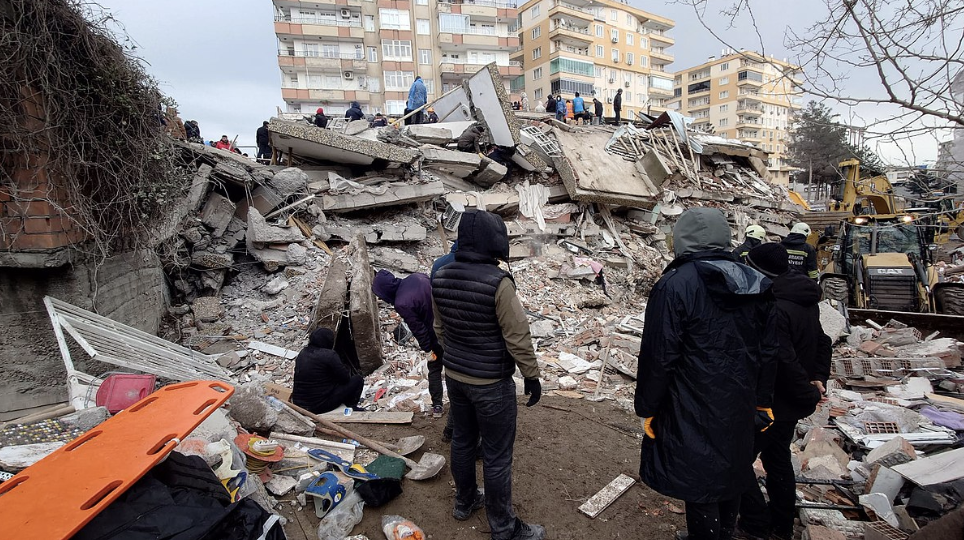 The wreckage of a collapsed building, Diyarbakır, Turkey. Feb. 2023. Photo Credit: VOA
By Emma Loenicker
A series of cataclysmic earthquakes have devastated Turkey and Syria in recent weeks. The East Anatolian fault, which runs along the border between these two Middle Eastern countries, is responsible for the colossal wreckage and alarming death toll that reportedly surpassed 50,000 as of Feb. 24. The first wave of deadly quakes struck Southeastern Turkey and Northwestern Syria on Feb. 6 at 4:17 am, local time. The initial 7.8 magnitude strike was followed by a 7.5 magnitude aftershock 9 hours later.
On Feb. 21, just two weeks and countless tremors later, a 6.3 magnitude quake shook southeastern Turkey, again wreaking havoc on the same Turkish and Syrian border provinces. Then, on Feb. 25, a 5.3 earthquake shook neighboring provinces in central Turkey, just west of the disaster-stricken areas. Survivors of the first wave of severe quakes found themselves among a fresh wave of the displaced. In the past 30 days, 31 earthquakes have hit Turkey and Syria border regions. Kahramanmaras, Hatay, Gaziantep, Adiyaman, and Malatya are five of the provinces most devastatingly impacted by the quakes.
Turkey is located in one of the world's regions most susceptible to earthquakes. The Anatolian plate, on which it lies, is being compressed by the northward collision of the Arabian and Eurasian tectonic plates. In August 1999, the northern portion of the Anatolian fault line released and resulted in a 7.4 magnitude earthquake that killed thousands and destroyed several cities.
In a country with a history of catastrophic earthquakes, the recent mass destruction has caused speculation over poorly enforced building standards. Since the 1999 earthquakes, new earthquake-resilient building codes have been introduced, but in recent weeks, the enforcement of these modern building codes has become a source of public debate. While the severity of the quakes plays an indisputable role in the extent of the damage, some experts also have pointed to insufficient retrofit measures that fail to comply with current building codes, as a possible explanation for the extensive building collapse and destruction. 
Turkish President Recep Tayyip Erdoğan is under fire from critics accusing him and his government of evading accountability over poor building standards. Reportedly, many structures in Turkey do not comply with modern codes because contractors cut corners to increase profits. Turkish authorities have cracked down on accusations of construction negligence, arresting at least 200 people suspected of poor building construction as of Feb. 26.
Over 1 million have been reportedly left homeless in the aftermath of the disaster, and millions more face displacement and serious injuries. The UN sexual and reproductive health agency reported that among the survivors are roughly 356,000 Turkish and Syrian pregnant women in urgent need of health services, 38,000 of whom have no other option but to deliver their children in unsafe and unsanitary environments.
Despite the devastation sweeping through both sides of the Turkey-Syria border, rescue and relief efforts have not occurred in equal measure. In Turkey, the agency AFAD operating under the Turkish Ministry of Interior, among other international relief programs, has achieved many improbable rescue missions, whereas Syria faces a regrettable lack of aid.
In Syria, the earthquakes aggravate the mass displacement and migration caused by the Syrian refugee crisis resulting from the ongoing Syrian civil war. In northwestern Syria, the damage reaches beyond the political boundaries drawn over the past 12 years of civil war. The two Syrian territories are distinguished by opposing urisdictions. One is held by Syria's authoritarian president, Bashar al-Assad, and the other zone is held by Mr. al-Assad's opposition. 
These divides delayed additional help and equipment from reaching Syria in the days following the disaster — aid was even slower to reach the provinces in opposition to Mr. al-Assad. According to a joint statement by 35 international and Syrian aid groups, local rescue teams did not have the capacity to search more than five percent of the affected areas in the crucial hours and days following the first earthquake. In Turkey, unlikely survivors were pulled from mounds of rubble, whereas Syrian victims were not given the same priority to be rescued in time. Aid groups in Syria continue to urgently call for increased international support.
In response to the widespread destruction, and for the first time since the war began, Mr. al-Assad has temporarily loosened border crossing regulations between northwestern Syria and Turkey to provide aid to the opposition-controlled territories. Mr. al-Assad also calls for lifted Western sanctions, acknowledging that state capacity is low, and external aid is necessary to rebuild and revive during the critical weeks and months to come.
Government reports estimate more than 1.7 million Syrian refugees are registered residents in the ten southern Turkish provinces affected by the recent earthquakes. Until the earthquakes, these Syrian refugees were confined to their respective provinces, prohibited from moving between provinces unless authorized. In response to the earthquakes, Turkish authorities have issued and revised a series of directives aiming to increase mobility for these residents so they would not be trapped in devastated provinces. However, the loosened regulations around refugee confinement remain relatively strict and temporary.
As it stands, the Turkish government's plan is to rebuild 200,000 apartments and 70,000 village houses, but the United Nations Development Programme (UNDP) estimates a need for 500,000 new homes to sufficiently re-house the approximately 1.5 million people left homeless. The UNDP also estimates between 116 and 210 million tons of quake-produced rubble, for which they requested $113.5 million from the UN to clear it away.
The UN also allocated $50 million from its emergency funds to the earthquake restoration efforts, announced a $397 million humanitarian appeal for Syria spanning three months, and released a statement saying that a similar appeal would soon be announced for Turkey. In another international relief effort, the US Secretary of State Antony Blinken recently pledged an additional $100 million in aid to Turkey and Syria after touring the two countries. Blinken's pledge came shortly after Biden announced his $85 million in aid for Turkey and Syria.
Amany Qaddour, the executive director of Syria Relief and Development (SRD), pointed out that while mass destruction and crisis call for international partnerships, local organizations are the most impactful because they have a deep understanding and sympathy for the specific context of the recent tragedies.