Cyclone Gabrielle displaces thousands in New Zealand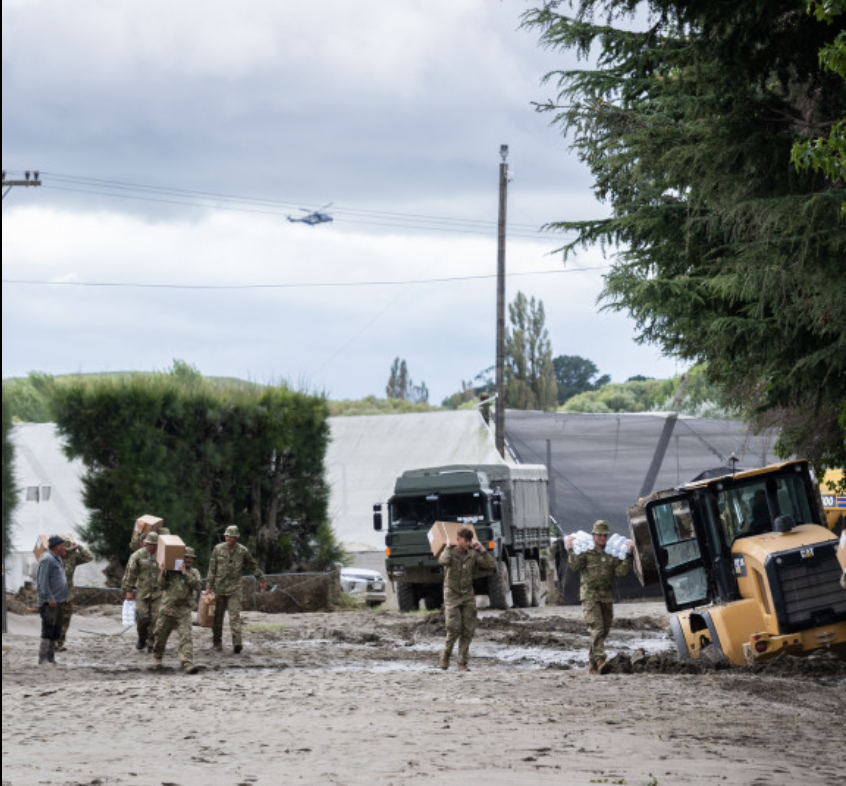 New Zealand soldiers resupply Moteo Marae, Feb. 2023. Released by NZ Defense Force Force
By Mercer Stauch
The worst natural disaster in New Zealand's recent history rocked the northern part of the island nation on Sunday, February 12. Cyclone Gabrielle, which at its peak was classified as a Category 3 Tropical Storm, has claimed five lives and displaced over 10,000 people. By Friday, February 17, 3,500 New Zealanders were unaccounted for. As of the 28th, this number has dropped to eight. Forecasters predict the formation of two additional cyclones this week.
Communications failure across the island is complicating the recovery efforts. People are turning to Facebook and other social media sites to reconnect with missing loved ones. For the same reason, the complete extent of the damage to infrastructure and agriculture is unknown.
In the city of Dargeville, which produces 95% of the country's kumara crop — a staple of the New Zealand diet and economy — farmers estimate that expected yield this season will drop to 5% of what it would have been. As authorities learn more about the impact of the storm, other statistics like this are expected to emerge; standing water, downed power lines and silt still cover entire villages and farmland across the island after days of flash flooding and severe rain.
New Zealand Prime Minister Chris Hipkins announced that New Zealand will be accepting international aid to mitigate the costs of recovery. In a statement to the New York Times, he added, "We are going to see more of these types of events, and making sure that we are prepared for them is going to require a significant amount of time, energy and investment." Hipkins also announced a federal state of emergency on February 14, the third time in New Zealand's history that this executive power has been invoked.
 James Shaw, the leader of New Zealand's Green Party, criticized New Zealand's inaction in the face of climate change. In a quote obtained by the New York Times, he said, "We cannot put our heads in the sand when the beach is flooding. We must act now."
This statement, backed by research which suggests that tropical storm intensity will increase as the planet warms, brings to light the inequality intrinsic in the impacts of global warming. In recent years, New Zealand's CO2 emissions have accounted for 0.09% of global emissions, compared to the estimated 28% contributed by the United States and 27% by China (according to Statista estimates). Even so, New Zealand and other island nations continue to bear the brunt of the consequences.