Worms love them! An interview with Dirt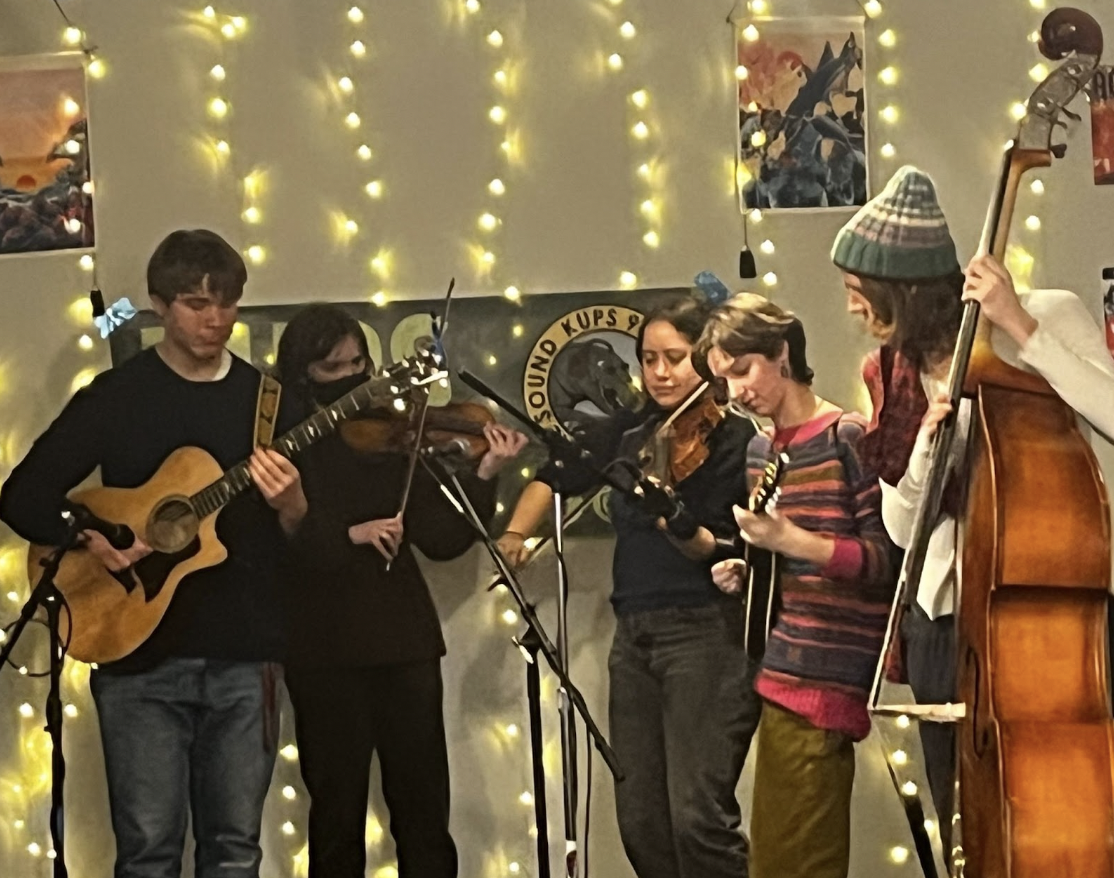 Dirt at a KUPS Open Mic event. Photo Credit: Sara Orozco
By Sara Orozco
Recently, I got the chance to interview some members of Puget Sound's own bluegrass band, Dirt. You may be thinking, bluegrass? At Puget Sound? It's more likely than you think.
It all began with Holland Mueller. Here's what she had to say about the origin of Dirt: "Initially I reached out to Ellie because I knew they were super into bluegrass music and I've been yearning to play alternative folk music for the longest time. I'm a music major here and I play the violin, but they really only offer classical education. So I've been yearning for opportunities to jam with people."
Ellie plays a mean mandolin, she and her instrument go way back. Ellie talked about her start in music, saying, "My dad has played music his whole life and when I was little he started taking me to bluegrass festivals. He was like, 'What's the smallest instrument that I could teach her a little tune on?' And it was mandolin. I was, like, 7 years old." She still spends time during her summer attending those Bluegrass festivals, and we all have her to thank for her wisdom of the chords and twangs.
Holland met Paige next and they started playing the fiddle together. Later, Holland met Cole at the Crosscurrents-sponsored Goosebumps open mic. He joined the group with snazzy guitar-playing that adds a bit of familiarity to the ensemble. Throwing Avi in the bunch works like a cherry on top of a delightful bluegrass sundae. Holland and Avi share their music schooling in common. Avi is a Cellist at the University, regularly performing with a myriad of musical groups and events at Schneebeck Music Hall. In this group, Avi plays the bass. The deep chords they play on their massive instrument keep the rest of the group in time.
If you've ever had a chance to watch Dirt perform you know the energy they bring to a crowd. The "jamming" that Holland has built with all of these brilliant musicians breathes life into the crowd and makes it almost irresistible to not two-step to. Rarely have I felt upset about my lack of square dancing knowledge, but listening to them play at the KUPS open mic night certainly made me yearn to learn.
The dynamics of the group are impeccable, and the energy their instruments bring to a room is unique to their bluegrass style. Dirt's originality reminds all of us that just because everyone here looks like all they listen to is Tame Impala, you should still check out what your friends are doing in their free time. They might just be playing in a Bluegrass band three times a week.
Thanks to bands like Dirt, one thing you can count on at the University of Puget Sound is diversity in music taste. We are a lucky campus to have such variety in our band scene! If you had a chance to come to the KUPS hosted open mic night on the first of February, you might've caught Dirt's toe-tapping performance. If you haven't — what are you doing with your life? Come out to some shows!