Julie Davidson and Komadre Kombucha are here to stay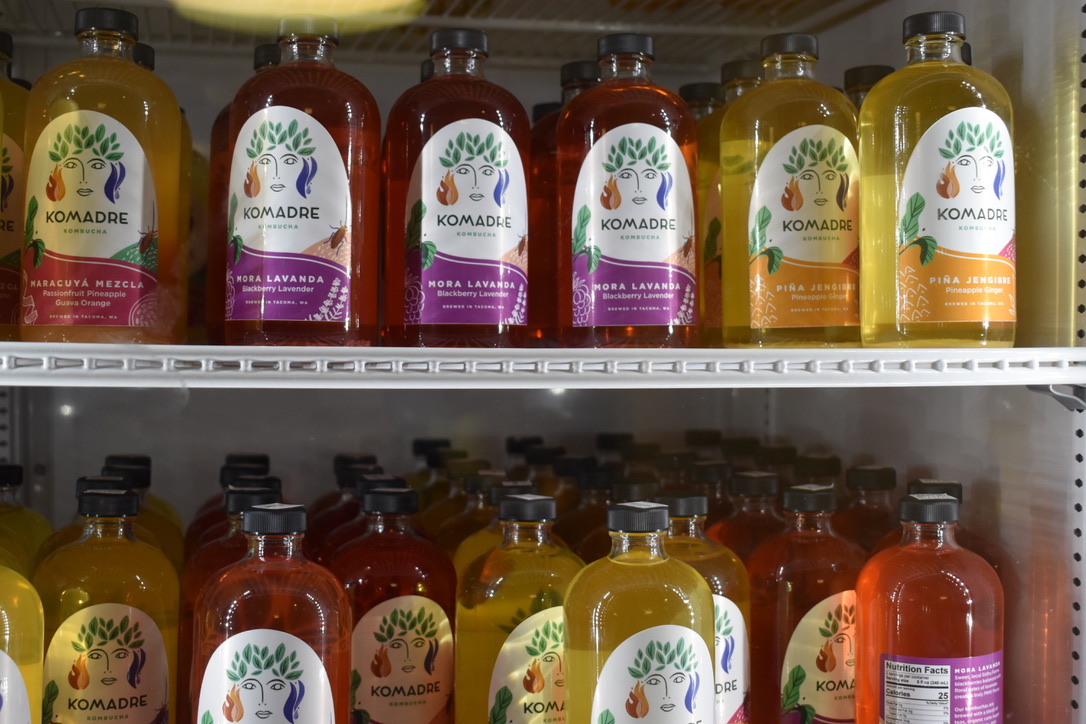 Komrade Kombucha stocked at the Diner. Photo Credit: Andrew Benoit – The Trail
By Tate DeCarlo
Komadre Kombucha, a dining hall staple at the University of Puget Sound, has recently decided to close their Sixth Avenue taproom. A vibrant presence both in the University community and broader Tacoma, Komadre actually began its life in the kitchen sink of a home-brew hobbyist. Julie Davidson, who graduated from the University in 1996, was initially skeptical of Kombucha, a fermented tea drink touted for its health benefits. However, after enough exposure to the right nano-brews everywhere from hole-in-thewall taprooms to the Dave Matthews Band Weekend on the Rocks, she changed her mind. Davidson began brewing Kombucha at home, and as her interest in the healthy alternative beverage took off, her batches grew beyond what her friends and family could consume. "I was just sharing it with my family until we entered lockdown and I started producing more than we could drink," Davidson said.
It was during the pandemic that Davidson decided to take her passion project to the next level, and Komadre Kombucha was born. A catchy alliteration, the company's name is also inspired by the Spanish word "comadre," explained by Davidson to mean "like a sister-friend." The name incorporates both Davidson's identity and mission into the branding of the company itself, founded on a desire to support other women and members of the Latinx community: As the Komadre Kombucha website explains, "Julie's biggest value and business practice has been and will continue to be, to bring along and uplift other women and people of color/ Latinx entrepreneurs."
The company has certainly lived up to its name, and Davidson uses her platform not only to put down roots in the Tacoma community, but also to reconnect with her alma mater, the University of Puget Sound. As those on campus know, Komadre is stocked both in the Cellar Market and Dining Hall, but it may come as a surprise that the kombucha is here largely due to the efforts of University of Puget Sound student Sheila Stern ('24).
After hearing her speak at a Business Leadership Program seminar, Stern reached out to Davidson regarding potential internship positions and was hired as an intern in August of 2021. While much of Stern's work at Komadre was focused on social media curation and promotion, she and Davidson also established Komadre's products in local stores and businesses. At the time of her internship, Sheila was also employed at the Cellar Market on campus, a position that granted her the perfect opportunity to pitch stocking Komadre to the University.
Davidson explains that Stern spearheaded the endeavor, researching age group demographics of alternative beverage drinkers and emphasizing the need to support small BIPOC businesses. Davidson supported Stern through the proposal process, but encouraged her to take charge. "I said, 'You know what, I can go over there and meet with these folks and try and convince them to stock my product, but I want you to take charge.' And Sheila went and she got the gig," said Davidson.
In her humble retelling, Stern credits her position at the Cellar Store for the introduction's success. "I think it was helpful that I kind of had a foot in the door at UPS, but like specifically in DES through the C Store," she said. Stern looks back at her internship with Komadre fondly, and she and Davidson still retain a close relationship
Davidson's support of University students extends further, and — though now closed — the Komadre taproom was a hub for student activities. The taproom served as far more than just a space for kombucha consumption. Inspired by her years of organizing and involvement with the Latinx organizations and identity groups both on and off the campus in her college years, Davidson offered up her taproom as a safe and close-to-school meeting space for the UPS Latinx student organization. "Julie did a really great job having different things happening at the taproom to kind of promote her company but also make that connection with UPS students," Stern said.
The taproom was also the home of a series of successful open mic nights called Undergrads Unplugged which were oriented toward student performers. Many University-affiliated bands and musicians performed there, including familiar names like Up In The Attic, Glitter Glue, Sam Snow, Layne Jacobson, and Devlyn (Dev) Habib.
Habib ('25) characterized the space as one that embraced performers of all levels with open arms whilst also drawing droves of students to the audience. "You could definitely see that it was very UPS oriented in terms of getting the student body to show up, and very much college kid friendly," Habib explained. On top of its function as a gathering place for Puget Sound students, the taproom gave Julie valuable experience in small business ownership that she has been able to translate into her work as a professional development coach. Having a physical storefront connected her with other business owners in Tacoma and also acted as a tangible example of what worked and what didn't to pass on to her advisees.
The diminished physical presence of Komadre has certainly saddened many University students. "It's honestly really heartbreaking for me personally; the tap room was a really, really cool hang," said Habib. However, Davidson and Komadre Kombucha are in the community to stay. Davidson had hoped that the taproom would be self-sufficient in the span of two years, but demand for her kombucha as a subscription and delivery service far outpaced brick and mortar traffic in her store. Though that goal of a self-sufficient store was not achieved, Davidson has learned a lesson that will hopefully introduce Kombucha to the shelves of many other Tacoma storefronts. This new outlook has prompted Davidson to update her goal for Komadre: "Getting kombucha to where the kombucha drinkers are. That means partnering with bars, restaurants, wellness spaces, coffee shops, and higher education institutions."
Komadre will continue to be stocked in both the dining hall and C Store at the University of Puget Sound. Davidson embraces her connection with the University on both a business and personal level. She expressed her desire to keep hosting interns, get more involved with the Latinx alumni association, speak at campus events and even host kombucha tastings.
Davidson credits Komadre as a mode to rekindle a relationship with her Alma Mater, and is excited for the continuation of the partnership between Komadre and the University of Puget Sound. "It's given me a really tangible way to get reconnected to Logger culture and love your legacy and feel like I have the opportunity to give back for all the resources, experiences, and friendships that I gained during my years at Puget Sound," Davidson said. Sixth Avenue may no longer have a Kombucha taproom, but Komadre Kombucha and Julie Davidson's connection to the Tacoma community and the University of Puget Sound have only grown stronger in the process.