Keeping the Antique Community Alive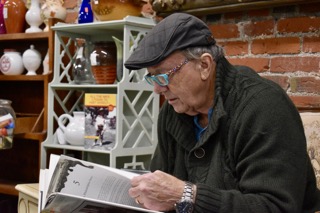 Alan Gorsuch, co-owner of Sanford and Son, recounts stories from his long career in antiquing, surrounded by some antique pottery sold at his store. photo credit: Andrew Benoit / The Trail
By Julian Finholm
Sanford and Son, located on Broadway's "Antique Row '' is a winding three-story store, heaven for those who love antiques and odd treasures both old and new. The Middle Floor Merchants, a collection of small businesses operating out of Sanford and Son's large middle floor, are just as interesting; they're tiny stores focused on one specific thing, whether it's running a comic book shop, a flower shop, a recycled clothing store or even a tattoo parlor. That's not to say the other two floors aren't interesting, however. The top floor is the most antique-filled, stuffed to the brim with old tables, beautiful jewelry and slot machines, and the third floor has a library with many books along with cool art pieces. For people who like stuff from an older era, this is the place to go.
Sanford and Son was co-founded by a man with a great deal of experience, fiftytwo-year antique veteran, Alan Gorsuch. Thirty to thirty-eight years ago, Gorsuch was in the process of refurbishing an old building and turning it into Sanford and Son. Gorsuch explained that the space the building occupied had once been home to one of the most populous Chinese immigrant camps, and that the building was constructed shortly after the City of Tacoma forced the Chinese residents out of the city. Gorsuch is painfully aware of these realities and is open and honest about the history of the land he inhabits.
One of the reasons Gorsuch values the store so much is because of what it can do for people. It can get people to engage with the real world so they can observe, in awe, the real-life art that's displayed, like real ancient Egyptian artifacts to which Sanford and Son is home. Even relics of Chinese-American art, like bowls, reside at Sanford and Son, a reminder of their history with the place. Gorsuch keeps the artifacts as a reminder of the dark past, but if any Chinese-American historic sites specifically want these treasures for remembrance and safekeeping, it's theirs.
It hasn't been easy for antique stores or antique lovers worldwide, as the internet has effectively killed much of the business. Despite the damages the internet has done, Sanford and Son's co-owner hopes for customers to enjoy and reconnect with the joy of antiques and the community they are a part of; to get people off their phones and stare in awe at homemade art pieces crafted by people or groups of them. Mainly, it's to share the love people have for these old relics of great value with each other. This is especially true when it comes to the vendors downstairs. Two stores that come to mind are the Bureau Poubelle and Lil' French Flea Market. Both stores have two things in common: a passion for selling vintage materials, clothes being a popular choice, and their dedication to their craft. 
As for the vendor-owner dynamic, it's simple. It's the vendors' businesses. They own the shops. The vendors just have to pay what both tenants and owners described as a relatively low rent and they are able to continue serving the public through what they love to do, surrounded by the rest of the wonderful Middle Floor Merchants. The store owners enjoy flexible hours and great freedom with how they run their stores. This allows store owners to put new spins on long-forgotten trends. For Johnny Bridges, the owner of Bureau Poubelle, this couldn't make him happier. Poubelle sells jumpsuits, backpacks, and clothes, all from eras of old. He comments, "It's nice to have these little pop-up shops that offer some variety and to show people what can be done with some of these older materials." These refurbished items can be worn by anyone and enjoyed by everyone, their existence sparking conversation over similar interests instantly in such positive vigor.
The conversations don't stop there, as the Lil' French Flea Market is just a few steps away from the Bureau Poubelle, the place for fashionably ugly sweaters and other vintage clothing like earrings, shirts, hats and even chapstick for the cold weather ahead. Patty Taylor, the store's owner, loves the comradery with her fellow vendors. "The shop owners are fabulous. They're, you know, like-minds, found my tribe type of situation," she comments. Taylor also values helping customers find what fits them best. She wants to help them find oddities that they themselves are interested in.
Of course, Sanford and Son and the Middle Floor Merchants have their challenges, as the digital world and online shopping can make it difficult to spread notoriety and get people out into their stores. That's part of the reason Gorsuch is so happy to have the Middle Floor Merchants as part of his store. "They bring to the table whatever their love is or whatever their little niche is," Gorsuch says. This love, along with Gorsuch's immense dedication, is what keeps Sanford and Son going strong when the internet has crippled so much of the antique business. As long as there's interest in antiques and people who show that love in various ways, not to mention bringing them together, the community and their spirit live on.