More than an outfitter: a look inside Puget Sound Outdoors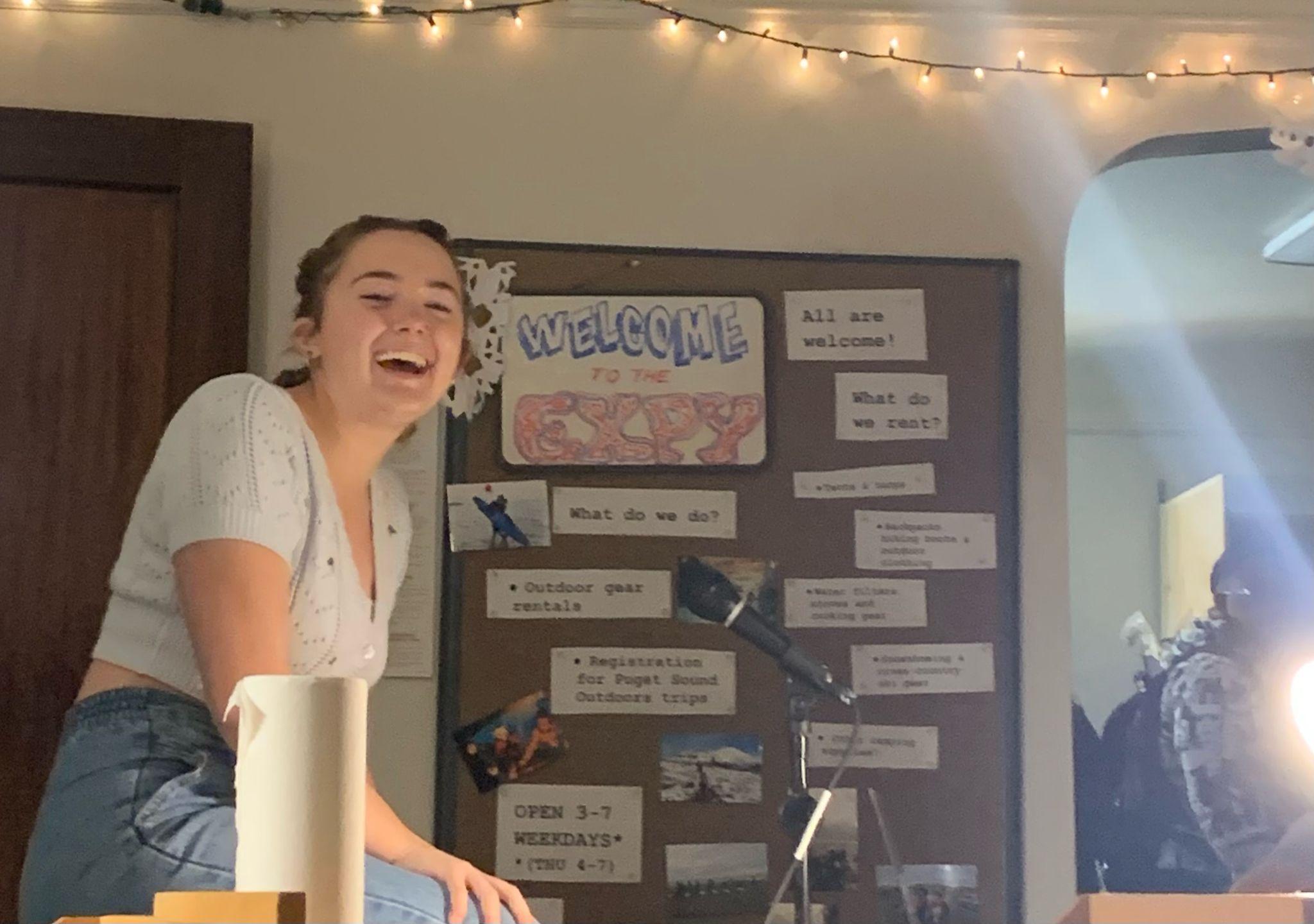 Allison Rosenquist, Expeditionary Manager, hosting an open-mic event at the Expy"
By Henry Smalley
Tucked in a corner of campus, behind the Student Union Building, the small, cream-paneled house at 1408 N Alder can be easy to pass by, but behind its rounded brick steps lay some of the most exciting opportunities on campus. The Expeditionary, or Expy as it is colloquially known, serves as the on-campus outfitter for outdoor gear and community space for all things relating to the Puget Sound Outdoors programming.
While the Expy does rent independently to any student looking to get outdoors, PSO trips are a cheap, safe and fun way to get off campus and explore the Pacific Northwest. No matter the destination, PSO uses break-even pricing to get everyone involved, with all the gear they need as cheap as possible. "If you pay $10 for a day hike and you don't have anything, you can get a coat, a fleece, boots, a hat, and a ride to a cool place," says PSO coordinator Laura Woodhouse.
Because all gear for a trip can be rented and prices are kept low, a PSO trip can be a great opportunity to try a new activity. This year, PSO has already led 14 trips with a range of activities including backpacking, climbing, hiking and mountain biking. Every trip is open to beginners and led by an experienced leader who is happy to help out any step of the way, whether you need advice on how to best pack your backpack or someone to spot you on your climb. If you aren't looking to jump right in for an overnight backpacking trip, PSO also offers more relaxed day hikes and activities, some right here in Tacoma. "Getting outside doesn't have to be technical. It can be picking blueberries or mushrooms at point defiance," says Woodhouse. There's something for everyone. After the break between semesters, they plan on including more winter-specific trips like snowshoeing and cross-country skiing. Be sure to keep an eye out for the to-be-announced spring break trip signup, a larger trip that usually goes out of state!
Whatever the destination or activity, experiencing the culture and community around PSO always makes for a good time. Besides being the hub for their rentals and trips, the Expeditionary acts as a communal space, open to the public 3-7pm most weekdays and 4-7pm on Thursdays. At the Expy, students are welcome to take advantage of their resources, whether it is consulting the staff on a future trip, browsing their extensive collection of outdoors-related books, or simply hanging out on their couches and enjoying the space. Recently, they have been pushing to open the Expy up more to the public and recently hosted an open mic event where students packed the couches (and floor) to listen to the music, poetry, and jokes of Puget Sound's creatives. The trips themselves can be a great way to make friends as well. Whether you sign up with some friends or join a group full of fresh faces, there is no better way to get to know someone than to share a trail or a tent. "I think the biggest thing is the community," said PSO coordinator Lauren Moseman when asked what makes PSO trips so enjoyable. Woodhouse agreed, adding that "PSO trips are just a fun goofy time, in my experience."
Of course, there is no better testament to the friendly culture of PSO than the group leaders themselves. Most group leaders are volunteers who show up to lead trips simply out of love for the outdoors and the people they get to share it with. This enthusiasm is quickly apparent to those who join their trips and adds to the fun. For those interested in joining the ranks of PSO's outdoor leaders, the Outdoor Leadership Experience, or OLE is a five-week program offered at the end of every spring semester where current leaders teach future leaders everything they need to know to successfully and safely lead trips. The course ends with a four-day backpacking trip up the Washington Coast.
For those interested in OLE or PSO trips, use the QR code below to join the PSO email list. The email list will also keep you updated on any of their supplementary offerings, recently including details for a campus ski swap and tickets to The Banff Centre Mountain Film Festival l, focusing on mountain climbing and mountain culture. And again, feel free to head down to the Expy on weekdays to learn about all things outdoors or meet the friendly faces involved in PSO!