Puget Sound Symphony Orchestra delivers enchanting hour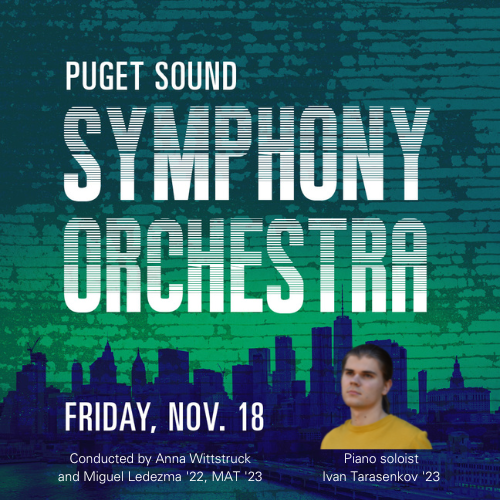 Promotional image for the Puget Sound Symphony Orchestra's Nov. 18 performance Photo Credit: University of Puget Sound website
By Rowan Baiocchi
For just over an hour on Friday, Nov. 18, I was thoroughly enchanted by a performance from the University's Symphony Orchestra. Conducted by Dr. Anna Wittstruck, the symphony played four pieces with a brief intermission. The selection ranged from modern day composers like Jessie Montgomery to renowned classics like Brahms. It was, to be frank, an electrifying and at times awe-inducing performance, especially to this first-time symphony-goer. The performance also featured guest composer Miguel Ledezma, a graduate student and current student in the MAT program here on campus. Watching Ledezma conduct a piece he composed about friendship, it was hard to miss not just his skill on the stand, but also the deep respect and admiration present in each and every player on stage.
A second guest also made an appearance, directly before intermission: award winning piano soloist and current student Ivan Tarasenkov joined to play a piece by George Gershwin. Tarasenkov, who arrived on the stage without any sheet music, demonstrated a level of skill, talent and outright joy in his craft that evades adequate description. Watching him play was a delightful and enchanting experience. Everything was perfect, from the way he moved across the keys to the absolute delight on Dr. Wittstruck's face.
Speaking of Dr. Wittstruck, I would be hard pressed to call this true coverage of the performance without mentioning its conductor. Dr. Wittstruck was, in a word, masterful. In a few more words, she brought energy, enthusiasm and awe-inspiring electricity to the stage. At times her expressive conducting made it seem as though she was casting spells; it would be easy to spend an entire hour simply watching her at work. Truly, one cannot fully grasp the importance of the conductor until they see one at work, and Dr. Wittstruck was a shining example of this phenomenon. The energy she conveyed from the stand was echoed and amplified by the orchestra itself, a feedback loop that produced some of the most staggeringly beautiful music I've ever heard.
The symphony was an absolute delight to attend, in short. Its conductor was electrifying on the stand, its players were masterful in their playing and delighted in their expressions, and both Tarasenkov and Ledezma put on incredible displays of talent in their disciplines.