Melissa Harris-Perry Headlines Annual Pierce Lecture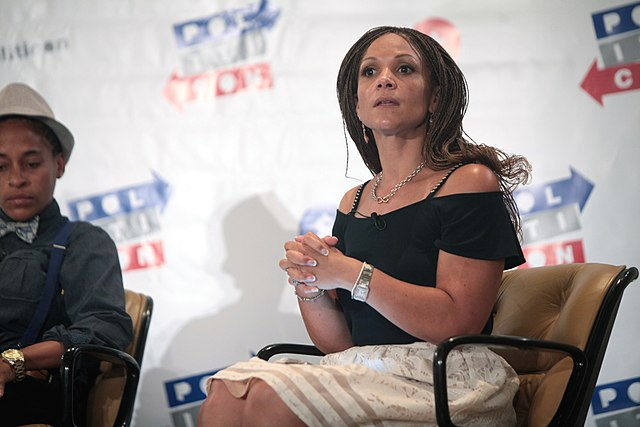 Melissa Harris-Perry on stage at an event Photo Credit: Wikimedia Commons
By Ainsley Feeney
On Monday, Nov. 14 Melissa Harris-Perry, Wake Forest University professor and author, gave the annual Susan Resneck Pierce Lecture in front of students, faculty and community members. The talk, "What Just Happened? And What Will Happen Next? Examining American Democracy in an Uncertain Moment," examined the recent 2022 midterm election results and what they revealed about the current state of American democracy.
Harris-Perry is an accomplished writer, speaker, political scientist, and media personality. Her many accomplishments include being the Maya Angelou Presidential Chair at Wake Forest University, where she is a professor of Politics and International Affairs, Women, Gender, and Sexuality Studies, and Environment and Sustainability. She is also the host of The Takeaway, a radio show on WNYC public radio. Harris-Perry is an intersectional feminist whose work emphasizes justice and equity in political spaces.
The talk opened with a basic, easy-to-understand overview of the predicted and actual results of the midterm elections, specifically covering important elections and swing states. She revealed that while most predictions from polling websites like FiveThirtyEight were correct in their predictions — that the senate would be a close fifty-fifty split between Democrats and Republicans, and Republicans would take control of the House — political pundits clearly exaggerated the data to make it seem like there would be a "Red Wave," or a significant number of new seats going to the Republican Party.
In general, Harris-Perry warned of political punditry, saying that it is best to get political news from non-profit organizations. She then discussed a few factors that may have led the midterm results to be what they were — namely, an increased interest in participating in democracy, the panic surrounding national abortion rights and a generation of young voters who tend to vote more progressively than past generations. 
The topic of young voters was especially relevant to the audience of college students, as this midterm cycle was the first election in which many in attendance were allowed to vote. Referring to the way college-educated whites are more likely to vote for Democrats, Harris-Perry said, "When you send white kids to college, they vote like Black and Brown people."
She closed the talk by referring to her "Black Feminist Toolbox," or the principles of Black feminism she thinks will continue to foster American democracy. She likened politics to Black girls playing Double Dutch; everyone has to work harmoniously to make everything run smoothly.