Beyond the Land Acknowledgment: Fulfilling Empty Words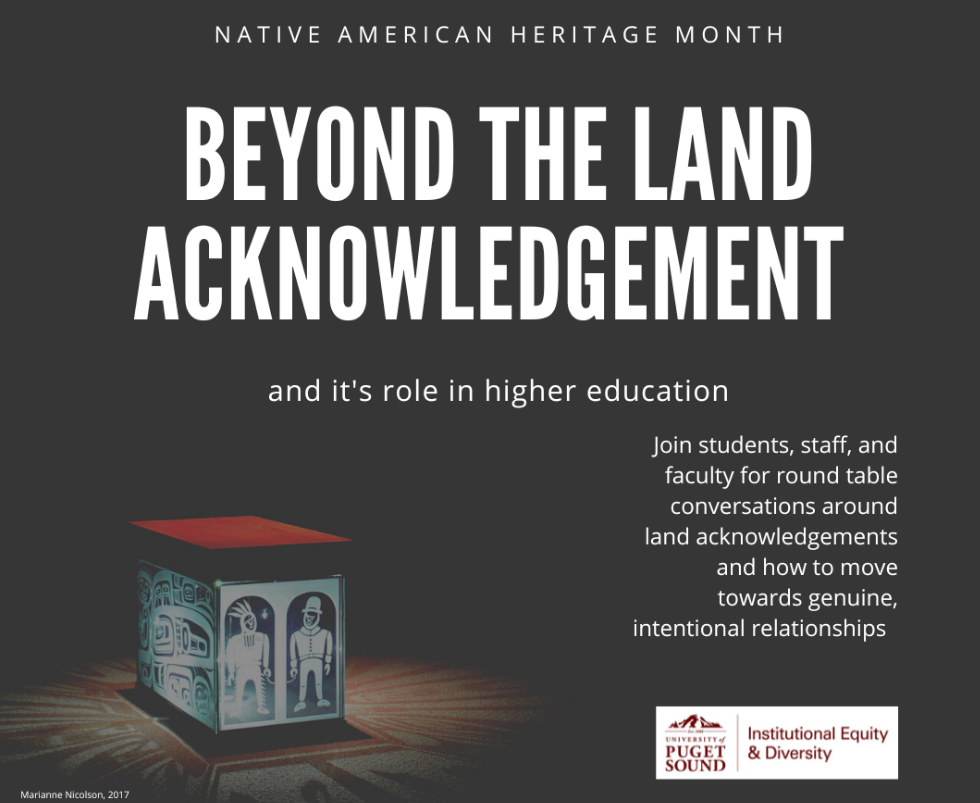 Photo Credit: puget sound website
By Vivian Gray
On Wednesday, Nov. 16, 2022, Doris Tinsley held an open forum "Beyond the Land Acknowledgment" for the campus community to honor and reflect on Native American Heritage Month. The meeting was a discussion-based presentation about how, as a predominantly white school, we can step past the empty land acknowledgments we have now and transform them into authentic action.
Tinsley, a member of the Shinnecock Indian Nation and Assistant Director of Access Programs, opened the event by posing poignant questions to the audience, "What is your relationship to land? Do you know whose lands you are currently on? Most importantly, what is Puget Sound's relationship to this land?" These questions invited audience members to think critically about their involvement with indigeneity and Indigenous people as well as the campus' involvement as a whole.
Attendees were asked not to share discussions during the presentation outside the event. In an interview after the presentation, Tinsley explained that exploring these questions helps people understand the shortcomings of generic land acknowledgments. Land acknowledgments, when not collaborated on directly with tribal communities and especially when not "specific to the land and to the treaties" of the area, are "empty statements without follow-up action… it's a first step, but it's not the final," Tinsley said.
Well-executed land acknowledgments Photo Credit: puget sound website are a fine first step, but Tinsley emphasized that "we say land acknowledgments before everything," and "for there not to be detailed positions and opportunities for Native students, I felt extremely offended." Presenting frequent and aimless acknowledgments fuels more hurt to the Indigenous campus community — the opposite of what they are meant to do. Tinsley detailed that recognizing land acknowledgments are usually empty helps to understand the importance of taking next steps. This is especially paramount when recognizing that Indigenous student retention at the University is low. Tinsley elaborated that nationwide, only "1% of U.S. undergraduates and graduate students are Native."
When asked what she recommended for how people can help on campus, Tinsley suggested many things, including hiring more Indigenous staff and holding a space for Indigenous people on campus. Another recommendation was to form relationships that take more responsibility for the people and lands around us, kinship relationships. "Kinship is the foundation of our relationships as Native people and, as such, should be the foundation of how we work with Native students," Tinsley said. Creating a kinship foundation aids in building a "system of care," as Tinsley put it, contributing to a more welcoming environment. Kinship is a next step in mending the hurt that the University and student body have contributed to.
When asked what Tinsley would recommend specifically for the student body, she said with great enthusiasm and emotion that students should begin "pressuring the administration to acknowledge and apologize for their participation in sending students to the Cushman Indian School," a Native boarding school in the 19th and 20th centuries. Tinsley advised that doing this would help to protect and restore identities that were once pushed out and lost.
While empty land acknowledgments leave a large hole, educating yourself and others on how to create a welcoming academic environment is an important step forward. If you wish to do further research, Tinsley recommends landgrabu. org and following Indigenous scholars, activists, and podcasts.