President Crawford defends plan, promises open communication at Town Hall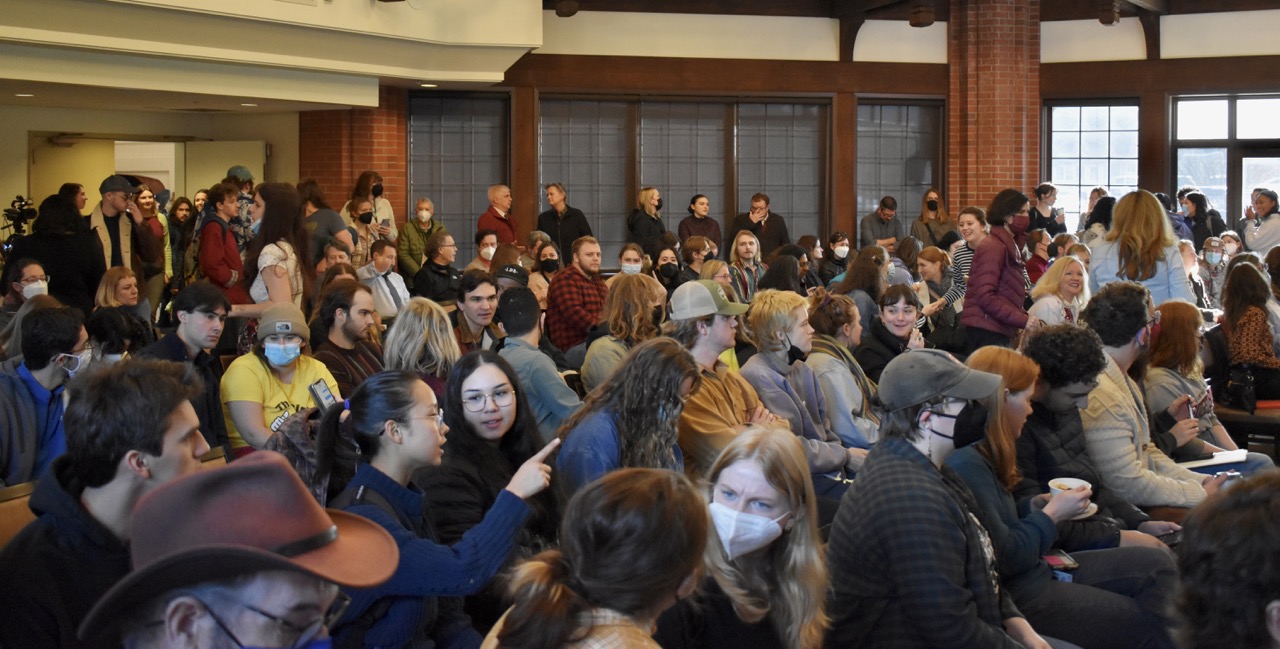 Overfilled Rotunda during Townhall Photo credit: Andrew Benoit
By Albert Chang-Yoo
On Nov. 16, President Isiaah Crawford held a town hall to address questions about his newly formed plan, A Sound Future, which tackles the University's growing financial hole. He both vehemently defended his decision to reject key recommendations from the Academic, Administrative, and Auxiliary Program Review spearheaded by faculty and promised that upcoming budget cuts would only happen through a clear and transparent process – although it is still unclear what that process would be.
The town hall was held inside the rotunda at Wheelock Student Center. The room was so full that an additional online viewing space was created in Upper Marshall. It followed an October Board of Trustees meeting, where A Sound Future was introduced. The plan rejected three essential proposals that would lighten faculty workload, consolidate programs, and only reduce faculty through early retirement packages. Instead, A Sound Future extends faculty reduction into potential program discontinuation. The move generated immediate faculty backlash. During the town hall, President Crawford directly addressed these concerns: "I know that the three primary academic components that were identified to not move forward have profoundly disappointed people and people are angry at me […] In my view, those elements were not going to be able to get us to where we need to go…the numbers just did not work."
Regarding potential layoffs, President Crawford said, "if we do have to go there, we're going to be as judicious and as thoughtful and as minimalistic as we possibly can be." In days following the initial Board meeting, 26 full-time faculty members were offered early retirement incentives, which they must decide upon by January 10. Despite this deadline, A Sound Future has not yet been concretely developed and will not be so until a Board of Trustees meeting in February. Naturally, this has led to faculty conversations about whether they should take the offer before the fast-approaching deadline. According to President Crawford, the buyouts are "not coming from a sense of pressuring our colleagues. I love our faculty," he said. Cuts may directly result from the number of faculty who decide to take the retirement package in proportion to the 35 positions to be eliminated. 
The University is also working on increasing recruitment efforts. The Office of Admissions hosted "Discover Puget Sound," an open house that attracted 400 prospective students. Furthermore, President Crawford announced a 7% increase in the estimated application pool over last year, with 120 early decision applications so far. "That was a win for us," he said. The goal is to grow the student body to 2,300 students, about 300 more than the current undergraduate body.
President Crawford emphasized the importance of new enrollment. "It's perfectly fine for us to have this type of dialogue and conversation within family here on campus…we need to do all we can to make sure that we achieve our goals and we don't do anything that would prevent us from being able to achieve our goal of enrollment in the fall," he warned. In one distinct moment, President Crawford also acknowledged his own shortcomings on the issue: "would it have been better, perhaps, if I had gone back to the AAAPRC to let them know where I landed on this? Maybe. I will own up to that." 
In the end, the meat of the discussion may have been overshadowed by a separate incident that occurred while President Crawford spoke. A noise in the room was interpreted to be monkey noises directed toward President Crawford's race. President Crawford tried to continue speaking before several students spoke out against the sound. "That is unacceptable and we will not tolerate that. We will engage in thoughtful, respectful dialogue with one another and that includes me," President Crawford said afterward. The incident is under Title IX investigation.