KUPS bowling impresses again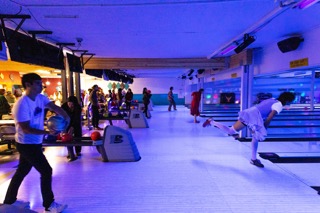 KUPS bowling event Photo credit: Guy Crawford
By Sara Orozco
This past week has been an eventful one for KUPS! Oct. 27 was KUPS bowling at Chalet Bowl where most everyone showed up in costumes, from cows to cowboys and everything in between. The Halloween themed event has been held every year for many years and proves to be one of the most exciting KUPS events of the entire year. Usually the event is packed enough that it's quite hard to actually bowl, but this year we had a steady flow of people which meant anyone who wanted to had an opportunity to show off their mad bowling skills. Thanks to everyone who attended and helped make it another successful Halloween Bowling Extravaganza for KUPS. We hope to see you next year!
Also, put it down in your calendars that KUPS Fest will be on Dec. 7. Your core staff have been diligently at work putting together an amazing line up. This will be held in Tacoma's own ALMA, a neat venue at 1322 Fawcett Ave, which features a range of cool shows all year round. Keep your eye out for ticket sales as those will be starting up soon, and there's a limited amount of tickets for sale so the quicker you snatch yours the better!
Finally you should also be aware of a KUPS hosted Art Market on November 17th from 5:30 to 7:30. There's going to be a clothing swap which is always popular and full of great stuff, so come check it out!