"Love Is Medicine:" How Community Can Heal in the Face of Trauma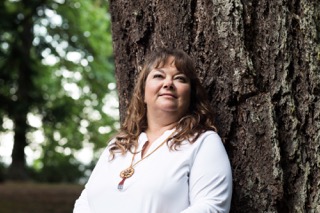 Monique Grey Smith advocates for compassion. Photo Credit: Monique Grey Smith
By: Rowan Baiocchi
 At her Swope Lecture in Kilworth on Tuesday, September 13th, Indigenous Canadian author Monique Gray Smith spoke about the power that love holds in healing a community. The presentation, "Love is Medicine," walked listeners through the ways that community, respect, and love can heal even the most grievous of wounds.
  Touching on Gray Smith's time battling with sobriety and the rich and resilient stories of Indigenous peoples, "Love is Medicine" expresses that the only way to heal and move past the damages caused by cycles of generational trauma is compassion, even in the face of unimaginable pain. Gray Smith talks about Indigenous ideas of dignity and healing, focusing on the idea of community. Her own time working in mental health services and her experiences growing up as someone who has worked to reclaim their heritage actively shapes her understanding of empathy. Community, love, the bonds of friendship that hold people together—these are the ideas that Gray Smith puts forth as the ultimate tools in healing. Following a near death experience in her early days, Gray Smith took on the task of showcasing love in a landscape marred by hatred of one another.
  As an author, she has written and published seven books, ranging from the young adult novel "Tilly and the Crazy Eights" to childrens' books like "You Hold Me Up." Most recently, though, the author has taken on the job of creating a YA adaptation of the monumental "Braiding Sweetgrass," a book which author Robin Wall Kimmerer wrote in an effort to mainstream the various ways Indigenous peoples have stewarded this land for centuries.
 Gray Smith shed light on her process for turning the sometimes dense landmark into a YA book a third its original length, stating "Braiding Sweetgrass" "has so many entry points, but it doesn't always have entry points for younger readers, or sometimes readers who might just have different lived experiences or world views." The task, then, becomes not about cutting the work, but instead about creating more "entryways into the original."
  Adapting "Braiding Sweetgrass" for a younger audience doesn't just make knowledge more accessible, it also, like much of Gray Smith's work, empowers hope. "Hope gives us our own personal strength," she said, going on to explain how her work is not focused so much upon the massive societal changes that have to be considered when doing this work. Instead, she turns her attention to the "small levers of change" within society, within communities, between families and people and even within ourselves. The work that Gray Smith's stories can do is wide-reaching and impressive, but it starts with the individual—it starts with us.