CampusCup Initiative Flows into University of Puget Sound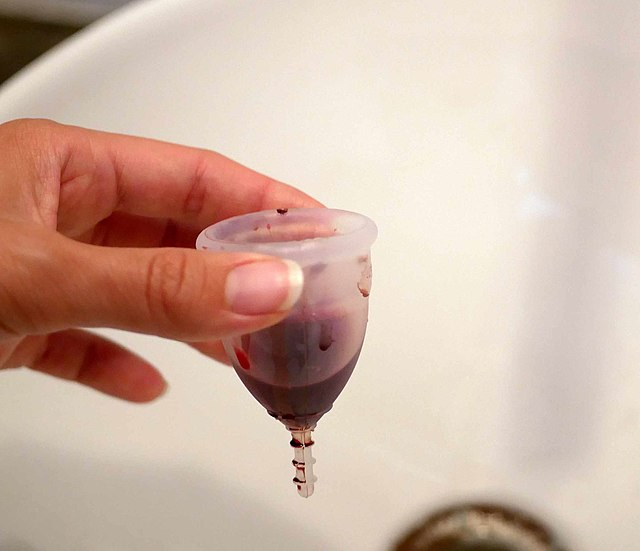 Menstrual cup after use. Photo Credit: Wikimedia Commons
By: Ainsley Feeney
  According to Indian nonprofit Eco Femme, one pad can take up to eight hundred years to completely decompose—nearly nine times the average lifespan of the person who used it. Another study found that tampons are the fifth most common item found in ocean pollution. Standard period products are polluting our Earth. AllMatter's CampusCup program provides a solution. 
  University of Puget Sound Sustainability Services partnered with AllMatter in September to provide free menstrual cups to all students. Lily Poe, the Outreach Lead for Sustainability Services and a junior at the University, headed the operation. Poe said she found out about CampusCup after researching other local colleges' sustainability efforts and noticed that Seattle University had participated in the program. Students, regardless of gender or sexuality, could sign up on AllMatter's website or in-person to receive a free menstrual cup through their school. "They donate however many cups people sign up to get," Poe explained. Cups that were requested but not picked up were donated to a local women's shelter. 
  But what are menstrual cups, and what makes them so much more sustainable than traditional period products? Poe describes the cups as "small, silicone, [and] funnel-shaped" cups that are inserted into the vagina and collect menstrual blood. They can remain in the vagina for up to twelve hours, as opposed to pads and tampons, which should be changed and discarded every four to six hours due to concerns surrounding toxic shock syndrome. "You can put it in and not even have to worry about it," Poe said. On top of that, menstrual cups are reusable; after each removal, the cup can be rinsed in hot water and reinserted. (They should also be placed in boiling water after each cycle to prevent bacteria growth). The cup can be used for up to two years, which, according to AllMatter, is equivalent to using five hundred twenty-eight pads or tampons. AllMatter prides themselves in avoiding over eight hundred million traditional period products and helping their customers from further polluting oceans. 
  When it comes to the stigma surrounding menstruation, Poe believes that education is the best way to go. "I personally believe that it's breaking the stereotype of who has a period," she says, referring to the common assumption that only women have periods. She also emphasizes educating people on the realities of period poverty and sustainability, which she has been doing through the Sustainability Services Instagram account.
  Poe is thrilled with the warm reception CampusCup has received from the University. "Social media has been amazing to see," she said. "I posted little graphics talking about menstrual cups…and everyone's been posting it on their own Instagram stories, which has been really cool. Even CHWS posted it!" Finally, Poe wants students on campus to know that "sustainability and environmentalism is in every facet of life. No matter what you're doing in life, you have the capacity to advocate for the Earth. It's been really awesome to start that initiative on campus, and I'm hoping to inspire [other people] to do it."
  Students can become involved with Sustainability Services events by checking out their Instagram, @sustainabilityups, or by emailing them at recycling@pugetsound.edu. If you missed your chance to get a menstrual cup, AllMatter is offering a 20% discount on their cups. You can also begin your menstrual cup journey at a local drugstore.