Performances at Schneebeck: An Afternoon of Music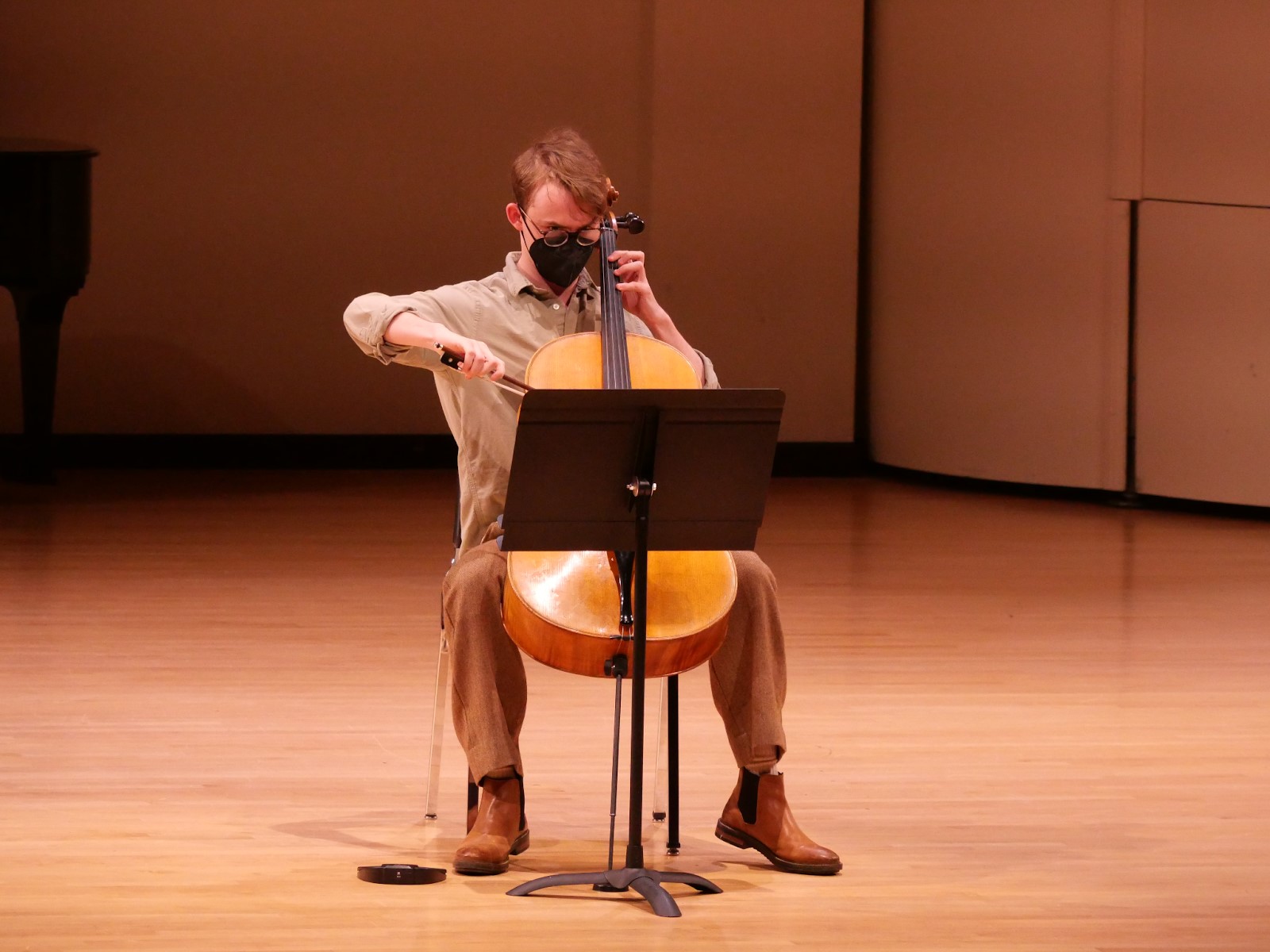 First-year Connor Adams playing the cello Photo Credit: Phoenix Stoker-Graham
By Kate Patterson
March 23 was an afternoon of music. It was also an opportunity for music performance majors to walk the stage as soloists. I attended the noon convocation, hosted by Schneebeck Concert Hall, showcasing student recital performances. Six Puget Sound students performed, including three vocalists, one euphonium player, one flute player, and a cellist.
Raine Filbert, a mezzo-soprano and third year vocal performance major took the stage first. Accompanied by Kim Davenport, adjunct musicology professor, on the piano, Filbert's stage presence and powerful voice impressed the audience. She sang a piece in both German and Latin.
Eli Kitchens, a tenor and fourth-year at Puget Sound, followed Filbert. He sang three pieces, including "Union Square" by William Foster McDaniel, a song about love and turmoil. On stage, Kitchens was enchanting, his performance balancing strength and tenderness.
Sam Crosby-Schmidt, another fourth-year tenor and third performer sang three pieces that varied in language and tone. Crosby-Schmidt's last song, "30/90" by Jonathan Larson, was my personal favorite. Potentially the most 'mainstream' song from the showcase, it addresses themes of age and the passing of time. The urgency, both in the lyrics and in Crosby-Schmidt's performance, made it compelling. I could feel the turmoil of the "Tick Tick…Boom!" character throughout my body.
Following Crosby-Schmidt, William Lum, third year, performed. He played the euphonium, a brass wind instrument. Jinshil Yi, a staff accompanist for Puget Sound, joined Lum on piano. He played parts two and three of the "Concertino for Euphonium and Concert Band" (1998) by Rolf Wilhelm. The performance acted as a dialogue between the two instruments, with them building off of each other.
After that, Grace Playstead, second-year, played the flute. In an ethereal rendition, Playstead played "Be Still My Soul" by Rhonda Larson. Variations in mood and speed were key features of the music; it shifted between an unsettling tone that I described in my notes as "spooky marsh," and a light tone reminiscent of spring and the energy of youth.
First-year Connor Adams performed last on the cello. He has been playing the instrument since he was 11 and is majoring in Cello performance. Adams played "Sonata for Solo Cello, Op. 25, No. 3," by Paul Hindemith. Adams described the end of the piece as dramatic, explosive, and loud. As an audience member, this description resonates. In addition to being intensely emotional, the performance was physically demanding. "That piece was kind of a monster," Adams said. "After the performance I felt like I was sitting in a sauna." Since he hasn't played such a physical piece before, this event gave Adams the opportunity to challenge himself. He came away proud of his performance and with some words of encouragement: "With enough practice, you can accomplish many feats."
As a busy college student, I struggle finding time and motivation to attend university events. In the interest of transparency, this was one of my first times attending a music event here at Puget Sound, but after thoroughly enjoying the Convocation, I envision my attendance becoming a more regular occurrence.
Accordingly, I encourage everyone to attend events outside of their field of study, especially arts events. There will be noon convocations on April 20 and 27 at Schneebeck. Attending these events is free, shows support to the music department, and offers an engaging afternoon of music to the audience.