Swimmers bid farewell to beloved Myhre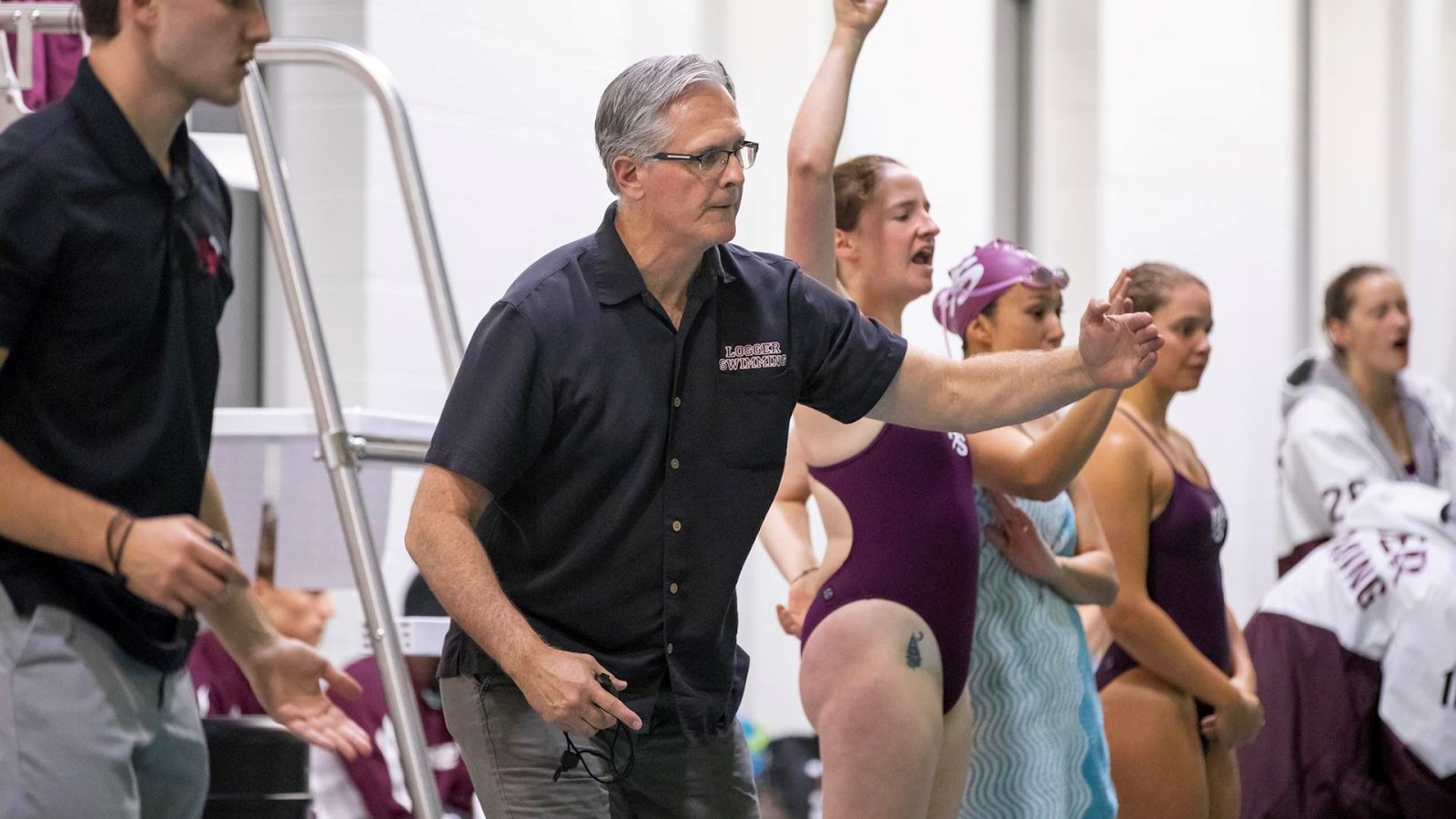 Head Swim Coach Chris Myhre retires after 32 successful years at The University of Puget Sound Photo Credit: Sy Bean
By Luke Ahearn
With the conclusion of the NWC 2021-2022 swimming season, veteran head coach Chris Myhre has announced his retirement, after a distinguished 32 year career. He boasts three NAIA women's national titles (96', 98' 99'), and three men's NAIA national titles(95'96',97'), having won NAIA coach of the year for both men and women during his time (96' and 97'). His program created a culture of winning at Puget Sound, and the stories from his swimmers depict an atmosphere of positivity and support. This is a coach who will be dearly missed for his swimming expertise and the inclusive environment he's created for these athletes.
Part of that environment of inclusivity is built on a tradition of making personal connections to all of the swimmers on his team. Myhre credits Don Duncan, the head coach of university swimming the 37 years prior to himself, for the creation of a legacy to which he's added 'little wrinkles' of his own. "When I took over, there were certainly big shoes to fill but they were easy shoes to fill because he had made such a huge footprint I couldn't miss it. And I just kept it going, and I added my own wrinkles for sure. Now the next coach will add their little wrinkles,"  Myhre said about the Puget Sound swimming legacy.
Myhre's passion for the sport and his drive to connect with his swimmers have created some meaningful relationships. Second-year swimmer Elinor Glass is particularly sad to see Myhre go, tearing up a little as she thought about her time swimming with him, "I'm going to miss him a lot and I'm just really grateful that I got two years with him. He made me confident in my swimming again and excited to be here," she said.
Bridget Fetty, a senior swimmer at the university, commented on Myhre's ability to make personal connections with his swimmers; "We have individual pre, middle and post season meetings with him, which is really cool because you can set goals with him, and let him kind of guide you through the season". Myhre makes an effort to personally connect with all of his swimmers through these meetings.
When asked what he'll miss the most from his time at the University, Myhre said, "I'm really gonna miss that day to day just being with the team."
Derek Frenzel ('14), a university record holder in the men's 500 yard freestyle and 200 yard butterfly, now works for Myhre's as an assistant coach, and has taken some of Myhre's coaching qualities into his own work. "I think all coaches take a little bit from the coaches they had when they were swimmers. I think the biggest thing I have taken from Chris is that it's the coaches job to figure out why a swimmer is motivated to be on the team and then work from there." Myhre said Derek was massively successful at the University and is continuing his passion for the sport as coach; he is a great example of the legacy Myhre will be leaving behind at UPS.
The program Myhre established has provided results for decades; he attributes some of the program's success to his overtly competitive nature. "As long as they're keeping score, you want to score more than the other team". Myhre says he has always been a competitive kid at heart, having never really grown up, which at times may have been a detriment, but he'd have it no other way. His program's competitive spirit and familial unity work in perfect harmony. "The equation of Chris Myhre has worked, it's worked for me, but I think it's also worked for them," was Myhre's final sentiment for the next generation of Logger swimming.