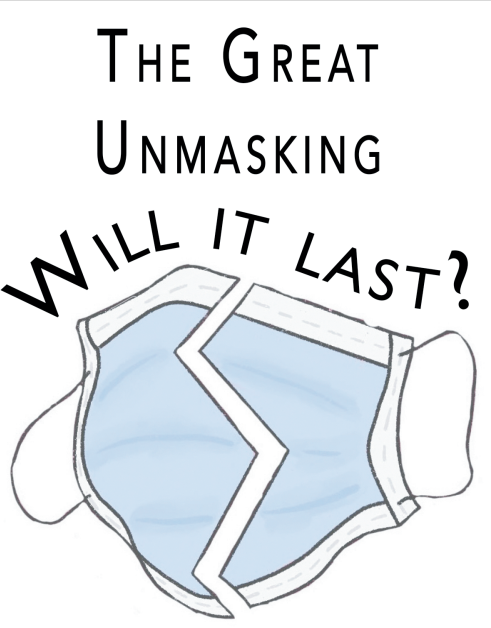 By Hannah Lee
  On April 4th, President Crawford sent a campus-wide email announcing the lift of campus' nearly two-year-long mask mandate. As the Omicron variant subsides and states, schools, and businesses are now mask-optional, some believe COVID may soon be a thing of the past. However, another emerging variant may once again derail future plans. 
  BBC News and NPR report rising COVID cases in the UK. In an interview with NPR, Dr. Fauci mentioned that historically, whatever happens in the UK will soon find its way to the US. As of April 2nd, 4.9 million people are estimated to have COVID in the UK; the latest surge is driven by the even more transmissible BA.2. According to NPR, the BA.2 variant is 30% more transmissible than Omicron.
  The Tacoma Pierce County Health Department's (TCPHD) epidemiology team explains that BA.2 is a mutation of several BA. 1's(Omicron) proteins, resulting in "a significant amount of cross-immunity between BA.1 and BA.2." According to Kumar et al, the new variant of Omicron increased thermal stability, which is the ability of polymeric material to resist heat, heightening the persistence of Omicron in exposed surroundings and increasing the risk of transmission. 
  The Omicron variant surged at the end of December and early January after masking relaxed during the holidays. TCPHD's epidemiology team said that there is no formal correlation between masking and BA.2 surges in Hong Kong. "We see some evidence that reduced masking can lead to larger surges, but much of that depends on age-specific vaccination rates and previous surges. For example, larger BA.1 surges may make for smaller BA.2 surges," they said.
  When asked how the emergence of this new variant will impact our daily lives, TPCHD's epidemiology team explained, "The only thing predictable about COVID-19 is how unpredictable it is. We will continue to monitor our local data and adjust accordingly." 
   They also encourage everyone to get vaccinated and boosted if possible. "Getting vaccinated significantly lowers your chances of getting COVID-19 and lessens the severity of illness if you get it. Everyone 5 and older is eligible, and everyone 12 and older should get boosted," they said. 
  The emergence of a new variant has not deterred many states and businesses, including our campus, from going mask-optional. The Trail spoke with several students to get their opinion on going mask-optional. 
  When asked about President Crawford's April 4th email, Khysa Gustafson, second-year, had three words: "Laugh out loud."
  While the University's April 4th decision was not unprecedented, Abby Bredow, second-year, explained: "I was surprised that it was like, this is happening tomorrow." Gustafson agreed, stating it, "would have been nice to give us a week."
  Bredow and Gustafson feel that professors should have been given more time to talk with students about the mask lift. "The professors who had a class on the day the mandate was lifted, got blindsided by that because they weren't able to meet with their classes, and they didn't get a chance to talk about it," Gustafson said. 
  Kylie Latta, first-year, thinks Puget Sound going mask optional makes sense because "Our school is doing such a great job… As long as people are responsible I think it's reasonable." She also thought that going mask optional was inevitable. 
  Latta mentioned how her experience with the mask mandate is relatively unique. "I am a high-risk person with a weakened immune system. I have been super hesitant to take my mask off because I don't want to be judged, I also want to make sure all my peers are comfortable. In all of my classes there only seems to be three people without masks which makes me wonder if I should keep wearing mine.' Latta said. 
  Kaya Heimowitz, second-year, spoke about the only unmasked individual in one of their classes.  According to Heimowitz, the student acknowledged their choice, stating  "I'm the only person not wearing a mask here. But like, I'm totally fine putting it back on if it likes makes people feel more comfortable."  Heimowitz explained that their peers' acknowledgment made them feel better.
  "There's also that implication that there's individual choice above community choice and that's why the lifting of the mask mandate is really scary for people," Heimowitz further explained their perspective on the lift. The majority of campus remained masked in the days following the lift but as the days pass, unmasking grows in popularity.