The madness behind making a March Madness bracket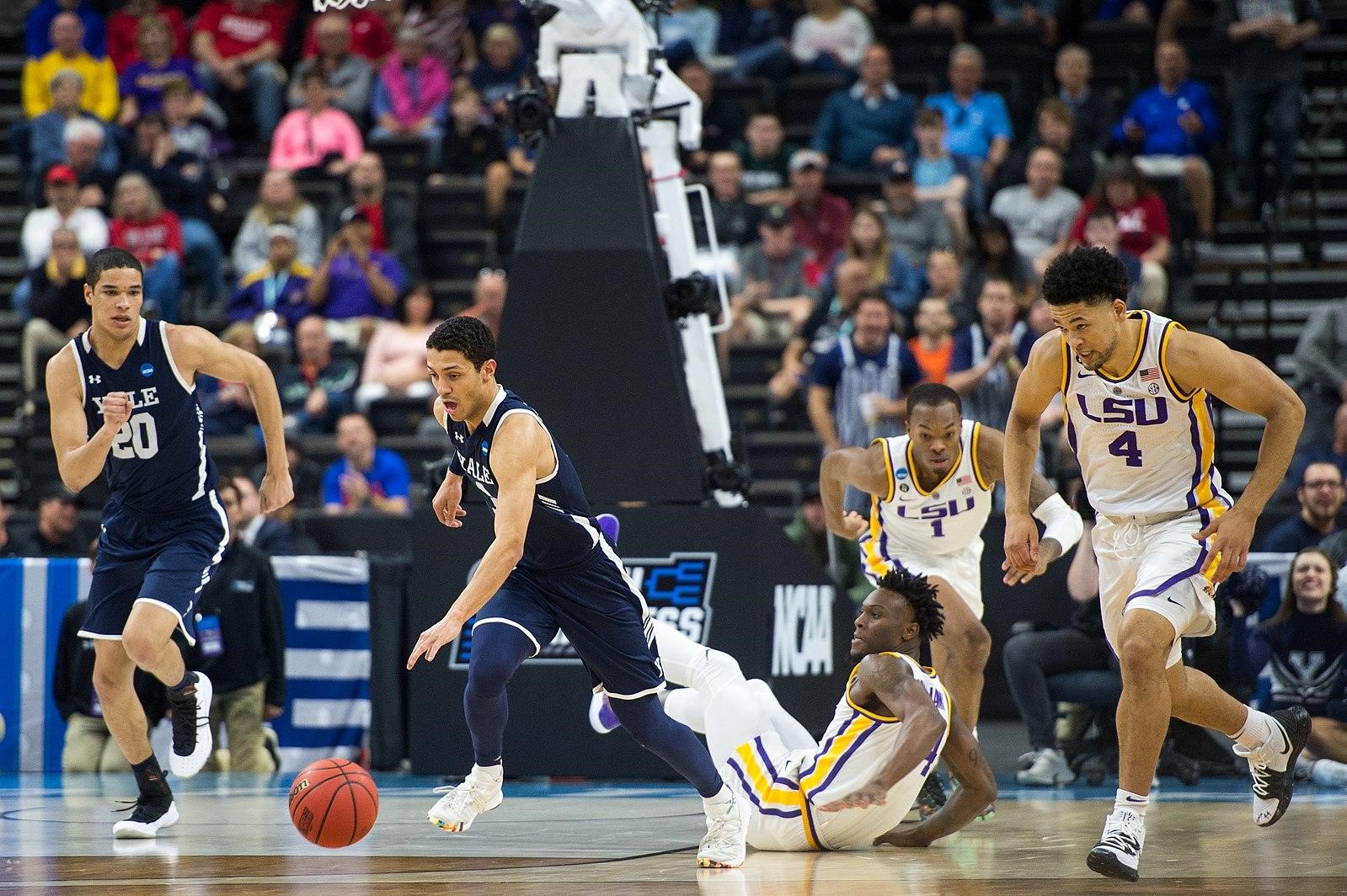 Yale University faces off against Louisiana State University in the 2019 NCAA March Madness Tournament Photo Credit: Thomas Savoja, Wikimedia Commons
By Luke Ahearn
  March Madness is at its halfway mark and this year's tournament is packed with the excitement and anticipation its nickname suggests. This division 1 basketball tournament, hosting 68 teams over seven rounds of single-elimination competition, serves to crown the king of college basketball. With it comes the age-old tradition of constructing a bracket; essentially picking the team from each matchup you think will move on until you're left with a winner, which has been in practice since the tournament's inception in 1939.
  Constructing your March Madness bracket, calling the upsets, and picking a champion, can be a fun activity even for non-basketball enthusiasts. The success or failure of your bracket puts a special onus on each and every game, making for a truly engaging event. As we await the Elite 8 batch of games, put down your homework for a moment and learn the art of bracket building.
  It's always easiest to go with the teams favored to win. The tournament is structured with four regional conferences of teams: the east, south, west, and Midwest, each with its own forum of ranked qualified teams (after teams are seeded, ranking one through sixteen in each region, the top seed faces off against the lowest, the 15th seed faces the 2nd seed, and so on). The number one seeds from each region are Kansas(E), Baylor(S), Gonzaga(W), and Arizona (MW).
  Following two years of makeshift qualifying behind closed doors, and suspicious matchups that ESPN refers to as the most unusual NCAA tournaments in the competition's history, the 2021-2022 schedule sees a return to the format that's elicited excitement for decades. In other words, the pandemic made the last couple of tournaments pretty weird so this is set up to be the first true showcase of elite college basketball in recent years. As usual, the professional recommendation is to stick with the quote-unquote 'big guns', letting the seeded ranking system do the work for you.
  Will Mathews, a second-year men's basketball player at Puget Sound, shares some similar personal insights for your bracket needs; "Even though I'm rooting for USC, I think Baylor has a good chance to win it again this year because all their bigs returned and their new point guard Akinjo pairs up nice with Flanagan. They are both lockdown defenders and attack the basket aggressively to make plays". Surprisingly, Baylor exited this year's tournament early, falling to 8th after a loss against North Carolina in the second round. Don't let that scare you, the big guns approach is still statistically justified as ten of the remaining sixteen teams are ranked fourth or higher in their region.
  If you're a newcomer looking to construct a successful bracket the best advice anyone can give you is to pick the team with the smaller number written in subscript next to their name for each matchup.
  The art of bracketology is a complex and delicate endeavor that sports analysts and basketball enthusiasts have been trying to crack for years. If you're looking to construct the perfect, personal bracket there are a couple of tricks of the trade you should know. Tyler Lauletta of Insider, offers some invaluable advice, having scoured 28 years of tournament data. Picking the upset is what can make or break a bracket (and really impress your friends), and according to Lauletta, the twelve versus five seed matchup is always a point of contention at the start of the tournament. Seeing as a 12th seed upset will most likely face the top seed of their region in the next round, you can make an audacious decision here without impacting the rest of your bracket.
  According to Insider, "in 13 of the past 28 years, at least two No. 12 teams had an upset in the first round". Predicting the tournament's biggest upsets means carefully selecting which twelve through fifteen seeds are going to be your Cinderella story. Alas, in this year's sweet sixteen, the 12-15 upset strategy would have sunk your bracket almost before it began, as only one of those teams remains in the tournament: the St. Peter's Peacocks.
  March-Madness brackets can be as zany and carefree as you make them, in the end, only you can decide how you'll select winners. If you're looking to spice things up or have some fun with an alternative bracket you can try out the mascot battle royale, picking the mascot most versed in combat all the way through. Or maybe the king of the losers, where you only pick the quote-un-quote 'worse' team until you've crowned an unlikely champion.
  It's equally amusing to assess how well those types of brackets may have fared in retrospect. For example, this year's mascot bracket would have been wildly unsuccessful as the likes of the St. Peter's peacocks took down the Kentucky Wildcats, and the Frogs from TCU slayed the Seton Hall Pirates. Some good fun nonetheless, March Madness captures the true essence of sports offering rich entertainment for all.