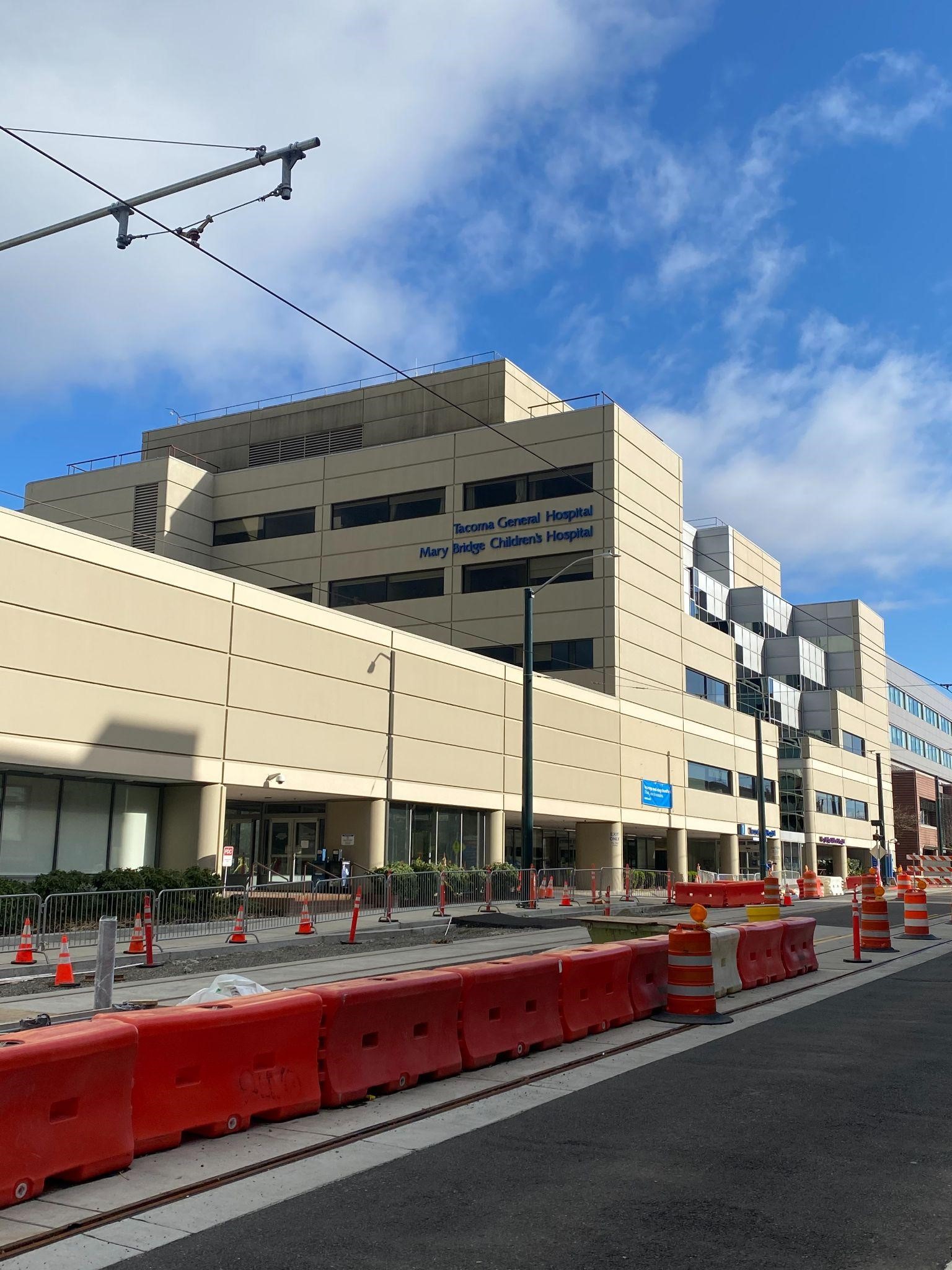 Tacoma General Hospital Photo Credit Audrey Davis
by Hannah Lee
Washington State lifted its indoor mask mandate on March 12th in response to dwindling COVID case numbers and hospitalizations. The Trail spoke with Keren Rivkin, second-year and volunteer at the Multicare Tacoma General Hospital Emergency Department, to see how hospitals are responding to the rise and decline of the Omicron variant.
According to Rivkin, the hospital followed government guidelines when making its COVID policies. "The hospital used recommendations from the CDC and WHO for covid regulations. Patients with serious infections were isolated and cared for by the appropriate staff. Visitors are screened for symptoms and exposure and must wear a protective mask" Rivkin said. She also mentioned that visitors for positive or pending COVID-19 patients are not allowed. The hospital makes exceptions for patients who are minors or receiving end-of-life care. Medical personnel is required to be fully vaccinated and complete a daily COVID-19 screening.
Rivkin explained that the hospital didn't change its policies after the decline of the Delta variant, before Omicron. "The hospital followed infection prevention protocol and enforced the COVID regulations before Omicron and continues to do the same after the surge of Omicron," Rivkin said. She also believes the hospital does its best to protect its visitors. Rivkin commented that while increased COVID patients have not impacted non-covid care in terms of treatment, there are increased wait times for the emergency room.
When asked if COVID affected Rivkin's experience volunteering at the hospital Rivkin explained, "I can't go into the rooms with positive COVID patients or those who have pending covid tests." She went on, "I am only allowed to enter certain rooms whereas staff can enter every patient's room."
Rivkin also noted the changes to the COVID policy were made in response to the Omicron variant. "After the surge of Omicron, all health care professionals and volunteers were required to complete respiratory training and wear an N95 mask due to the high transmission. We also got more hallway beds to be able to handle more patients." Rivkin said.
According to Rivkin, the hospital transformed their waiting room into a space for more beds with privacy curtains and moved their waiting area outside out of necessity during Omicron peaks. Respiratory training included individualized fitting for "a mask with a built-in respirator which filters out any nearby particles." Rivkin mentioned that when she was fitted for one, they sprayed a bitter spray to make sure that she couldn't smell or taste it to ensure the respirator and mask fit properly.
Rivkin noted that the Omicron variant significantly increased patient volume. "After omicron, there was an increase in the number of patients with Covid, however, there were still more people admitted to the emergency room without covid than with covid," Rivkin said. She also mentioned how some people are there because they have serious diseases that put them at risk for developing or contracting COVID. Rivkin elaborated that many patients aren't there because of COVID complications specifically, noting "It might have been worse before the vaccines, but I wasn't there."
Rivkin mentioned that following the Omicron surge, the hospital is slowly getting back to normal and is still "trying to minimize patients on hallway beds and having fewer patients in general" Rivkin said.
At the time of publication, the Tacoma-Pierce County Health Department, in Pierce County, reports 97 new cases and 3 new hospitalizations per 100,000 people.