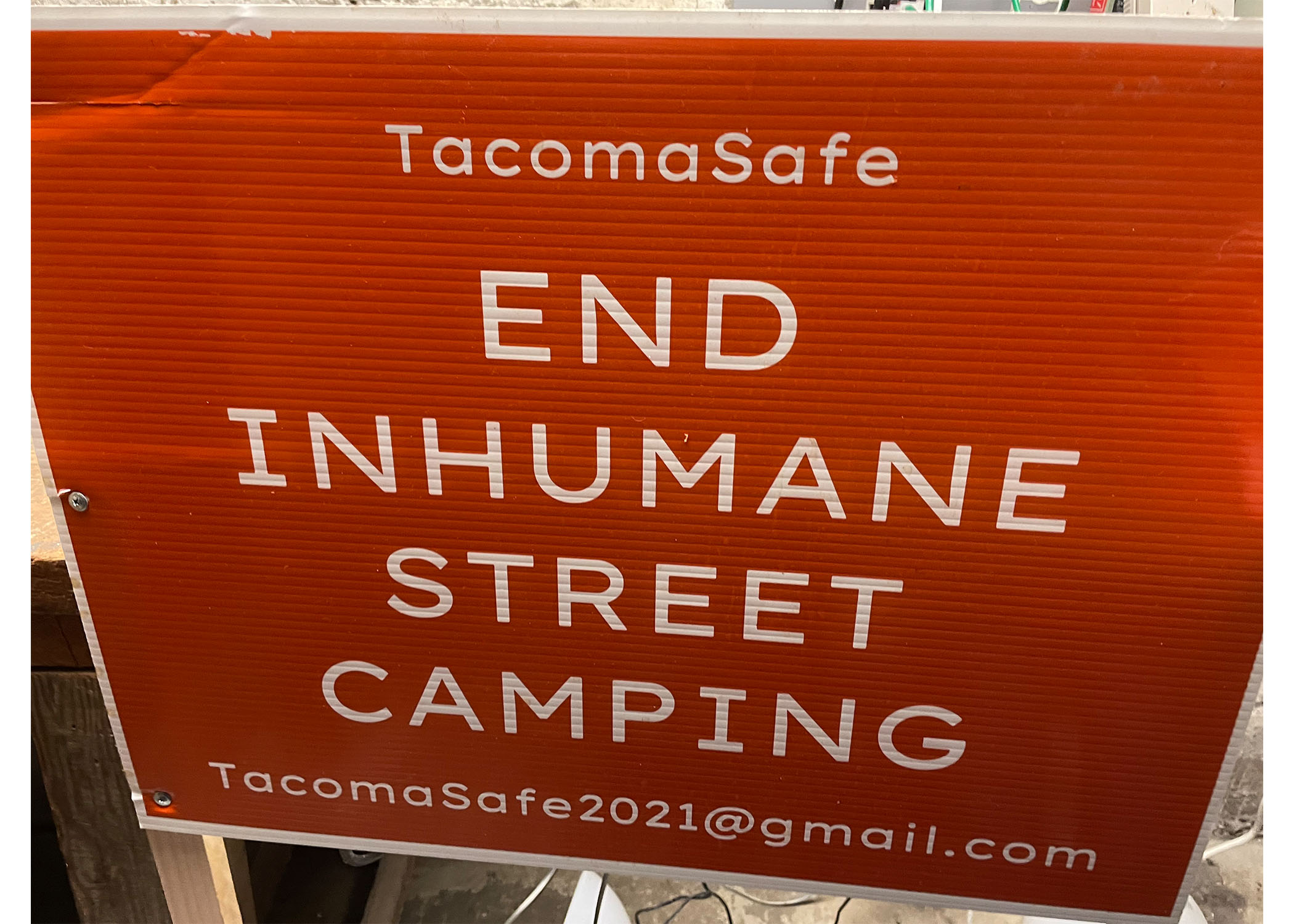 Sign posted around Tacoma Neighborhoods Photo credit: Albert Chang-Yoo
By Albert Chang-Yoo
Building tensions over Ordinance 28756, which calls for the denial of public encampment, culminated at the LeMay Car Museum on January 26. Inside, 500 business owners of Tacoma Safe, a campaign which purports to "address rising violent crime and inhumane homeless encampments," met with the city council, police chief, and Tacoma Mayor Victoria Woodards. Outside, around 40 or 50 housing rights activists and community members gathered to protest the Ordinance.   
Police are investigating a hit and run from the protest. Theresa Evans, a local neighbor and friend of some protestors, was hit when a pickup truck made a sudden swerve off the side of the road and blindsided her. The incident happened while Ms. Evans was talking to the protestors, Cathy Pick, of the Tacoma Tenants Organizing Committee (TTOC), explained. Ms. Evans was taken to a regional trauma center and diagnosed with a concussion, broken ribs, and a broken pelvis. Organizers established a GoFundMe to help support Ms. Evans' medical costs. 
Ms. Pick helped organize the protest against what she called the criminalization of "just existing in public space." Ms. Pick became the lead advocate for the TTOC, a housing rights organization under the Tenants Union of Washington, in early January. She was apart of the team that kickstarted a housing rights movement after longtime tenants were displaced by owners of the Tiki Apartments in 2018. 
Tacoma Safe's promotion of Ordinance 28756 was concerning for Ms. Pick. "I realized that they were the main proponents of the camping ban ordinance. Now, they're not going to call it that. And that's part of the duplicity. That is very frustrating," she stated. 
Tacoma Safe is especially upsetting because, she says, "they're co-opting a progressive narrative. The intention behind it is from the wealthiest of Tacoma, who, in my view, are well funded, well organized, NIMBYs [Not in my back yard]."  
Tacomas Safe, founded October 6, 2021, has dominated Tacoma's conversation around houselessness for the past few months. Angela Connelly, Co-Founder of the campaign and self-appointed "community advocate," says the campaign was a response to perceptions of escalating "crime and a lot more people experiencing homelessness." 
Since 2007, homelessness in Pierce County has increased by nearly 19%.The population of unsheltered homeless people in Pierce County has increased by 250%. 
With a degree in business management from University of Washington Tacoma, Ms. Pick says she is "not unfamiliar with the challenges that the businesses have been facing. But here's what I don't do. I don't scapegoat the unhoused."  
Ordinance 28756 was introduced last year, as a measure to ban public camping in the city of Tacoma. On December 7, the city council voted 5-3 to remove it from the agenda. Councilman Conor McCarthy, along with two others, tried to push it towards a last minute vote.  
Councilman McCarthy met with Mrs. Connelly last year, when they agreed to form Tacoma Safe. Tacoma Safe's listed goals are lowering 911 response times, lowering the murder, burglary, and arson rates, removing trash and graffiti, and reinstating a public camping ban while providing transitional services. 
Angela Connelly says that Tacoma Safe is "fully against what I would call criminalization of homelessness." Connelly said that she advocates for transitional and permanent housing.
When asked if Tacoma Safe plans to continue pushing for a camping ban, Mrs. Connelly was evasive. "It's a different interpretation. And I would not advocate for the camping ban, I would advocate for a pathway to shelter. I believe a pathway to shelter should necessitate shelter," she said.
Cathy Pick explained that she read Ordinance 28756 herself: "There is absolutely no path to shelter." 
However, Mrs. Connelly remained firm that the city should not condone encampments. She pointed to the recent removal of a large homeless encampment near the 705 Interstate freeway as an example of what she called "not a healthy situation." 
Ms. Pick is frustrated by the 705 sweep. "the city ignores the problem. The problem gets worse. And then they now have grounds to go and remove this encampment because it's public safety and health," Ms. Pick stated. 
In the end, Angela Connelly says that she wants to reach out to organizations like the Tacoma Tenants Organizing Committee. Meanwhile, Cathy Pick wants people to focus on the legislative issues: She pointed out numbers from the Washington Low Income Housing Alliance's Statewide Summit, which reported rent increases of 19% up to 113% for its clients after the governor's moratorium expired.. "I want to know–even on the low end– who's getting a wage increase of 19-21%?" Ms. Pick believes this is "going to be added to the already horrific crisis that we have." 
Ms. Pick is resolute: "We need to keep watching what they're doing and keep putting their feet to the fire. And that's what I plan to do."