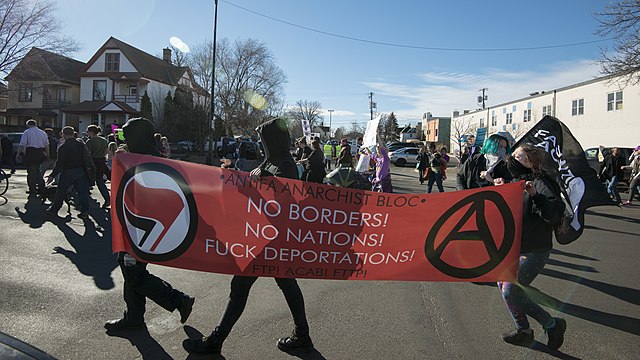 Photo courtesy of Wikimedia Commons
By Miles Cruger
A recent protest against the Northwest Detention Center (NWDC) occurred just over three miles away from the University of Puget Sound on Saturday Jan. 22. The protest centered around humanitarian issues at the detention center, notably internal handlings of the COVID pandemic.
A recent lawsuit increased wages in the prison from $1.00 to minimum wage, which has ramifications in relation to the pandemic. Kōlea Caverly, first-year, spoke on issues related to the change. "They hired cleaners, like outside cleaners when they made the minimum wage thing, but the cleaners won't go in because of COVID. So now no one is even cleaning to help COVID." Sadie Valentine, first-year backed this up with another idea they heard at the protest. "People are not even getting them to clean or anything, they were disinfecting by spraying disinfectant over vomit and stuff like that; very, very dehumanizing conditions."
The detention center opened in 2004 and is owned by the GEO Group, a for-profit prison group. The Detention Center can hold up to 1,575 people at its max capacity, contrasting its original capacity of 500. Up to 200 immigrants are transferred to the detention center each month. Some of the people detained have lived there for years, waiting for the results of their immigration cases. The January protest is one in a long string of protests organized by La Resistencia, a group working to end the detention and deportation of immigrants.
On La Resistencia's website, the organization states the purpose of their fight: "We plan to shut down Washington State's privately-owned detention center as part of a broader national movement to end immigration detention. Our work aims to make it as difficult as possible for the U.S. Immigration and Customs Enforcement, or ICE to deport anyone from this state. In doing so, we stay connected and principled about centering the demands, struggles, and lived realities of people inside the NWDC, who bear the direct brunt of the violence of this system."
La Resistencia claims that although ICE has deemed the NWDC a "model facility," it must be shut down. On their website, they state "people at the NWDC have died, people constantly go on hunger strike to protest their conditions, and GEO Group will not allow the WA Department of Ecology to test water and soil samples for environmental health." In response to further humanitarian issues at the prison the incarcerated population organized over 20 hunger strikes, some lasting longer than a month.
Sadie Valentine attended multiple solidarity days and protests at the NWDC, and spoke to their experience at La Resistencia's most recent event, "I think it's important, and one thing that we do is make a lot of noise. People inside can hear us, which I think is really cool because they, have it so they can't see us, we can't see them at all. But if we're all there, we're making noise."
The Jan. 22 protest comes after a bill passed on April 4th, 2021, that bans contracts with private, for-profit prisons in Washington. This means that the detention center will end operations after its contract
expires in 2025.
Valentine spoke on the bill, "Everyone that's still there will just be transferred to another detention center." Although the bill is a step forward for immigrants as well as advocacy groups like La Resistencia, the sentiment that there is still work to be done remains prominent.
I also asked Valentine and Caverly about how they felt about student activism on the University of Puget Sound campus. "I have very little confidence in it personally… I think more people should get out and I think they want to too but aren't quite there yet. UPS has a lot of different opportunities to do outreach. And I, I'm volunteering in a school in the south side right now and that's through UPS. Also, there are ways to do it. You just have to kind of look for it," Valentine said.
The University of Puget Sound has many student activist groups including Serve the People, or STP, which provides mutual aid for people in the Tacoma community. There's also Advocates for Detained Voices, or ADV, which directly addresses issues at the NWDC and works with La Resistencia.
At the end of our interview Caverly noted "Generally it's really easy to just stay in the bubble of this campus and make yourself feel extremely disconnected to all the issues going around in Tacoma."