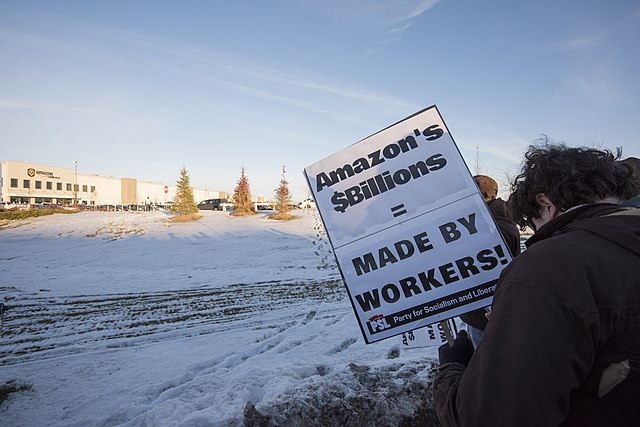 Protests outside an Amazon factory against poor working conditions (Wikimedia Commons)
As the pandemic moves into its third year, working class individuals around the world are heightening their calls for comprehensive changes at the corporate and governmental level. Currently, in the United States, workers are advocating for better working conditions and higher pay. Employees in companies such as Kellogg's, Nabisco, John Deere, Starbucks, Amazon, and hospitals have walked out and called for unionization. This movement is supported by many left-leaning politicians. Due to the pandemic and dangerous working conditions, the most common complaints surround lack of hazard pay and sick leave, and more than 4 million quit their jobs each month. 
In a statement from, Liz Shuler, president of the AFL-CIO, the main US union federation, the labor movement reflects the frustrations of working in a pandemic: "I've been traveling a lot to picket lines all over the country in the last couple of months, been in so many different states and across all industries. But the one thing that's been really consistent is the sentiment of the working people who are out there taking the risks, is that they are absolutely fed up." 
There is a similar, but distinct phenomenon occurring in Spain. Rather than the left-led labor movement occurring in the United States, a rural right-leaning movement is gaining international attention against the liberal-dominated government of Spain. These advocates, led by the Alma Rural campaign group, are composed of farmers, cattle-breeders, hunters. Alma Rural represents over 500 rural organizations from across Spain.
Frustrations culminated in advocates marching on Sunday, January 23 in the capital city of Madrid, gathering in front of the Agriculture Ministry. Signs read "Farmers speak. Who's listening?" and "Spanish farmer S.O.S". Over 6,000 people attended this rally, which included centrists and far-right marchers. 
According to Carlos Bueno, secretary-general of the Alma Rural campaign group "Agriculture is dying." Their main claim states that the current left-leaning government is hurting the rural community. Specifically, their demands included more regulation for agricultural prices, subsidies for rural industries, and an increase in protection for cattle breeders. These demands also include the deregulation of animal hunting laws in order for farmers to fight back against wolves, as over 21,000 cattle are killed every year, causing $10 million worth of damage. 
In response, the Ecological Transition Ministry stated that the 2022 budget includes $4.7 billion reserved for rural area depopulation. The Ministry is responsible for addressing climate change and demographic challenges. 
 The Ecological Transition Ministry affirmed that Spain's rural world "doesn't need populist slogans but political involvement and resources to solve historical problems." The conflict has been in the public eye since the far-left partner of the government Consumer Minister Alberto Garzón critiqued the cattle industry in regards to environmental damage and poor quality exports. This caused division in the Socialist-led administration and led to calls for his resignation from the right-wing opposition party. 
The agricultural sector of Spain plays a significant role domestically and in the European Union, as half of the Spanish territory is used for livestock or farmland. According to official figures, in 2015, agricultural production totaled 45.49 billion euros and 800,000 people work in the country's agricultural and livestock sector. 
Opposition leader Pablo Casado Blanco stated in a Tweet: "My support for @AlmaRural2021 and the associations that are demonstrating in Madrid today to make rural Spain visible and ask that farmers, ranchers, and fishermen not be despised. We are the party of the field and we are proud of the families that live from it with so much effort." 
The modern labor movement is occurring worldwide and across political ideologies. Although backed by different ideological leaders, the labor movement in the United States and Spain reflect an ongoing discussion of labor conditions and policy reform. These global protests highlight a changing economy due to the COVID-19 pandemic, and an unrest surrounding political and corporate neglect towards the working class.