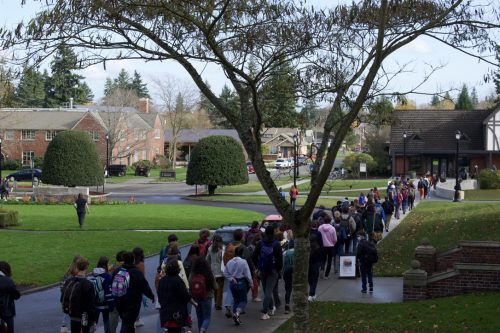 Students walk to Student Union Center following MIBU walk-out Nov. 10th 2021 (Andrew Benoit/The Trail)
Halfway down the University of Puget Sound's COVID-19 dashboard lie the words "Current Risk Threshold: High Transmission". The description of this risk threshold informs students to prepare to "shelter in place", and that "Essential functions (e.g., care oversight, security, dining) may be compromised".
 With student life and in-person classes coming back to campus the percentage of positive COVID-19 tests have gone up, leading to varied reactions to campus policy and in-person academics. The recent surge of the Omicron variant leaves some of the campus community feeling hesitant and concerned about returning to in-person classes. In King County, north of Pierce county, COVID-19 hospitalization rates have increased by over 700% in Jan. 2022. 
The rising rates affect all parts of our community including campus staff, which led some professors, including Stuart Smithers of the Religious Studies department, to remain online for an additional week. In a statement, Professor Smithers notes "It was hard to figure out what to do because we all want to be in-person. But at the same time we want to be as respectful as we can of everyone's health and safety. What's the rush? It seemed odd that we would zoom the first week to do the testing, then launch into in-person teaching without knowing the results of those tests." Here, Smithers is referring to the fact that the COVID-19 dashboard numbers only update each Monday, so the test results for the first week weren't out until after in-person classes had already happened. 
Smithers also says "I'm doing my best to consult with students and to listen to their points of view, but I also wish there was communication regarding the dashboard numbers. Seems odd that that isn't happening". The dashboard was last updated on January 31st. The dashboard shows 33 new student cases and that campus's positive COVID-19 test rate is 3.21%, down from 7.8% during the first week of in person classes. The 7 day wait period for updates leaves some students and staff feeling anxious as they consider how to remain on campus safely. 
Tate DeCarlo, a sophomore, voiced his opinions on the return to in-person courses. "You don't learn online, it just teaches you to 'BS' your way through it." There's a lot at stake for students and professors alike, especially as some students find online learning far more difficult than in-person.
"There is this kind of double-edged aspect of that where there's a lot of worry about COVID, and I think for me, I want to make sure everything is being done to keep the community safe, but I also honestly almost selfishly really want to say in person." Decarlo said. He is also concerned about the high test rates on campus which still leave campus in the "high transmission" risk threshold. "I think that for me, the most ideal goal would be to do whatever we can that allows us to continue having in-person classes." The common sentiment from the community seems to be a preference for in-person classes, as long as safety measures can be ensured. 
Quinn O'Connor, a Freshman, spoke to her experience with a secondary exposure. She had been in close contact with the roommate of a student who had tested positive. "I theoretically didn't need to quarantine so I was tasked to make that executive decision, that I probably should quarantine anyway". Students like Quinn have decided to self-isolate even though campus policy does not require isolation for secondary exposure.
The worry and fatigue surrounding campus are heavy, the concern of going back online hangs over the campus population. Each person exposed to COVID-19 considers not only campus policy, but also how their actions influence classes remaining in-person. 
The quick rise of positive test rates of COVID-19, not only on the University of Puget Sound campus, but in the larger Seattle-Tacoma community creates uncertainty about the future of campus life this semester.