Sexpresso sells: Inside the life of a bikini barista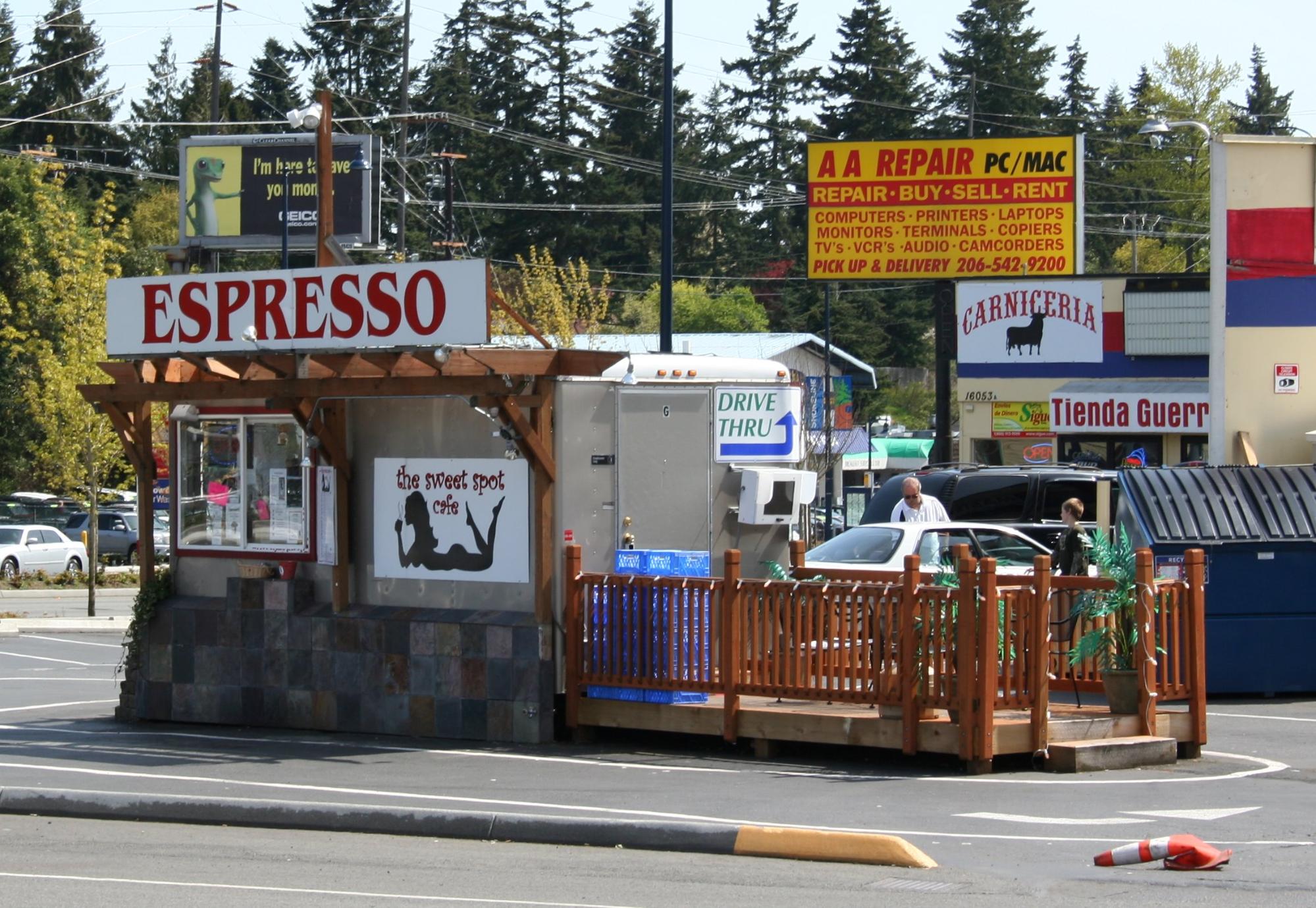 The earliest bikini barista coffee shops opened in Seattle in the early 2000's. This one, The Sweet Spot Cafe, is in Shoreline, Washington. — photo courtesy of Wikimedia Commons
When I first came to Tacoma to start college at Puget Sound, I saw a small coffee stand in a large parking lot with a sign that read "LadyBug Bikini Espresso Drive Thru." At first I thought it was just a cute name for a regular coffee drive-thru, but fellow students let me know that the employees do indeed wear only bikinis while they work. I had never heard of such a thing and have always been curious about this business model and the baristas inside that little hut.
Luckily, a Puget Sound student has the inside scoop on working for a Bikini Barista business and was willing to discuss her experience with the Happy Trail.
"LadyBug" is a Puget Sound student who has worked at a Bikini Barista Espresso in Tacoma for almost a year. She requested that for her privacy we use a pseudonym in this article.
LadyBug said that she got started when her old housemate suggested she apply when she needed some extra money. Once she got started, she created an Instagram account to match those of her coworkers at the espresso stand.
She said that her coworker told her how to get more customers using the social media platform while also staying safe: "Come up with an alternative name, never show your face, et cetera," LadyBug said. "People follow my Instagram from all over the world, so not many come visit. But there are some customers who follow my Instagram and will let me know they're on their way."
While she does have some regulars, LadyBug said that she doesn't treat them differently.
"I have pretty shallow relationships with my customers because I'm not trying to get involved in their personal lives. I pretty much have the same conversation over and over again."
LadyBug said that her typical customer is a man in his 30s or 40s by himself. However, solo women, couples and even families come to the stand during her shifts.
"Some people will ask me about school, my interests, things like that," LadyBug said. "But people ask me inappropriate things all the time. I'm asked at least once a shift by a guy if he can jack off to me."
LadyBug said that she responds to these requests depending on how she's feeling. While she said that many of her coworkers permit such things often, she doesn't let things go that far most of the time.
"I would charge a lot for that to happen. I'm sure I would make more if I offered it at a low price to more people but I'm not comfortable with that," LadyBug said. "It makes me really uncomfortable because they ask me to look and it is so awkward. It doesn't feel that great. It is worth it though because I'm getting paid a lot more."
While technically nudity or being involved in any sexual activity at the stand is prohibited, LadyBug said that many of her coworkers break those rules every shift without reprimand from management.
"There are rules that are written, but nobody follows them," LadyBug said.
Bikini Barista work is considered by many to be under the umbrella of sex work, and LadyBug generally agrees: "I think that with this job whether or not it's sex work depends on the individual. I've been asked if I do anything outside of work. I'm sure other people are down for that, so there are levels. If you're being offered more money, maybe some people would go for it. I don't consider myself a sex worker, though," LadyBug said.
While it is up to the individual what they do at their job, LadyBug said that she doesn't necessarily feel empowered by her work. She prefers her job over a regular barista job because she makes lots of extra tips, but she said that it can get lonely because she will be the only person in the stand for seven to eight hours at a time. Despite her isolation, LadyBug hasn't felt unsafe during her shifts, although she wouldn't recommend her job to someone else.
"If someone wanted to make the money I make and didn't care what they had to do to get it, I guess I would tell them to apply, but I don't think I'd want to put someone I know in the uncomfortable position that I'm often put in at this job."
"I think it's not good for the women who work there. I think it had the potential to be good, to be positive, but it's not," LadyBug said. "Part of the reason is because there are a lot of girls who start working there in high school and just keep working there after high school instead of going to college or getting other jobs. I think in that case [working as a bikini barista] encourages them to not value themselves."
Additionally, LadyBug said that the work doesn't foster relationships between the employees because they are always alone. Then again, she doesn't have to share her tips, so she said that it is a trade-off.
At the end of the day, LadyBug said that working as a bikini barista is pretty similar to working at any other food service job. LadyBug struggles to get time off and gets annoyed at her managers for giving her unwanted shifts, just like any other barista job.
Tags :
bikini bar
Sexpresso