Library highlights Japanese-inspired art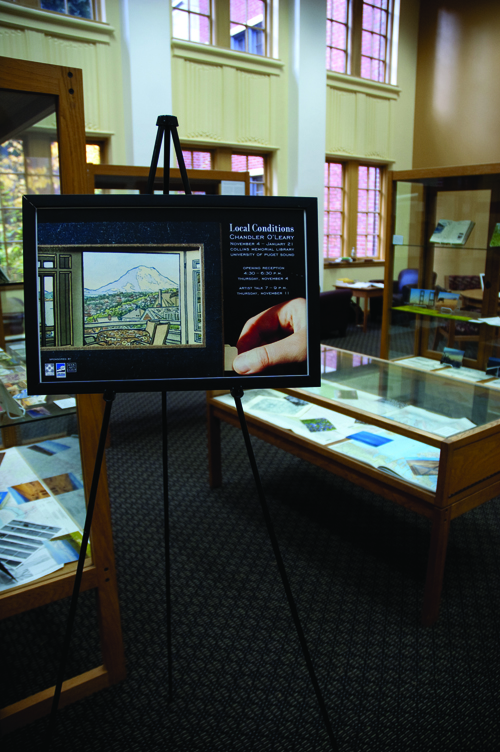 Thursday, Nov. 4 was the grand opening of Local Conditions, the Chandler O'Leary art exhibit in Collins Memorial Library. O'Leary was at the opening ceremony, which involved scrumptious hors d'oeuvres and the chance to talk with O'Leary about her piece, which was inspired by the artwork of Japanese artist Katsushika Hokusai.
Local Conditions is a hand-bound book that consists of a set of drawers within a viewing box and Japanese-style wrap case. The images, text and topographic map pattern are letterpress printed and painted in watercolor.
The book contains 120 images that can be combined and layered to create scenes of Mount Rainier. The flats can be arranged into real-life views described in the artist's book, or mixed and matched into new scenes as the viewer wishes. The possibilities are as vast as the mountain itself.
Each of the pieces in Local Conditions began as an original sketch or photograph, accompanied by the real-time data (elevation, latitude/longitude coordinates, weather conditions, etc.) recorded at each location. The images documented were then broken down into foreground and background components to translate to the book's image flats.
The illustrations were first drawn in pencil, then refined in black ink, and the final ink drawings were scanned and converted to film negatives. These negatives were then used to process photopolymer plates for letterpress printing.
As mentioned before, Japanese artist Katsushika Hokusai (1759-1849) provided the inspiration for Local Conditions, with his series of woodblock prints, "Thirty-Six Views of Mount Fuji" and "One Hundred Views of Mt. Fuji."
The illustration "One Hundred Views" depicts Fuji in black and white and was published in three delicate hand bound volumes. "Thirty-Six Views" was printed in full-color, including the dominant color of indigo ink — an expensive, state-of-the-art innovation at the time of printing. The indigo color came from a new synthetic blue pigment, which, unlike the vegetable-based inks used by artists before, would not fade over time. Local Conditions is letterpress printed in indigo ink, a tribute to Hokusai's version.
In addition to Hokusai's woodblock prints, the illustrations in Local Conditions are also inspired by the graphic style of travel ads and souvenirs. Examples include vintage postcards and the National Parks posters produced by the Works Progress Association in the 1930s.
Local Conditions was drawn and compiled from data collected from O'Leary on location, from September 2008 to October 2010. Researching potential locations consisted of organizing dozens of topographic maps and logging over 8,000 travel miles throughout Washington and Oregon.
Chandler O'Leary is a graduate student of the Rhode Island School of Design and is the proprietor of Anagram Press, which allows her to make a living creating her art. She has felt a strong connection with Mount Rainier since she moved to Tacoma in 2008. Her exhibit will be on display until Jan. 21.
[PHOTO COURTESY/ TEDDI TOSTANOSKI]