Latinx Unidos' Annual Día de los Muertos altar honors life and loss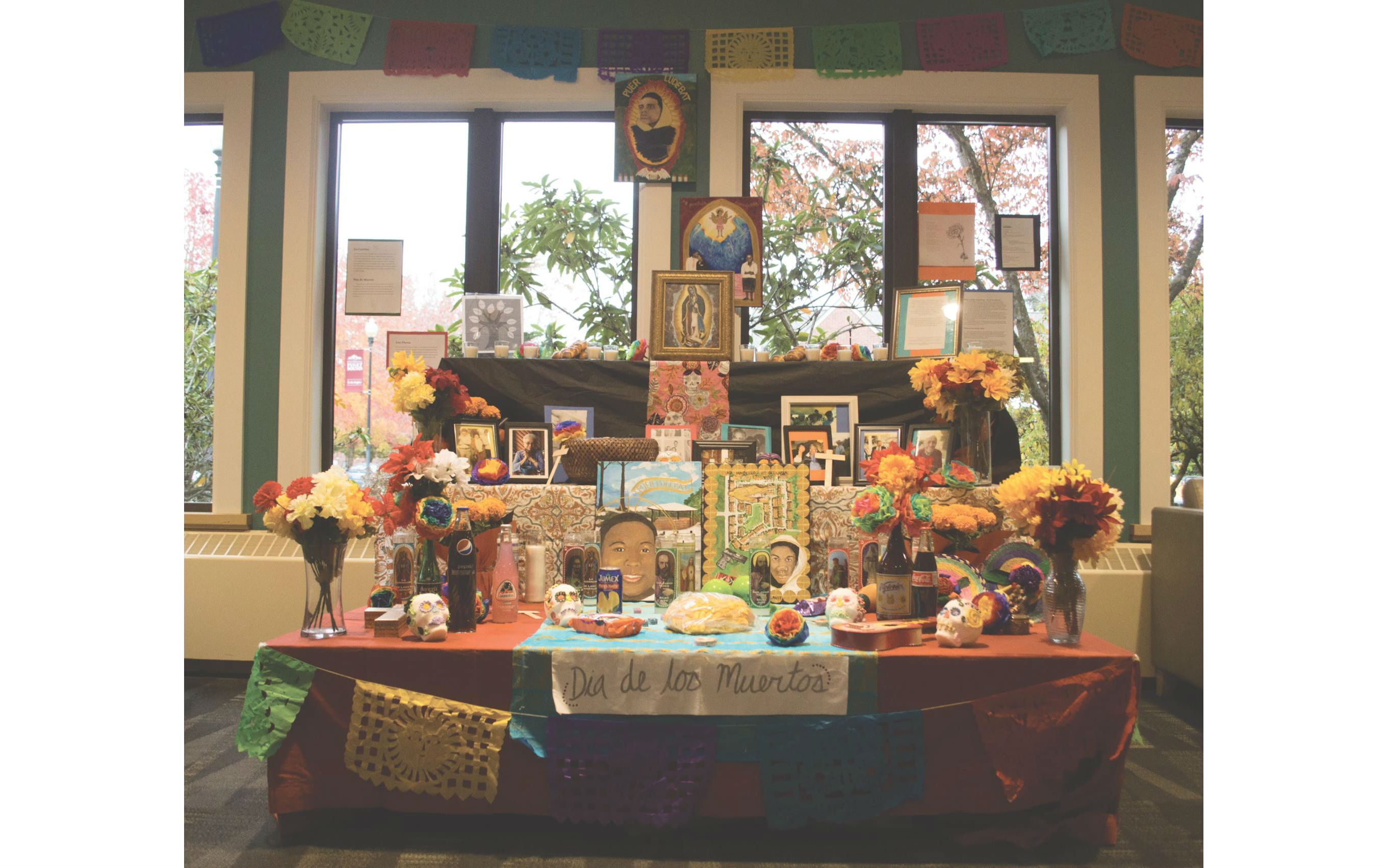 Latinx Unidos' 2018 Altar — Photo credit to Katherine Kessler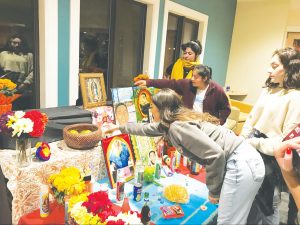 Today is the third and final day of Día de Los Muertos, a historically Mexican holiday that celebrates the death and lives of loved ones. The holiday is reimagined in the Latinx Unidos (LU) annual altar, which combines tradition with social justice in a multi-layer display. The altar was created by the club to celebrate the holiday and to encourage conversation about issues affecting not only Latinx-identifying people, but marginalized communities both on and off campus.
"Latinx Unidos is a space where people who are Latin-identifying can come and just be a part of a community where their values and experiences are reflected. … We meet to discuss what we want to see on campus, for our community specifically," LU vice president and junior Katelyn Herr said.
At weekly meetings, the club works to create their annual altar and a scholarship for a student on the Puget Sound campus through their scholarship dinner during the spring semester.
The altar is an annual tradition and according to club president Soli Loya-Lara it has been occurring on campus since 2015. The first theme of "death of diversity" made a political statement, and each following year, the altar has continued that tradition of sparking conversation.
"They wanted to represent the voices of students who felt like they were ignored and invisible to the campus and administration. They were able to share our culture with the campus, but also express their experiences and struggles as students of color," Loya-Lara said of the LU club and their first on-campus altar during 2015.
"After that year, we continued to use 'The Death of Diversity' theme while also honoring people who had died because of police brutality, people killed in the devastating 2017 earthquake in Mexico, people killed during Hurricane Maria, and people who have died while crossing the U.S./Mexico border," Loya-Lara said. This year LU continued to involve current events into their altar and reached out to the Jewish Student Union (JSU) to participate in the altar.
In light of the shooting of 11 people at the Tree of Life synagogue in Pittsburgh, PA on Oct. 27, LU changed their original design of the altar to include a tier for JSU to honor the victims. This decision is important for members of LU, who are passionate about honoring the lives lost in the shooting and in showing their solidarity with JSU as another identity-based club on campus.
In addition to including JSU, LU invited Multi-Identity Based Union (MIBU) members to bring objects, art, poetry, and images to include on the altar.
Late Monday night, an excited group of LU members assembled the altar with the help of a few JSU members. As anyone who visits the finished alter can see, the result was an intricately decorated display that pays tribute to several communities.
The top tier of the altar is filled with challah bread, yahrzeit candles, and an image of the tree of life brought by JSU members. The middle tier includes items brought by MIBU students and holds the photos of those being honored by students during the holiday. The bottom tier acts as a traditional altar for Día de Los Muertos and includes flowers, candles and food left as an offering for those who have passed.
While the altar touches on heavy themes it also works to encourage celebration. Día de Los Muertos is a joyful holiday for celebrating the lives of those who have passed.
"It's a very spiritual connection with the living world and the dead world. It isn't a day of mourning, it's a day of celebration. … For me it's really important to not see death as something sad; it's something that should be celebrated like the life of a person," Herr said.
Herr spoke about celebrating her grandfather, while first-year club member Mikey Benitez spoke of celebrating his dog who had recently passed.  
The altar offers the unique opportunity to look back and celebrate a long-held tradition with Día de Los Muertos, as well as a chance to look forward. As the community observes the altar LU wishes to share with the Puget Sound community what they believe in.
This year's altar has fostered collaboration, community and celebration.
"It's kind of so everyone can see what we are about and that's honor, community, love and the celebration of life," Benitez said.
You can visit the altar outside Diversions until today, and can support LU's scholarship fund by buying something from the bake sale next to the altar (today only).
Tags :
dia de los muertos
Mexican holiday