Congressman Kilmer Visits Puget Sound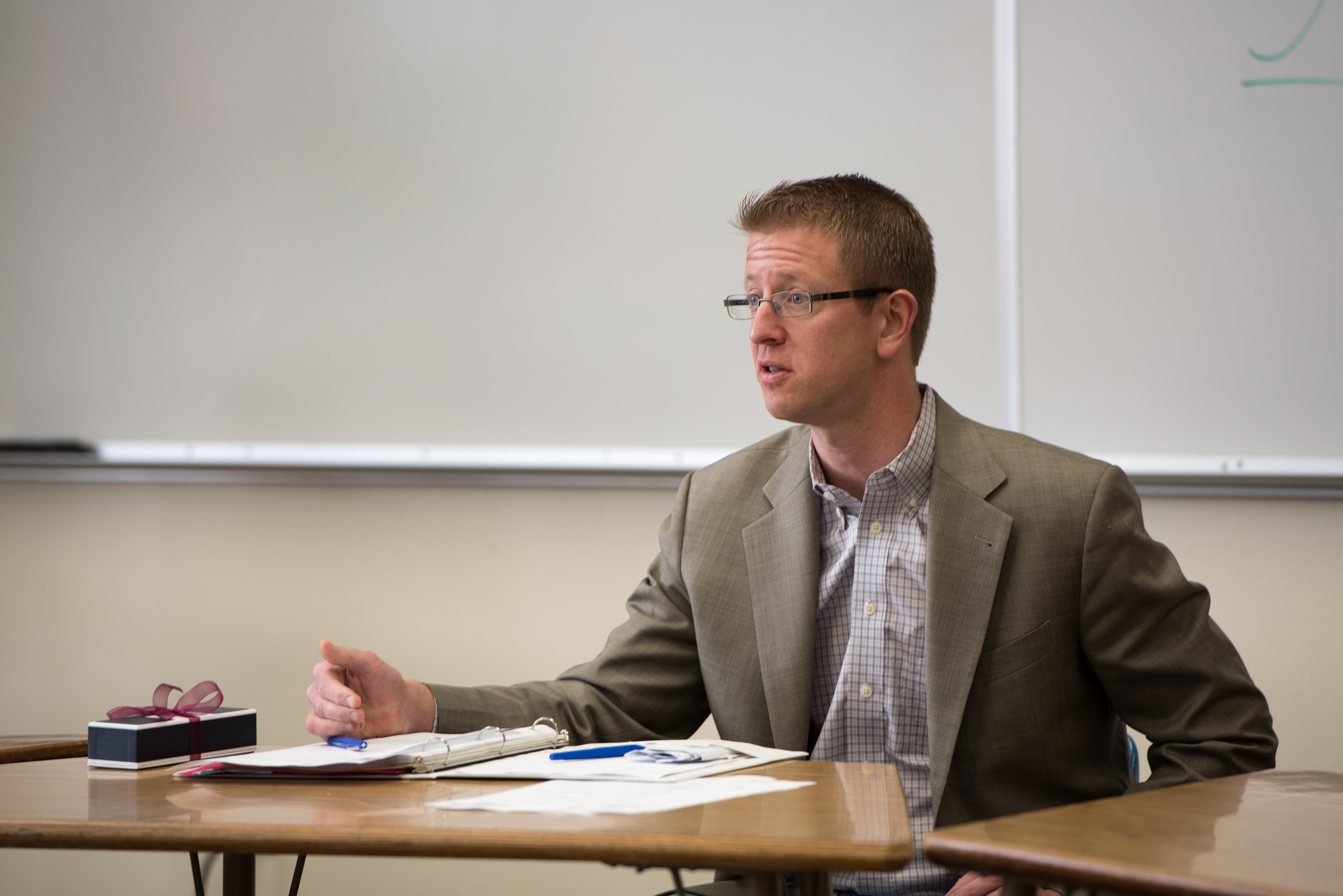 Congressman Derek Kilmer visited Puget Sound on Thursday, April 2 to discuss legislation related to student loans and higher education. Kilmer had one-on-one visits with select students and faculty before engaging with students in a classroom setting.
Kilmer's visit began with senior Renee Meschi, Food Justice Programs Coordinator for Puget Sound's Center for Intercultural and Civic Engagement, for a discussion on financial aid and the Higher Education Act Re-authorization. HEA's re-authorization allows members of Congress to change and edit financial aid processes for college students.
"I had a great meeting with Representative Kilmer this morning, and was heartened that he is taking the time to visit our campus and see how we fit into his Congressional district at large… I wanted to thank Representative Kilmer for supporting SNAP and the Higher Education Re-authorization Act, and to also present a narrative of someone who is first-generation and nontraditional, but is seeking a liberal arts degree… which I know the [HEA] supports," Meschi said.
Additionally, the HEA is the force behind the safety of many programs that assist with financial aid for students, including Pell Grants and Perkins Loans.
Congressional debate has led to the possibility of the Pell Grants being frozen for the next decade, and for Perkins Loans to be discontinued entirely.
"It is important for our lawmakers to know what a difference these programs make to students and to colleges, and the impact is direct when they meet with students, attend classes and meet with college presidents and officers right on our campus," President Ronald Thomas said. "All that happened today with Congressman Kilmer."
Kilmer also met with senior Billy Rathje, recently named Rhodes Scholar-elect. Rathje expressed interest in Kilmer's educational background and his engagement with higher education on-site.
"I think it's fantastic that he's engaging with the educational community and the district that he represents. I think that's extraordinary for students. And getting the input of the student body… could be valuable for educational policy in this country," Rathje said.
University President Ronald Thomas, who currently serves on the Economic Development Board of Tacoma/Pierce County with which Kilmer has worked, met with the Congressman as well.
"Ever since his days in Olympia, Mr. Kilmer has always been a strong advocate of higher education and has been an ally in supporting student financial aid and policies—in the state and in the nation—that make college more accessible and affordable," President Thomas said. "His visit provides him with the opportunity to see how a college works, how federal policy affects real students, and to see the role a college like Puget Sound plays in student's lives and in our community."
Later that morning, Kilmer stopped by Professor John Woodward's class "American Schools Inside and Out" to speak with students about pressing issues in the educational system and relations between the class' subjects and Congress' current questions. One of the topics that was brought up was financial aid and student debt.
"The fact is, I couldn't have gone to college if it hadn't been for financial aid," Kilmer said. "It would not have been an opportunity for me. I always say education is… the door to opportunity for a lot of families, including mine. Financial aid is the key to that door."
With the discussion of financial aid came the discussion of Kilmer's proposals and fights for financial reform.
The proposed changes would allow for students to refinance their high interest rates, a push against the massive inflation of student debt in recent years.
The fact was brought up that student debt in America now overshadows credit card debt.
Woodward's students asked Kilmer questions about standardized testing, communication between K-12 schools and universities and financial aid availability for low-income households.
Students personally shared how their lives were affected by policy changes and economic shifts related to colleges and finance.
"If the government doesn't provide aid, colleges must provide more—and that drives costs up. Congressman Kilmer got a good sense of that today—in talking with me, in talking with individual students who have benefited from federal financial aid and from the class in education policy he attended today.  It's an issue he has supported, but seeing actual cases and talking with real cases drives the point home," President Thomas said.
As a collective voice and a body of students, the Puget Sound community created change by making opinions and stories heard to representatives such as Congressman Kilmer.
These personal visits strengthen the connection between officials and the individuals whose lives are affected by their decisions.
Tags :
Congress
education