Tacoma Little Theatre 2014-15 season underway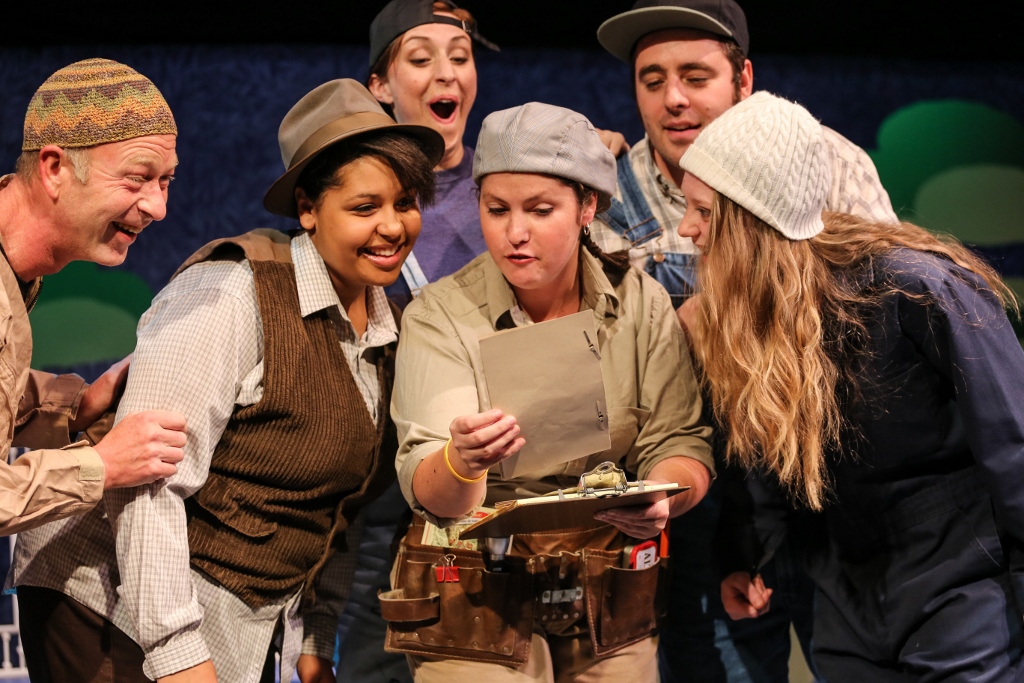 Tacoma Little Theatre started their 2014-15 season with a contemporary twist on A Midsummer Night's Dream. Be sure to catch it this weekend, as well as the other shows that "[give] you the theatre you want to see, and the theatre you didn't know you wanted to see."
Two mismatched young couples escape their parents' demands and their lovers' pursuits by fleeing to a fairy world, where a king and queen are in a heavy quarrel. Puck, the king's servant sprite, causes mischief with a magic potion among the young lovers and a group of actors which stumble onto the scene. Hilarity ensues.
The show contains Shakespeare's original poetic dialogue, but is heavily abridged and is suitable for all ages. It also features modern costumes and props.
Director Suzy Willhoft described the production as "a little like juggling confetti."
"The play is colorful, light, and dreamy, but also a challenge to keep up in the real air," she said in her "Director's Notes."
By setting the play in the present, turning the magic forest into a sleepy place (seen in the pajamas worn by all the fairies), and allowing just one character to bring the audience in and out of the play, Willhoft made the production unique, magical and all her own.
A Midsummer Night's Dream stars Steven Walker as Demetrius, MacKensie Ikeru as Lysander, Myia Johnson as Hermia, and Puget Sound student Cassie Jo Fastabend as Helena. It also features Mark Peterson, Nicole Lockett, Kaitlin Dresdner, Michael Griswold, Everett McCracken, Adrianna Littlejohn, Courtney Rainer, Ali Rose Schultz and Xander Mobus as Puck.
The cast is a mix of veterans and newcomers to the TLT stage, as well as veterans and newcomers to the stage in general. All share a passion for theater and performing, however, a trait evident in their previous work and in discussions with the cast after the show.
Cast members were excited by all the support and encouraged people to support not only this show, and not only this theater, but community theater in general.
Managing Artistic Director Chris Serface said that they try to appeal to a wide variety of tastes in their season line-up. He encouraged Puget Sound students to see the productions, especially because they offer talent at a reasonable price.
"We feel that we offer a wide variety of programming that will fulfill everyone's desires for theatre. The motto that we've taken up is, 'Giving you the theatre you want to see, and the theatre you didn't know you wanted to see.' By planning a season that covers every genre, we hope that students will have their needs met," Serface said.
He also encouraged students to participate in the shows.
"We feel that we offer a quality production experience where actors can come to perform in a community theatre where they are treated with respect and have the chance to become a part of Tacoma's amazing theatrical community," Serface said.
Midsummer will play tonight, Oct. 3 and Saturday, Oct. 4 at 7:30 p.m. and Sunday, Oct. 5 at 2 p.m. Tickets are either $22 for close seating or $15 for side and back seating, but the theater is small enough that any seat is a good seat. See www.tacomalittletheatre.com for more details.
Their 2014-15 season features A Midsummer Night's Dream until Sunday, Oct. 5; Dial "M" for Murder Oct. 24 through Nov. 9; and Scrooge! The Musical Dec. 5 through 28.
Next year, TLT will feature The Great Gatsby Jan. 23 through Feb. 8, Picasso at the Lapin Agile Mar. 13 through 29, Fox on the Fairway April 17 through May 3 and Cabaret May 22 through June 14.
Tags :
community theater
contemporary shakespeare
midsummer night's dream
shakespeare
Tacoma arts
tacoma little theatre