New items spice up Cellar menu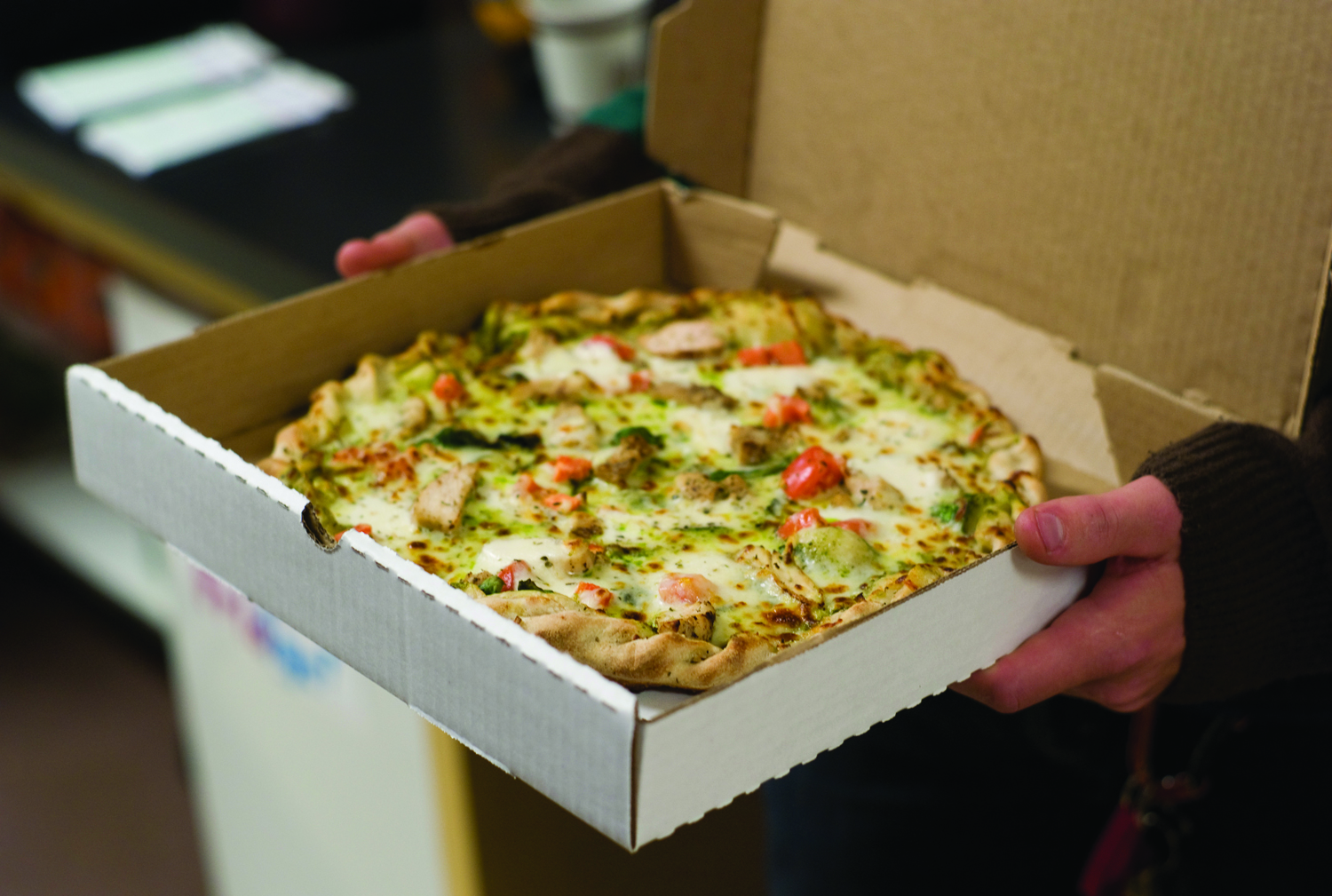 Got the late night munchies? Or maybe you need some brain food to finish up that essay at 11 p.m.? Perhaps it's the weekend and you're craving an Omnivore pizza and some Moose Tracks ice cream.  The Cellar is a solution to your problems.
The Cellar has been the favorite hangout place for students since it first opened. Located in the basement of Wheelock Student Center, the smell of pizzas coming out of the oven never fails to attract a crowd of Puget Sound folks with Grizz-sized appetites.
Fully staffed and managed by students, it's a joint that's bound to please and satisfy your heart's desires. Pizza is, of course, the Cellar's most popular item. One of the most common orders is barbeque chicken pizza, complete with barbeque sauce, cheese, chicken and ranch dressing. "The Carnivore" is another must-have for the meat lovers out there because it features pepperoni, sausage, chicken, Canadian bacon and bacon bits. "The Herbivore," which includes toppings like mushrooms, olives, green peppers and onions, is a favorite for our vegetarian friends.
There are also several creative pizzas that Cellar staffers encourage you to try, such as "The Ron Thom" (marinara with spicy Peri-Peri sauce, roasted red peppers and pepperoni) and "The UPS Special" (buffalo AND barbeque chicken with garlic).
In addition, the Cellar offers cheese stix, bread stix, cinnastix, calzones, buffalo wings, malts, milk shakes and ice cream. Dipping sauces for your pizza and stix include marinara, basil pesto, ranch, garlic butter and bleu cheese dressing. The Cellar carries grocery items as well, such as Campbell's To-Go soup, Easy Mac, tuna fish, crackers, cookies, candy, microwave popcorn, granola bars, cereal and a variety of drinks and microwaveable dinners.
This year, the Cellar is featuring some brand new items, too. These include Jalapeño Poppers, described as "cream cheese and jalapeno stuffed nummies," churros and Raspberry Cheesecake Logs. Another favorite is to ask for cheesestix with brown sugar sprinkled on top, a savory delight that you really need to try!
The Cellar staff agrees that new management has been the most positive change this year. Because the Cellar is managed by students, they have much more insight as to what needs to be done and are better at working with the staff to fix problems.
"I think the management is great and is moving in a good direction this year," Cellar employee Shelby Mills said.
A lot of changes have come with new management. Aiming to promote new, healthier items, the Cellar is transitioning its dough to vegan. At present, all sizes except large are vegan friendly. All of the Cellar's staff has been trained on the finer points of pizza making to promote consistency and customer satisfaction.
In order to keep their stock of student favorites full, managers are also placing orders daily now. They are happy to take requests if they do not carry something you would like.  In addition, they have a new kind of buffalo wings that taste way better than the last ones.
With the old favorites and new items, the Cellar continues to be a favorite of Puget Sound students.