On Air: NPR's "From the Top" brings talent to Tacoma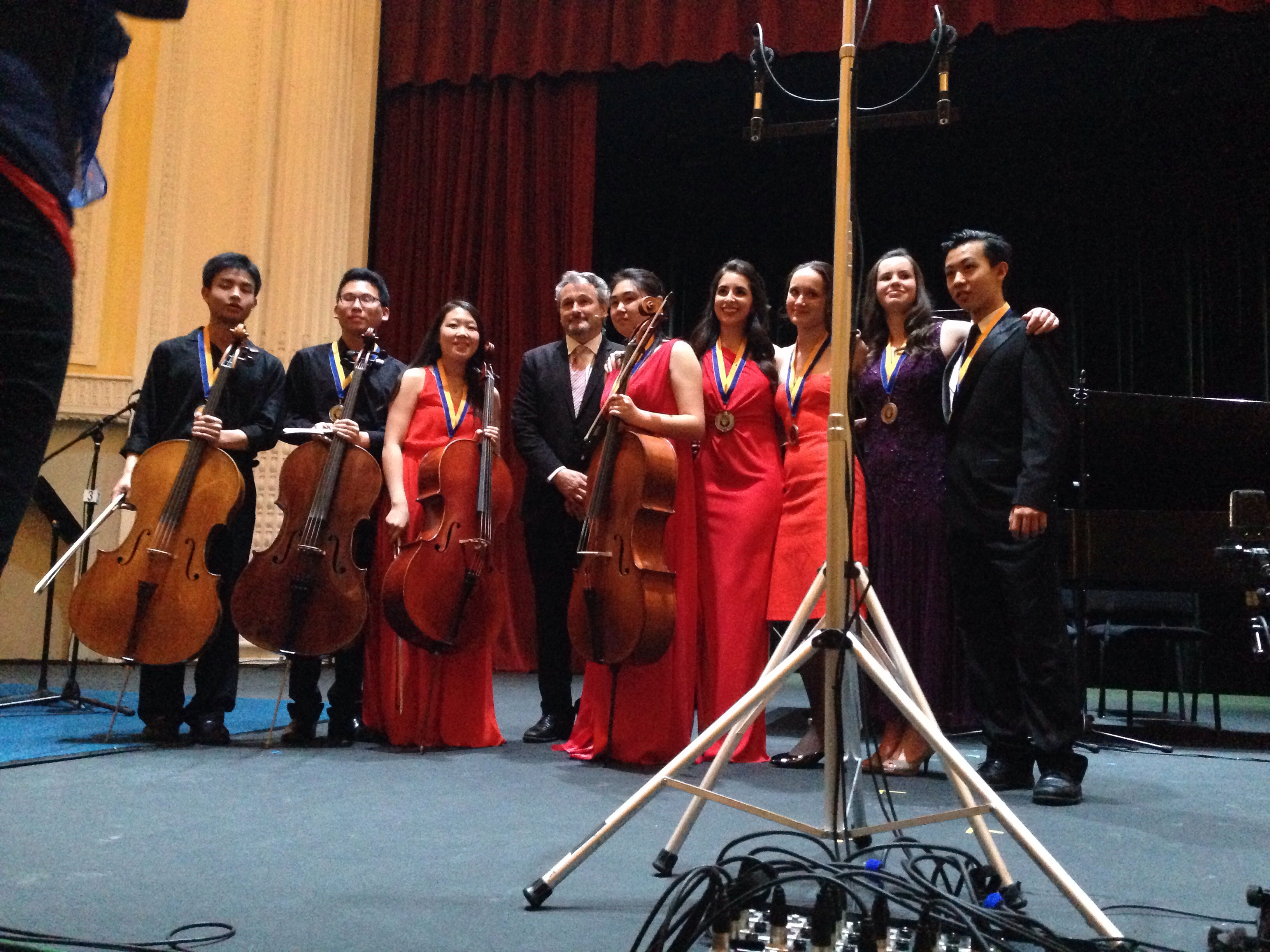 Rialto Theater was ecstatic to welcome the NPR show "From the Top" on April 24. The radio show, which performed live on stage and was broadcasted live on the air, showcases young, talented musicians that love playing classical music. Though the show spends a good portion of time giving the kids a chance to show off their hours of dedication and practice, it also makes sure that the audience gets the chance to see that these kids have more depth to them than just the music that they play.
The show kicked off with a brief introductory medley of classical music, played with an astonishing range of emotion on the violin. This was followed by a video explaining what goes on behind the scenes of "From the Top." The video was mostly narrated by the children themselves, who described their experience touring with the radio station, visiting schools and showing kids what they can accomplish if they stick with the music that they play.
After the video was over, the audience was reminded to silence their cell phones, etc. Throughout the show, but especially in the skit that followed the video, there was always a hint of humor and lighthearted fun. For example, the audience was warned that coughing during the music was punishable by death.
First introduced was pianist Derek Wang from Massachusetts, who played a fast-paced and rather intimidating Toccata. Wang played with surprising mobility and passion, bringing life to his music. However, what really made the performance special was the quick interview session after his performance, something that I soon found out was routine in the show.
Derek explained his love of baseball, good-naturedly participating in a quick quiz on music in baseball (he got two out of three). Wang also spoke about how important the audience was to a show. He spoke about how easy it was to get lost in the music and forget the emotion and magic behind it, but how performing live brought that all back and reminded the musician of why they locked themselves up for hours on end to practice.
After Wang, violinist Sophia Stoyanovich took the stage. She and the host performed a wonderful duet, titled "A Romance for Violin and Piano," that was written for Stoyanovich by her father. When her performance was over, Stoyanovich spoke out against the misconception that if you don't start playing at a certain age, 'you won't make it.'
Stoyanovich herself didn't seriously start playing the violin until she was ten years old, comparably very late for professional musicians. She said that what matters is the music and dedication, not the age at which you begin to play.
Next to take it 'from the top' was a soprano from Arizona, Kresley Figueroa. Figueroa was so very passionate and expressive as she sang, one actually believed that she was a distraught lover saying farewell to her beloved. Figueroa is currently visiting Julliard, widely acclaimed performing arts conservatory; though she was accepted, she decided not to attend for personal reasons.
Mia Hoffman was next, playing a very lyrical piece on her viola. Every Thursday during lunch, Hoffman plays fiddle with her Chemistry teacher and a few other students. This connection has proved its worth, providing a support group for Hoffman when her mother fell ill.
The last player to take the stage was cellist Jeremy Tai. Tai hates practicing, but enjoys creating and playing music with his friends, often arranging music for them to play as a group. We were able to experience this when his group, the Konpeito Cello Quartet, played one of Tai's arrangements, a remix of "The Path of the Wind" by Joe Hisaishi. Some might better recognize this as the ending song in My Neighbor Totoro. The arrangement was innovative and inspirational, incorporating new sounds such as playing the cello like a drum to get just the right sound at the right moment. Tai said that he wanted the audience to remember what it was like to be a child, and I think he did that and much more.
Overall, the show was an absolute delight. It was amazing to see high school students play incredible pieces of music, and then be reminded that these are real people, with hopes and abilities outside what you see them perform on stage.
Oftentimes the musician becomes detached from the music, but this show does a superb job of reconnecting the audience with the music maker. It was also nice to be reminded that the next generation of kids is well-rounded and that there is hope in at least eight kids.
To listen to the episode and for a more complete biography of the musicians, check out the "From the Top" for http://www.fromthetop.org/content/radio-taping-tacoma-washington, or tune into NPR at 90.9. There will also be a music video of the arrangement by Tai that was filmed at the Tacoma Glass Museum that will be posted on the website. For more events at the Rialto, check out their website at http://www.broadwaycenter.org/index.asp
Tags :
classical music
From the Top
NPR
Rialto Theater