"Jesus4Less" filming underway downtown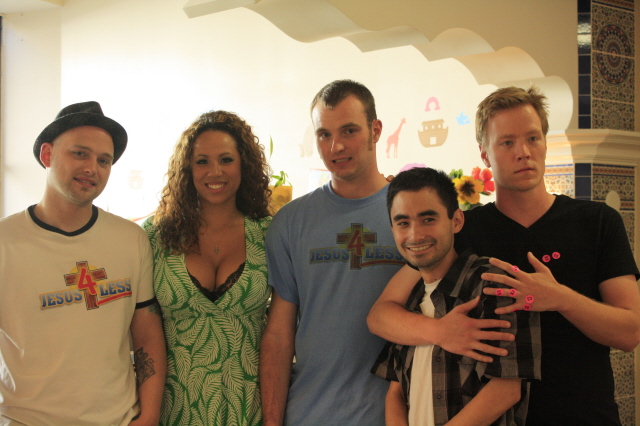 Aaron Flett-Riggs, a stand-up comedian, is currently filming and directing his first film, "Jesus4Less," in downtown Tacoma. He began filming in July and is expected to finish filming by October 31st.
"Amid protests, breasts, and homosexuality, and with the help of baby Jesus and a midget, the guys find themselves navigating the issues of fundamentalism, love, lust, greed, and marijuana in this dark comedy," says the "Jesus4Less" Facebook page, which provides a quick synopsis of the movie. It is obvious that this is not a typical movie about Christian faith.
"Jesus4Less" is about Aaron and Jeremy, two atheists in their twenties, who work at Jesus4Less, a downtown Tacoma Christian bookstore. Aaron and Jeremy's uncle, who owns the bookstore, sells marijuana from the back of the store. Aaron and Jeremy compete with Christ-Mart, their "rival in the Bible business," and with each other for the love of Michelle, their co-worker.
Flett-Riggs began developing the script for "Jesus4Less" earlier this year in Februrary. While on his comedy tour, Flett-Riggs saw a billboard sign advertising a Christian outlet bookstore, which he found quite amusing. After that, he developed the screenplay and ended up quitting his job in order to work on the film.
"On Entourage they were saying how everyone in L.A. has a screenplay. I didn't have a screenplay so I figured I'd write one of those," says Flett-Riggs.
Flett-Riggs wrote most of the characters based on people he knew in real life. However, the casting process proved to be difficult. The entire original cast – excluding one member – was actually replaced because of schedule conflicts and other unforseen complications.
"Jesus4Less" is a low-budget film. Flett-Riggs' original budget was $2,000, but has currently spent $8,000. SpaceWorks is providing the space for filming, so the space is of no cost to Flett-Riggs, except the electricity bill. The books and bookshelves used in the set were donated, and friends of the cast and crew donated some other props. Flett-Riggs, who has a friend in the printing business, printed the posters and pictures that are hung on the walls of the bookstore set. He also made some of the book, CD, and DVD covers, featuring titles varying from "How Did Jesus Touch You?" to "Rock n' Roll Jesus," so that close-ups of items and shelves could be filmed without risking copyright infringement. Although most of the props and items used in the set were donated, Flett-Riggs had to purchase the novelty items, such as Jesus figurines, Virgin Mary nightlights, and cross-shaped lollipops.
Having visited the set, the fake bookstore is very convincing. The "store" has actually fooled pedestrians who have passed by.
"We have even gotten people and couples that have walked in here wanting to buy things. Once there was couple that saw the sign and then came back with the rest of their family. They actually made it a point to make a family trip here to take pictures of the store. Then they see the cameras and stuff and are disappointed," says Flett-Riggs.
For those that are interested in buying some used books, Christian novelty items, or a huge Jesus cutout, "Jesus4Less" will be selling all of their props when it is finished filming.
Flett-Riggs hopes to release his film to major film festivals next year and possibly to some local film festivals and theaters.
"Although there are a few messages inserted here and there, this movie is not meant to change the world. It's meant to be funny. It's slapstick humour. The worst thing that could happen is that we can say we made a movie, and that's an accomplishment in itself," says Flett-Riggs.
Flett-Riggs is already working on his next project, a screenplay about the "second-to-the-last supper." One set, thirteen male actors, and a new twist on what is already told about the Last Supper; Lord only knows what's in store.