Citizens for a Healthy Bay lecture reveals potential dangers of natural gas plant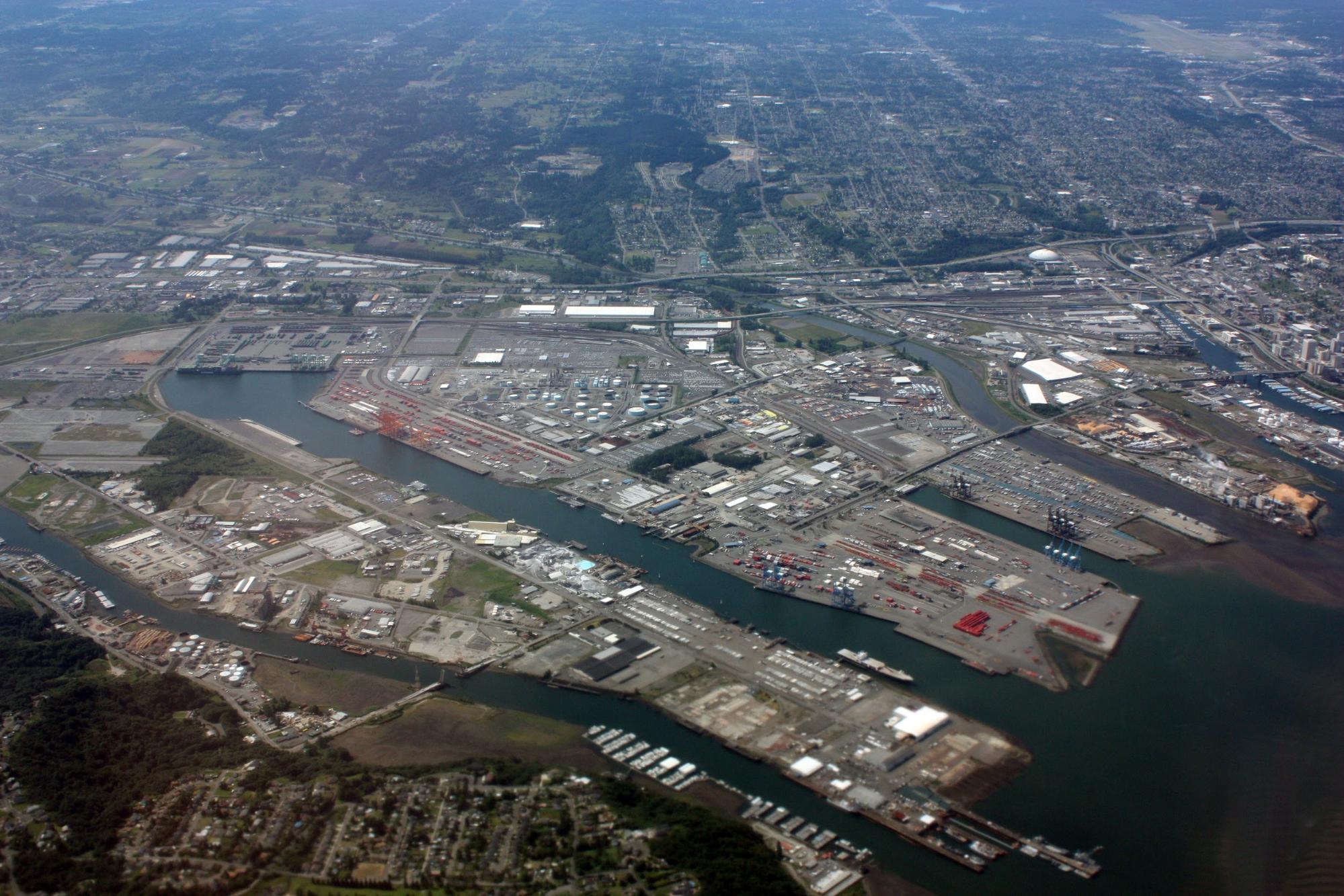 The Port of Tacoma and Tacoma Tideflats, near where the plant is scheduled to be built — Photo credit to Walter Siegmund
When helping end climate change, most people think of doing little things that have a great impact, like using reusable straws and cups instead of disposable ones. However, most people do not realize that it is their voice that can have the greatest impact.
On Feb. 12, Kenny Coble and Erin Dilworth, two members of the organization Citizens for a Healthy Bay (CHB), came to the University of Puget Sound to give a talk about how this organization is helping protect the Tacoma Tideflats.
Coble works as the environmental justice program manager and Dilworth works as the policy and technical program manager at CHB.
"For 25 years, Citizens for a Healthy Bay has brought people together to achieve a clean and healthy Commencement Bay that benefits both our community and the surrounding ecosystem that calls Puget Sound home," the CHB website reads.
CHB organizes events in which the community can be informed and voice their opinion about what they think of new policies, changes to existing policies or to express their concern about a new topic concerning pollution in the Tacoma Tideflats area. The point of these events are to gather what the citizens have to say so that Coble can inform Tacoma's representatives of the community's needs.
Coble and Dilworth explained that currently the area is used as a trading port and a refuel stop for international and national cargo ships. But the area has potential to be much more than just a dumping ground, Dilworth said.
One of the most important projects of CHB right now is the new PSET Tacoma Liquified Natural Gas (LNG) facility, which will cost $310 million according to Tacoma's LNG webpage.
CHB argues on their website that "Since its initial review in 2015, the scope of the proposed project has undergone significant changes, none of which have been reviewed or analyzed. Our climate, our orcas and our salmon will all be negatively impacted by this project, and we need to understand the impacts of these new changes."
Coble and Dilworth expressed their discomfort with the proposal for this facility, for they believe that the cost to the environment is greater than the benefits this facility will bring.
The project summary of this facility states that: "It will provide a clean and cost-effective gas supply resource for PSE's natural gas customers and a cleaner fuel alternative for maritime vessels owned by TOTE and other local employers," according to Tacoma's LNG webpage.
However, CHB argues that there aren't many ships that have made the transition to LNG.
"In addition to helping local employers like TOTE remain competitive and maintain hundreds of family-wage jobs, the LNG facility will create an estimated minimum of 250 construction jobs and 18 permanent jobs. The economic activity from the project will create the need for over 125 other permanent jobs in the region as well as 300 jobs during construction," according to Tacoma's LNG webpage.
Coble and Dilworth expressed their concern for the fact that this facility will only generate 18 permanent jobs, and the fact that they believe that LNG is 30 percent worse for the environment than regular gas. Currently 95 percent of our hydrogen production comes from LNG, according to safety4sea.com.
They believe that no one is actively planning on killing the planet, but sometimes sacrifices are made for the economic benefit. However, they do not believe that the impact of the construction and operation of this facility is worth the 18 permanent jobs it will create in the long run. They believe that wind turbines will be better for the economy and the environment.
"We are committed to empowering members of the public to be effective advocates for a healthy Commencement Bay by sharing clear and scientifically accurate information," the CHB website reads. With the help of CHB, the community can be on the same page as to what needs to be done and what is already being done so that Tacoma can be as beautiful as can be.
Furthermore, CHB encourages people to submit comments to the local government. These comments help delay the government from approving the policy and to encourage them to review it based on the comments received. CHB was successful in delaying the start of construction for the LNG facility by two months because of how many comments were submitted. This shows the power of the people's voices in protecting their home.
Tags :
danger
Healthy Bay
natural gas