Budget Task Force holds open session for the campus community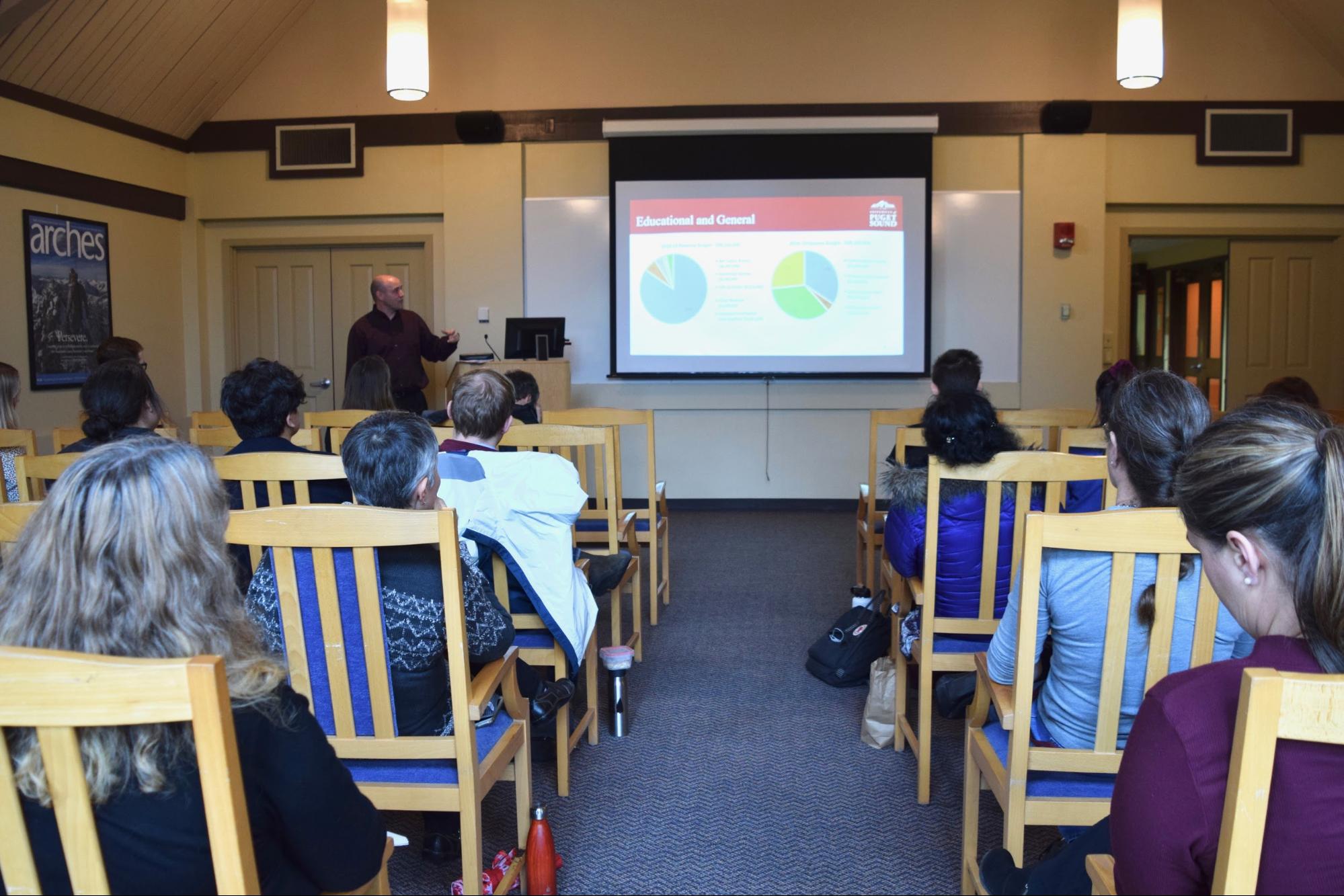 Attendees of the Budget Task Force open session watch a presentation — photo credit to Emma Jones
The Budget Task Force (BTF) is a committee of University of Puget Sound faculty, students and staff who work to create a balanced budget recommendation each academic year.
This academic year's BTF includes Chair and Provost Kris Bartanen, Professor of Politics and Government Alisa Kessel, Executive Vice President and Chief Financial Officer Sherry Mondou, Professor of Classics Eric Orlin, Human Resources Manager Erin Ruff, Director of University Relations and Information Services Sean Vincent, junior Erin Lungwitz and junior Matthew Bell. Janet Hallman provides the BTF with support regarding information and modeling, and Lori Johnson also supports the BTF with logistics. On Wednesday, Nov. 14, the BTF held an open session on campus to explain their work and take questions and comments from the campus community.
The BTF works to allocate the "unrestricted budget." This includes funding that comes from net tuition, unrestricted gifts and unrestricted endowment distributions. This budget does not include gifts, grants, endowment distributions subject to donor use restrictions, funds that have been previously designated for specific purposes and donor gifts/university reserves for major capital projects such as the welcome center. The unrestricted operating budget for this academic year is $125 million dollars.
In September, the BTF orients new members. In October and November, the BTF hears from President Crawford and student leaders and committees. They also hold campus open sessions and invite written suggestions from campus members. In December, the BTF deliberates by modeling different scenarios to finalize their recommendation. In January, they present the balanced budget recommendation to President Crawford, the Associated Students of the University of Puget Sound (ASUPS), faculty and staff senate and send it out to campus via email. In February, President Crawford makes his recommendation to the Board of Trustees.
The BTF outlines some of the challenges in the current economic landscape of higher education. The amount of high school graduates in the United States is declining and is projected to continue to decline through 2030, according to the Huffington Post. These graduates are also more diverse and are more likely to be the first in their family to go to college. This means that less of these students are likely to have the means of attending a residential liberal arts college such as the University of Puget Sound. Students are often more focused on finding an affordable college. It also means that students who are attending these colleges now are often more diverse, in terms of race as well as socioeconomic status.
For the University of Puget Sound, some of the issues of this current landscape have been apparent through lower enrollment rates and lower retention rates. The current sophomore class was under-enrolled compared to budget and also had a lower retention rate this fall, which led to a loss of revenue for the University.
Since 2009, the University of Puget Sound has seen steady net tuition revenue growth until last academic year when it decreased by approximately 2.5 percent. The current first-year class has exceeded the enrollment head count goals of the University while also requiring greater financial aid than anticipated in the budget.  
Though enrollment has been declining, with 250 fewer undergraduate students in 2018 than in 2011, the strategic plan envisions enrollment around 2,800 (compared to current 2,600), with a growth in graduate programs.
The main principles that the BTF uses in decision-making are centrality to Puget Sound's mission and core values, preservation of a quality educational experience, competitiveness in the market of higher education, adherence to the goals of the strategic plan, innovative deployment of resources, expectations of maximum operative efficiency and effectiveness, keeping expenditure levels within available revenues and responsive to the economic climate, and creating a balanced budget with long-term goals.
In addition to this open session, the BTF invites members of the campus community to send in written suggestions regarding the budget. To contact the BTF directly, send an email to lljohnson@pugetsound.edu.
Tags :
Budget Task Force
session