Quickie Too has unique Jamiacan vegan cuisine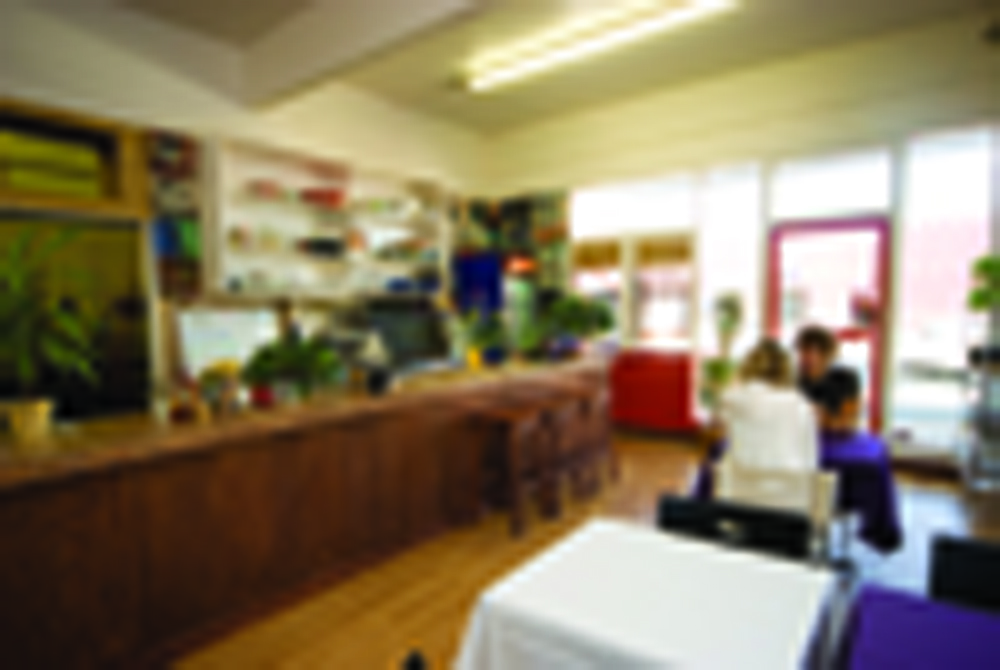 When I'm craving a good burger, a Jamaican-style vegan restaurant wouldn't usually be my first stop. But Tacoma's Quickie Too, located near 13th and S. Martin Luther King Jr. Way, made me reconsider.
Don't be fooled by the humble exterior: this place has personality. The reggae music and Bob Marley posters plastering the walls make this a perfect stop for a laid back night out with friends, and it is only a five minute drive from campus.
Burgers and sandwiches are staples here, and most come with your choice of tofu, tempeh (similar to tofu, made with whole soybeans) or seitan (made from wheat gluten). All are well-seasoned with an unexpected hint of clove, which is traditional in Jamaican cuisine.
Even if you think tofu isn't your thing, this stuff deserves a try. Their half-inch thick tofu patties are unexpectedly tasty and substantial, never mushy or bland. They will satisfy meat eaters and vegetarians alike.
Quickie's American-style Really Big Burger tops a hearty, grilled bun with house-smoked tofu, potato salad made with vegan mayo, and all the classic burger fixings. It is a tasty surprise, and left nothing to be desired for my vegetarian friend who ordered it.
The Frijole Moly Burger, which pairs "TofuStrami" with house-made salsa, grilled onions and peppers and refried beans, is thick and hearty, and a surprising break from the predominantly Caribbean-influenced menu.
As a meat eater, I didn't feel like I missed out on anything with the meat-free "TLT" Sandwich. The tangy Jamaican-spiced tempeh was balanced nicely by creamy potato salad and grilled sweet onions. Thick-sliced whole wheat toast was a good choice here, as it held up well to the sandwich's bold flavors and textures.
The menu also offers a variety of interesting wraps, each containing Quickie's house-made, mayo-free coleslaw. The Jamaican Tofu Wrap includes Jamaican-spiced tofu, grilled sweet onions, tomatoes, lettuce and vegan mayo spread inside a thin slice of tortilla-like bread. Less daunting but no less flavorful than the burgers and sandwiches, these wraps are a good choice for daintier eaters.
Side dishes include southern cooked greens, mashed potatoes and gravy and their signature Mac & Yease, which replaces cheese with Cajun-spiced yeast sauce. Their spicy sweet potato fries are light and crisp with a delightful, zesty kick.
Everything comes for around $10 and you definitely get your money's worth here; plates are very generous. However, expect to get a little messy. No matter what you order, it will likely be a "knife and fork" meal.
Despite the hearty portions, this menu won't put you in a food coma. Quickie's high quality veggies and whole wheat breads will leave you feeling healthfully satisfied. In place of potato chips or French fries, classic beans and rice are served alongside most everything. They are a well-seasoned palate cleanser between bites of the potentially spicy main dishes.
The next time you are in Seattle, stop by one of Quickie's sister restaurants. Sage Café, located on Capitol Hill, and Hillside Quickie's Vegan Sandwich Shop, near the UW campus, offer the same exotic diner fare but with more menu options.
[PHOTO COURTESY/ KEVIN CURLETT]