Puget Sound Athletics Hall of Fame inducts new members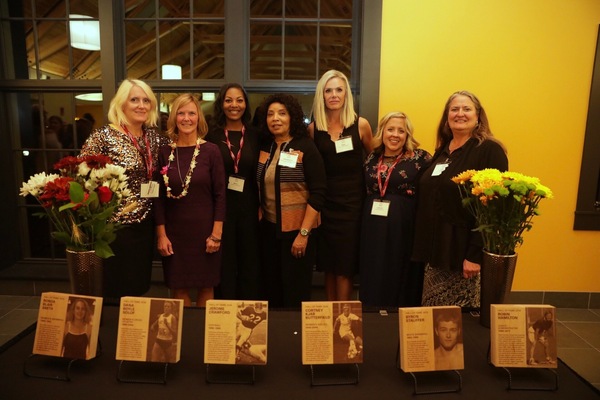 New inductees, from left to right: Ronda Blair, Robin Hamilton, Jerome Crawford's family, Dana Solof, Cortney Kjar and Byron Stauffer's family pose in front of the commemorative plaques that will now hang in the Puget Sound Athletics Hall of Fame. — photo courtesy of Logger Athletics
University of Puget Sound athletics has produced many exceptional athletes. On Sept. 28, Puget Sound recognized six talented alumni to be inducted into the Hall of Fame. That evening a dinner was held for the six inductees: Ronda Blair, Dana Solof, Jerome Crawford, Robin Hamilton, Cortney Kjar Butterfield and Byron Stauffer.
There is rigorous criteria and selection process to be nominated as a Hall of Fame member. Current Puget Sound athletic director Amy Hackett, who spoke at the event, explained the selection process.
"Constitution and bylaws were formed many years ago and were updated in 2004. The voting committee is alumni who are mostly Hall of Fame members and department staff members," Hackett said.
The Hall of Fame committee usually inducts a maximum of five alumni athletes, coaches or administrators every two years. However, because of the construction of the new athletic facilities the ceremony that was planned for the last term was postponed, which is why six members were able to be inducted.
During the dinner, each inductee was introduced by someone important from their athletic career. For example, Cortney Kjar Butterfield was introduced by her former coach and Puget Sound Hall of Fame coach, Randy Hansen. Hackett explained how this detail is new of this year's dinner.
In addition to the Hall of Fame dinner, all six inductees were recognized at halftime of the Homecoming football game. However, one inductee was not present during the celebration. Jerome Crawford passed away this past spring. He holds the current NCAA record for touchdowns returned on a punt during a single game. Hackett recalled a conversation she had with Crawford last spring about the honor: "I got to meet Jerome Crawford before he passed, and we were able to have special moment, and talked to him about being inducted so he was aware before he passed. We had a little bit of a ceremony for him last spring before he passed."
One of the inductees, Ronda Blair, a current member of the Puget Sound swim staff, described what she wanted to pass down to young Puget Sound Swimmers: "I love coaching the swimmers, especially the sprinters and whatever else Chris wanted me to do. I hope to pass on that determination and commitment to the sport."
In addition, during her speech Blair described her first experience on campus. When she was just 13 years old, she attended a swim camp at Puget Sound and upon her arrival home she told her parents that Puget Sound is the place she wanted to attend for college.
The program of the Hall of Fame dinner explained Blair's accomplishments. Blair earned All-American honors all four years of her swimming career, 11 total All-American honors within different events. In 1989 and 1990 she was a part of the NAIA National Championship teams.
The new members of the Hall of Fame consisted of five athletes and one coach and administrator, Robin Hamilton who recently retired last year.
"She amassed 455 wins as head coach of the Logger softball program, and her teams reached the NAIA National Championship games twice (1991, 1995). Hamilton coached 12 All-Americans and nearly 70 All-Conference student-athletes," the Hall of Fame program stated.
All six of the inductees left an enormous legacy at Puget Sound athletics and are all well deserving of such an achievement. Being inducted into the Puget Sound Hall of Fame is the highest honor an athlete can receive at Puget Sound. As someone who has watched dozens being inducted, Hackett described the athletes as "humbled and emotional with the honor they receive."
Tags :
Hall of Fame
new members