University attempts resurgence of Arabic program
By Isaac Sims-Foster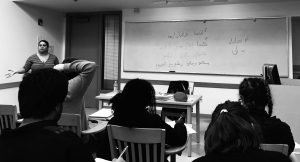 Nida Kiali was hired as a professor at the beginning of this school year and teaches Arabic 101 and 102 here at the University. The University has the intention of restarting the Arabic program this year, but the likelihood of this is easily called into question.
While multiple classes regarding Islam and Middle Eastern culture exist in the Religious and History Studies departments, Arabic language classes have had a hard time finding footing within the Asian Studies department, especially after the previous professor left the position abruptly.
"There's an intention, of course, to grow the program. It's a matter of how much students are going to demand having second-year Arabic. [The department chair] is very welcoming to the idea and would love to see Arabic 201 and 202," Kiali said, regarding the future of her class.
Currently 19 students are enrolled in Arabic 102, ranging from first-year students to juniors. Last semester, in Arabic 101, there were 22 students enrolled.
"I was inspired to learn Arabic since I want to work in the Middle East after graduating, and speak a good amount of Punjabi and Farsi which have a lot of similarities to Arabic as a language," Saihaj Bajwa, a sophomore currently enrolled in Arabic 102, said. "I took Arabic last semester for the first time since we didn't have a professor who could teach it last year. Both semesters have been pretty fun, both in terms of the knowledge that I've been able to acquire and the experience of learning the language itself," Bajwa continued.
"I do hope that Arabic expands into a larger program. I have faith that it could happen since the students in the class really do love Nida and seem to love learning the language," Bajwa said.
Other students share similar positions, wanting to see a more practical, in-depth program emerge to complement and enrich their time at the University.
First-year student, Anna Ganu, another student in the class, said, "Nida is so wonderful. She makes Arabic exciting and engaging. I almost forget it's supposed to be hard work. I would love to take a 200-level class and see a bigger program."
On the subject of Professor Kiali, Bajwa continued, "Nida Kiali, as both a teacher and a citizen, is such a fantastic human being. As a professor she truly cares about nurturing and connecting with each and every one of her students, she truly cares about imparting knowledge of Arabic as a language and dispelling Western notions surrounding the Arab world.
"Personally, I really appreciate how Nida also connects with her students of color, such as myself, through dialogue and, with me again personally, when she speaks Farsi to me or asks about my heritage," Bajwa said. If students don't demand more Arabic classes, they'll certainly demand more of Prof. Kiali.
The attitude between Kiali and her students is definitely mutual. Post-interview, Kiali expressed her love and respect for her great group of students, noting their near-perfect attendance and general success in an understandably demanding language class.
"I'm very passionate about Arabic as an Arabic speaker living in the U.S. I see a great opportunity to grow the program and grow my career as well," Kiali said, and this passion is well-placed and well-displayed.
"I am an Arab myself. I am a Palestinian who grew up in Israel. As a minority, I have been noticing that language is not as appreciated as it should be. For me, language actually brings people together — we learn and know each other through language. I think we enhance empathy and sympathy, and that's how people understand and connect," she concluded.