Louder Than Words – The University of Puget Sound Acknowledges the Black Panthers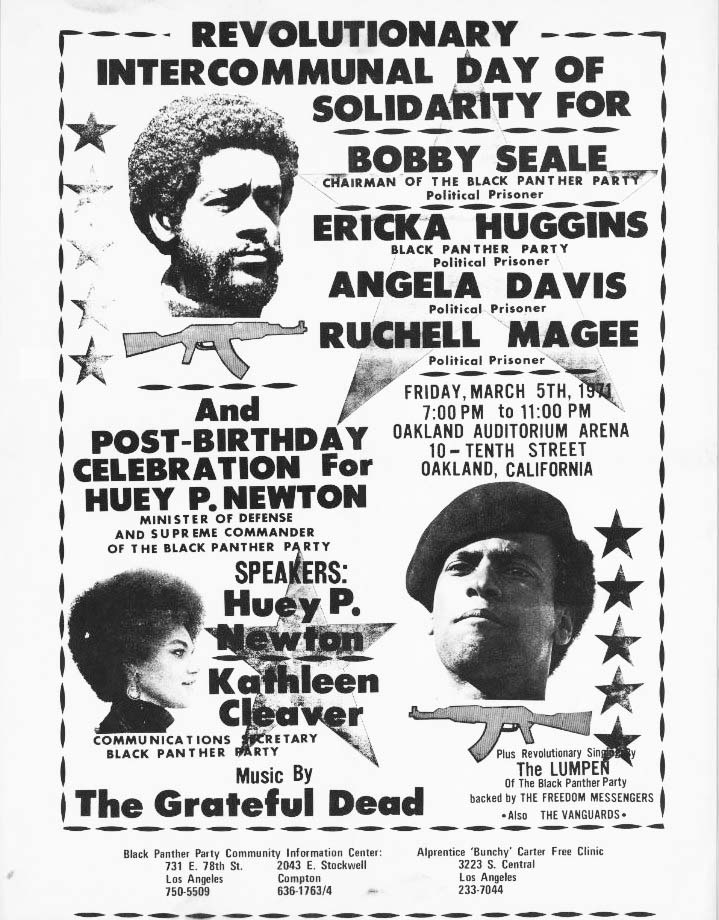 PHOTO COURTESY OF ONLINE ARCHIVE OF CALIFORNIA, UCLA SPECIAL COLLECTIONS
By Matthew Gulick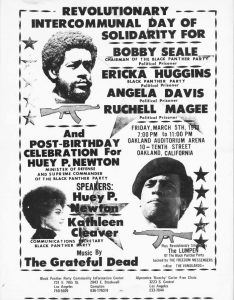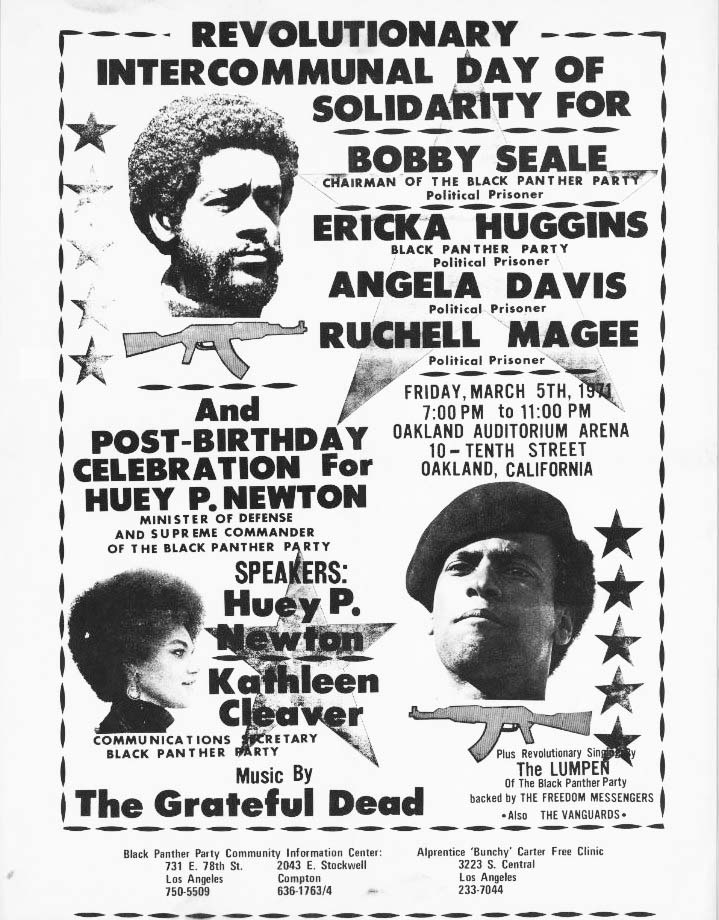 Last year Bobby Seale stood in front of a packed Rausch Auditorium and recited the poem integral to the creation of the Black Panther Party (BPP), proclaiming, "Uncle Sammy Call Me Fulla Lucifer." In that moment, for that crowded room, past and present fused into one.
Seeking to recapture the power of that moment, the Collins Memorial Library exhibit for spring 2018 is "Louder than Words: A Portrait of the Black Panther Party."
The exhibit, up from Feb. 1 – May 15, showcases various paraphernalia associated with the socio-political black empowerment movement. Printer-bound students can peruse a variety of materials on and by the party including historic newspaper and magazine articles, pamphlets, photographs, books and more, all curated by Party Archivist Billy Jennings. Categorized into subjects such as "Social Programs," "Women", featuring Fricka Huggins, Elaine Brown, Barbara Easly, and Kathleen Cleaver, and "Party Documentation" featuring the U.S. Constitution and quotations of Mao Tse-tung, "Louder than Words" provides students an opportunity to witness the wide-ranging legacy of the Black Panther Party.
Lori Ricigliano, Associate Director for User Services at the library, played a key role in showcasing the exhibit at Collins. Ricigliano's areas of expertise are Visual Literacy and Race and Pedagogy.
Ricigliano explained how the library came to host this exhibit. "Last year the Race and Pedagogy Institute sponsored 'A Conversation with Bobby Seale,' founding chairman and national organizer of the Black Panther Party. Prior to his formal presentation, the library hosted a reception for students with Mr. Seale in the Archives. In this space we had a display of some historical documents and archival materials reflecting the work and people of the Black Panther Party, including Mr. Seale. The event was standing-room-only and created a great deal of interest in the Black Panther Party. We wanted to build on that interest and contacted Mr. Jennings, historian and archivist of the Black Panther Party, about bringing a traveling exhibit to campus. We hope this exhibit provides an opportunity to reflect more deeply about the Black Panther Party and its legacy in our shared history," Ricigliano said.
To some in the Puget Sound community, the BPP may seem remote or distant due to its heavy association with the 1970s and other radical movements of that time. Here, the exhibit makes history tangible and presents students with real physical artifacts.
"The exhibit has a number of unique items from the 1960s and 1970s, including original photos, buttons, newspapers and fliers. These artifacts offer a window into a movement that still resonates today," Ricigliano explained.
One section of the exhibit deals with the Seattle branch of the party. This display contains some original Party information disseminations specifically relating to the Emerald City.
Another portion contains the Black Panthers' Ten-Point Program, a declaration of the core beliefs and aims of the party.
"We invite students to write their own version of it based on the changes they would like to see in their own communities and post them on the wall," Ricigliano said.
For inspiration, students can attend a conversation with curator Billy Jennings at 4 p.m. on Feb. 12 in Trimble Forum. Hopefully this event can accommodate more audience members than the jam-packed talk by Bobby Seale last year. Incidentally, students who attended that talk may want to check out this exhibit for the portion regarding the party co-founder.
"Louder than Words" brings a crucial part of black America's history to Puget Sound in a space accessed every day by students. Known for their incendiary demonstrations and declarations, bias and myth tinge perceptions of the BPP. This exhibit provides the organization's message both in their own words and through their representation in popular media of the time. In hosting it, it seems Puget Sound seeks to call attention to the idea of black empowerment, forcing students to ask how they feel about it and perhaps where the University stands in relation.
"The library is an integral part of campus life, with over 253,000 visits last year.  As students and others move through the building, library exhibits showcase hidden collections and increase awareness of its diversity of resources," Ricigliano said.
Though located in the crucial crossroads in front of the service desk, unavoidable if one seeks to access the main floor computers or printers, library exhibits often go overlooked by students at Puget Sound. Easy to glance at and knowing they'll be there for at least a few months, many may put off taking a closer look, citing their pre-class-time crunch or desire to get out into the refreshing winter rain. This time around, students should take the opportunity to stop and smell the historical roses and appreciate the unique opportunity the exhibit provides.
For resources about the Black Panthers in the library collection, visit the research guide at http://research.pugetsound.edu/blackpantherparty. Additionally, Jennings maintains a website on the BPP at http://www.itsabouttimebpp.com/home/home.html