Women's basketball ready to face challenges alongside new coach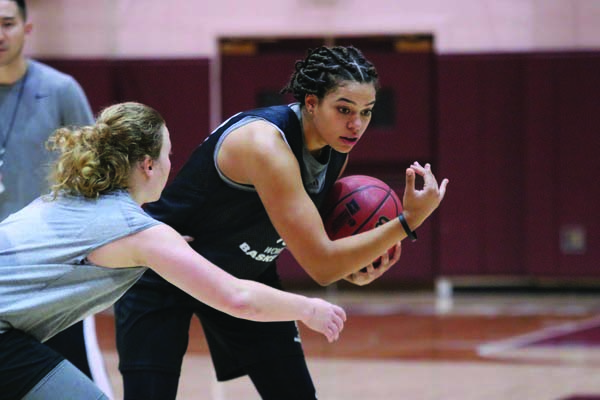 Photo Courtesy of Logger Athletics
By Tayla MacPherson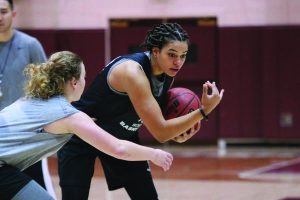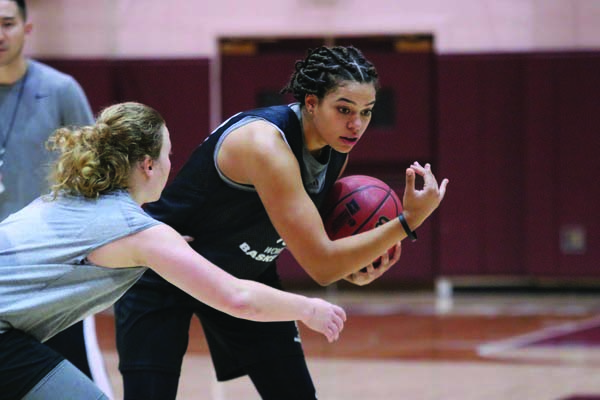 It is that time of year again: basketball season. The women's basketball team has been working hard on the court for the past three weeks preparing for their season. The team is extremely confident in their abilities to achieve their goals and improve from last season.
The team lost seven players and most of their coaching staff from the past season. However, the team gained two first-year students, a new coaching staff and retained the same foundation of players from the previous season.
Even with the loss of seven players, the team is still able to maintain a high level of team culture. Returning junior Summer Bolibol (Mililani, Hawaii) explains the excitement for the new team dynamic: "It's a new team, new coach, new mentality. A lot of us are still getting used to playing with each other, but everyday we make each other better and work on developing our flow."
The new head coach for Puget Sound, Casey Kushiyama, was previously the assistant coach for Whitman College (Walla Walla, Washington). He is extremely excited to start fresh with the Loggers.
Coach Kushiyama described the first three weeks of practice. "With it being early and having a new coach and new culture the enthusiasm is there. Everyone has been working their butts off, which is all I can ask for," Kushiyama said.
Last season the Loggers were 16-0 in conference and won the Northwest Conference, meaning that the basketball community has high expectations for the Loggers to compete and do well this upcoming season.
Coach Kushiyama speaks to his expectations for this season. "Right now, I have been having them focus on today and taking it day by day. Everything else will take care of itself. … All I can ask is hard work today and focus on what you can control today," Kushiyama said.
Bolibol previously had Coach Loree Payne as her head coach and is now extremely impressed with her new coach Kushiyama. "Coach K. is a phenomenal coach; he truly cares for each individual on this team and tries to create a family atmosphere. He holds everyone to high standards and challenges each of us mentally and physically everyday in practice. The biggest difference, in my personal opinion, is that while each day is hard and draining, everyone genuinely enjoys being at practice and getting better," Bolibol said.
The team only lost three games last season because of their high scoring average and their depth off the bench. This year Coach Kushiyama wants to continue to improve the amount of games lost by the team by improving the team's defense. "I am a defensive-minded coach, which has been pretty apparent to them during our practices. In the first two scrimmages we have had very little people score on us. I hope we can continue taking more pride in being a more defensive team throughout the whole season," Kushiyama said.
Although the team is smaller in numbers compared to previous season the team still is close and has a keen sense of team culture.
Kirsten Hafeman (Evergreen, Colorado) is another returning junior who is excited for what this season will bring. "Since we have a smaller team compared to last year we will run a lot more which will be good and also everyone needs to remain healthy. Also everyone will have an opportunity to play this year which is exciting," Hafeman said.
Coach Kushiyama explains the challenges and the positive with losing players. "Eleven out of our 13 players were on the team last year, giving us a strong core of players. They were definitely hurt by the departures but now they know that they can't take the relationship with their teammates for granted," Kushiyama said.
The women's basketball team will play their first preseason game at home on Nov. 17 at 6 p.m. against St. Martins University (Lacey, Washington).