New Makerspace in basement of Collins Memorial Library
By Andrew Izzo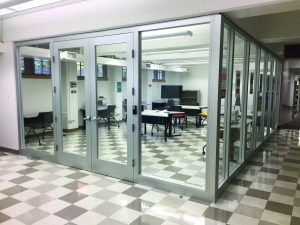 The basement of Collins Library has undergone a drastic change in scenery. Where old microform machines once stood, a well-lit, shiny-looking glass room dominates the path to the Tech Center. This sleek and modern facade is the brand-new Makerspace.
A braincchild of Siddharth Ramakrishnan of the Neuroscience Department and Lynnette Claire from the Business and Leadership Program, as well as other faculty and staff, this space is designed to provide resources to students to allow their creativity to blossom beyond the limitations of the local craft supply store.
"We really want it to be an open, collaborative place for students, faculty and staff of Puget Sound to experiment with new technology and to create and make things," Library Director Jane Carlin explained. It's a "high-tech to low-tech" space, with some cutting-edge technology as well as some simpler crafting materials.
Thanks to a grant from the National Science Foundation, and some additional funding provided by the University, the Makerspace offers equipment and tools that otherwise would be difficult to access. These include things like 3-D printers, soldering guns, sewing machines and a laser paper cutter.
Some of this new technology is tricky to use and quite expensive. Thankfully, Carlin reassured that no experience is required, and that anyone with an interest in learning how to create in different ways is encouraged to come by. Workshops and other classes are offered to learn how to use and create with various tools.
The space itself is bright, open and has plenty of work space. There are desks both with and without equipment, so students can work with more traditional tools. Staff will be there to assist with some of the more complicated technology, Carlin says.
Clubs also have access to the space, and the library hopes to partner with faculty to have class assignments that involve the Makerspace. Hours for usage depend on workshops and other scheduled events, but the space is available for any student to use during drop-in sessions.
Students have also expressed excitement in the idea of creating in the Makerspace.
"I think it's cool that we have a space where we can access tools that you normally wouldn't be able to get to use," junior Tom Daligault said. "It opens up a lot of unusual mediums for creative projects."
The Makerspace is an evolving place, and there will likely be more tools and workshops available as time goes on. Hours for the Makerspace are posted around Collins library, and can also be found at research.pugetsound.edu/makerspace.
Carlin also hinted at more renovations coming to the basement of Collins in the coming years, moving towards bringing the library further into the 21st century.
Hours for the Makerspace are as follows:
Monday

10 a.m. – 3 p.m. (sew, knit, craft cutter, 3d print, solder)
7 p.m. – 9 p.m. (craft cutter, 3D print, solder)

Tuesday

11 a.m. – 2 p.m. (sew, knit, crochet, craft cutter, 3D print, solder)
7 p.m. – 9 p.m. (sew, knit, crochet, craft cutter, 3D print, solder)

Wednesday

12 p.m. – 3 p.m. (sew, knit, crochet, craft cutter, 3D print, solder)

Thursday

3 p.m. – 5 p.m. (sew, knit, crochet, craft cutter, 3D print, solder)
7 p.m. – 9 p.m. (sew, knit, crochet, craft cutter 3D print, solder)

Friday

11 a.m. – 3 p.m. (sew, knit, crochet, craft cutter, 3D print, solder)