Shots fired at Puget Sound Security Officers, man arrested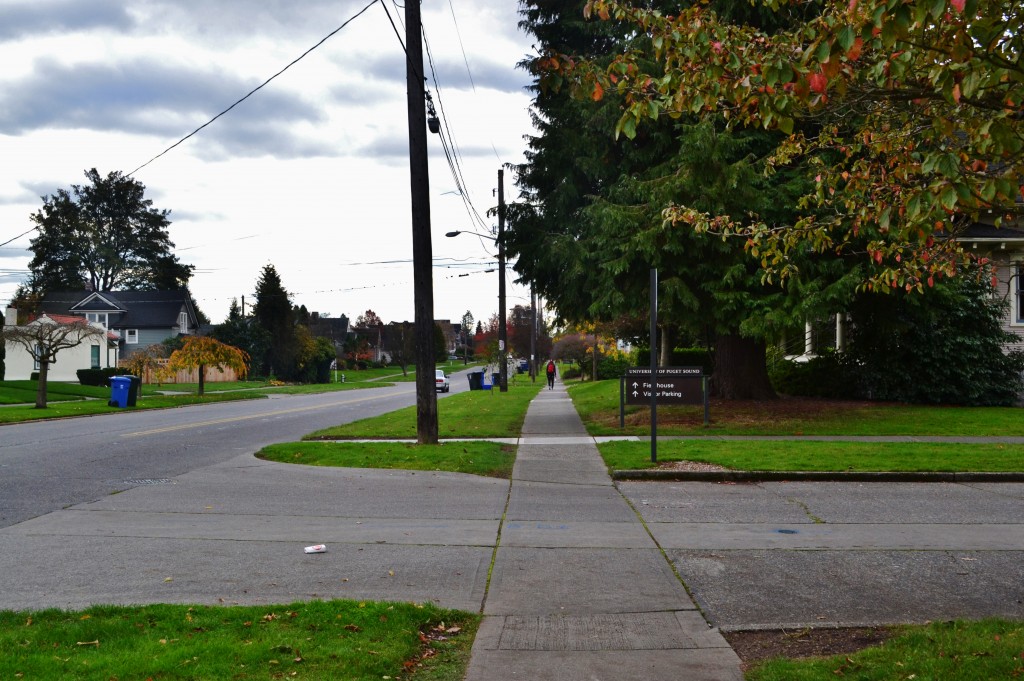 Gun violence on college campuses has become a reality for many people in the United States, and the Puget Sound community is no exception. According to The News Tribune, 21-year-old Alex Kjellesvik, not a student at the University, has been charged with two counts of first-degree assault. The security alert sent by the University to students states that Kjellesvik fired  10 shots at campus security officers around 3 a.m. on Tuesday, Nov. 3.
Kjellesvik began generating noise complaints on campus around 2:30 a.m. on Tuesday morning, Director of Security Todd Badham reported. Kjellesvik's vehicle had broken down at the intersection of North 13th Street and North Lawrence Street, where he had initially told security he was waiting for a friend to come. When Kjellesvik continued this noisy behavior without showing signs of leaving, security approached the vehicle again to tell him he needed to leave. Kjellesvik became hostile toward security, but was not exhibiting violent behavior at this time.
Eventually, Kjellesvik left the vehicle at North 13th Street and Lawrence Street and began walking toward Alder Street. Security followed at a distance and was in contact with Tacoma Police Department (TPD) by radio. When the suspect crossed Alder, according to Badham, he then turned and fired shots at the two security officers. The officers were able to quickly move behind a tree and were not hit by any bullets.
No one was hurt in this incident, which Badham attributes to the way the situation was handled by security staff.
"I don't think we could have hoped for a better response," Badham said.
Not only did the two full-time security personnel remain vigilant and aware of the situation as it developed, but they were also in contact with TPD from the very beginning.
"The University makes a huge investment in communication… with TPD," Badham said. "That basically was what allowed this situation to be handled well."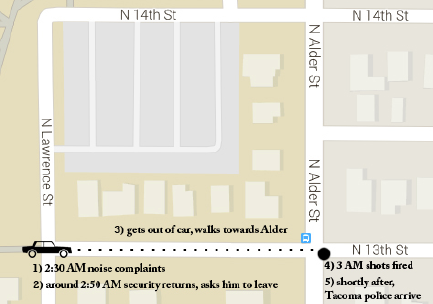 This isn't the first shooting on the University of Puget Sound campus. On April 25, 2012, a man suspected of breaking into vehicles on the campus fired one shot when he dropped his firearm in a struggle with Security Services officers. According to the Tacoma News Tribune, he attempted to fire again at Security officers but the gun did not discharge and he fled the scene. No one was injured in that incident.
Last spring, Security Services increased the number of full-time staff to ensure at least two full-time security officers were on duty every shift and the University added Kevlar bulletproof vests to the list of the full-time staff's equipment, which includes pepper spray. They also modified the job description for student staff so they do not respond to calls.
"They are observers and reporters," Badham said.
This move was made to ensure the safety of students working for security.
"I am super concerned about the safety of my staff," Badham said. "I have great human beings working for me; we want to make sure we take good care of them."
Badham and Dean of Students Mike Segawa have also attempted to improve communication flow and address the wellbeing of the greater community of students, faculty and staff in the days after this incident.
On the evening of Tuesday, Nov. 3, Segawa, Badham and a number of other staff held an event to address student concerns and create a space for students to freely express emotion surrounding the shooting.
Many students were concerned with the delay in communication from security, as they did not receive notification of the situation until about forty minutes after the shots were fired. According to the Tacoma News Tribune, two students contacted Tacoma News Tribune following the shooting in 2012 complaining that notification was not sent in a timely fashion.
Badham and Segawa expressed understanding of these concerns, as it was stressful for students to have heard the shots and watch as police arrived without knowing what was happening, but the situation was resolved almost immediately after the shots were fired. They said that with the suspect in custody directly following the incident, there was no need for the campus to go in a lockdown.
"Our first obligation is to deal with the situation," Badham said. "We'll try to do several things simultaneously, which means communicate information out, but based on when the incident occurs, and the resources I have on campus and the magnitude of the incident, [the time needed to communicate with the campus is] going to vary."
Concerns have also been raised by students both in the past and following this incident about the possibility of the University arming full-time Security Staff in response to such incidents of violence. Segawa noted that he, Badham and Executive Director of Community Engagement and Associate Vice President for Business Services John Hickey are constantly in discussion of how to properly equip and support staff.
"Anything beyond [Kevlar vests and pepper spray]," Segawa said, "which would include things like Tasers or any other weapons, we [would] want to have a community conversation."
"That's the piece where the plan [would be] written out and developed to identify where to go in terms of community meetings, group meetings and residential meetings," Segawa said, "to get into conversations… about how [people] are feeling about safety and security on campus."
Segawa stated that there have not been any conversations at this point about equipping security staff with any additional weapons or tools.
Badham notes that it is important for campus members to utilize resources, such as the Annual Security Report, response plans and informational videos, and take steps to educate themselves on how to respond in dangerous situations.
"We want to educate people for living a healthy and safe life after college."
Tags :
arrested
fire
fired
gun
man
Puget
Shots
Sound
university