Academic Advising Office open to mentor all Puget Sound students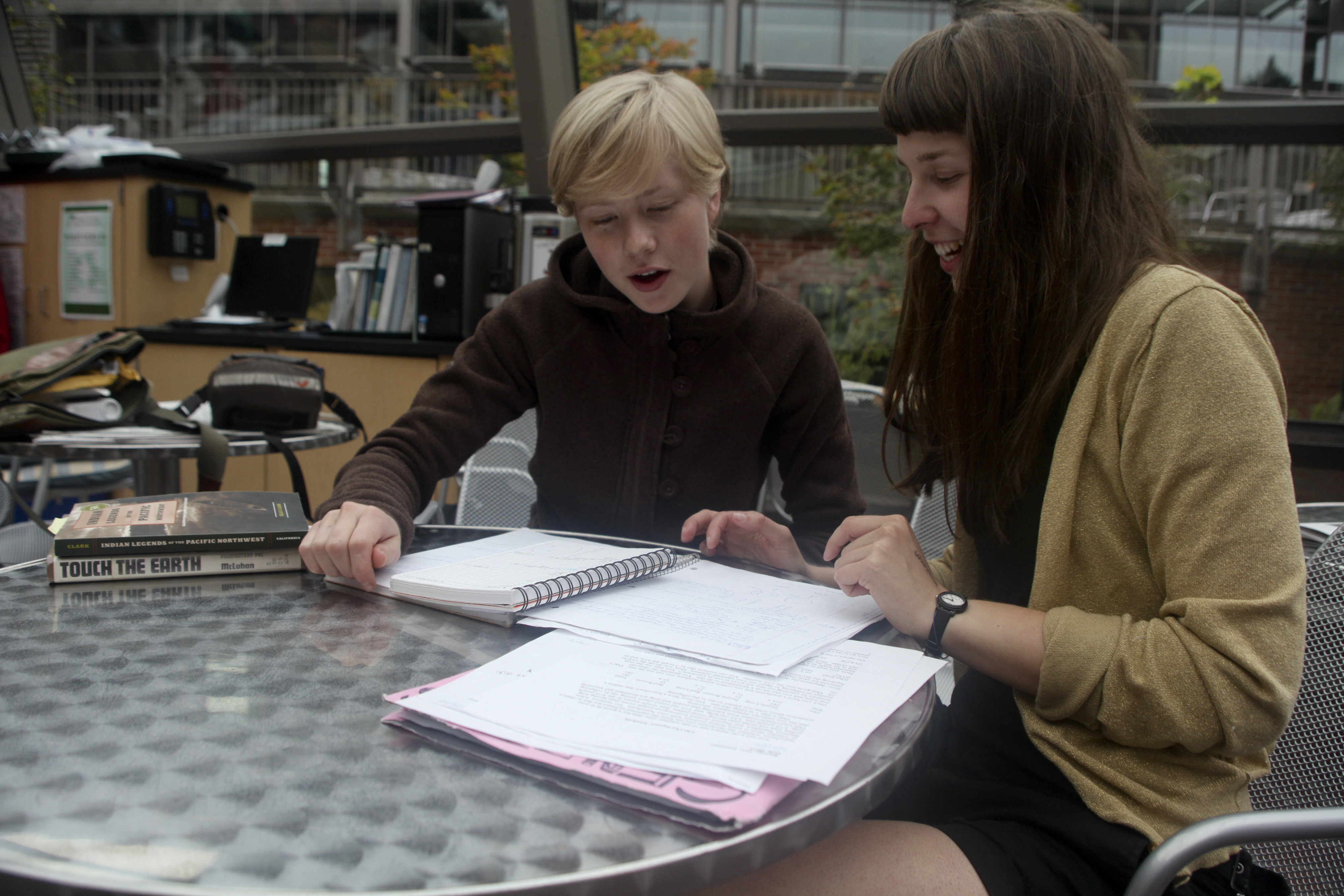 Attention all freshmen Loggers:  Are you stressing out about which core requirements to knock out next semester? Do you want to talk to someone in the know about campus life, ways to mix up the S.U.B. food (crispy chicken Caesar wraps, anyone?) or just life on planet Earth as we know it? Never fear, that's exactly why Peer Advisors are here!
The Peer Advising program began 25 years ago, when a visitor came to campus and recommended taking the "student grapevine" that exists on every college campus and infusing it with actual information about academic policy in the form of a peer resource as a way to improve campus life.
The Puget Sound staff and faculty took this suggestion to heart and created the Peer Advising program to help new students adjust to life in college.
Peer Advisors love their jobs because it gives them a chance to give back knowledge they have accumulated in their time at Puget Sound. They devote four hours a week—three hours in the Café and one in the advising office—to spend time with students.
"Our job is to be here and answer questions. People don't necessarily realize they have questions, but there are a lot of intricacies to school policies," said Biz Card, a Peer Advisor. Peer Advisors are trained to understand these "intricacies," like the fact that students can use classes from a different Academic Bulletin to apply to their major, as long as the bulletin is one from a year that the student attended the University. Further, exceptions can be made to academic policy, as long as the accepted protocol of petitioning the Academic Standards Committee is followed.
While Peer Advisors are an invaluable resource for questions about academics, they are also there to be exactly what their title suggests—your peers!
"Basically, everything in college life affects our academics.  We balance out the RAs," said Kali Odell, also a Peer Advisor.
"A very common mistake is freshmen thinking of their PAs as tutors, which isn't exactly our job. We're here to provide overall support and help plan strategies for success," said Peer Advisor Greg Kirkpatrick. "Freshmen should not be shy to get help from their PA, even if they have had little direct interaction with the PA—that unfortunately happens with the way registration works."
For upperclassmen who don't have a Peer Advisor, there is the Office of Academic Advising in Howarth 114. During the 2009-2010 school year alone, the Advising office held roughly 800 student appointments. The context of those meetings ranged from students asking questions regarding graduate school, assisting students in selecting or changing their major, handling academic emergencies (such as dropping or withdrawing from classes) and helping students experiencing academic difficulty get back on their feet.
Jack Roundy, the director of Academic Advising, says he has the best job on campus because he gets to work with students and help them plan their futures.
He said, "Howarth Hall is one of the wonderful undiscovered treasures in the University." He wishes this "hall of wonders" was better known to all students, not just those who happen to walk by and decide to stop in or hear about it through their friends.
So freshmen, give your Peer Advisor a little love this week. They're going to be sitting in the Café whether you come or not, so you might as well make their time worthwhile.